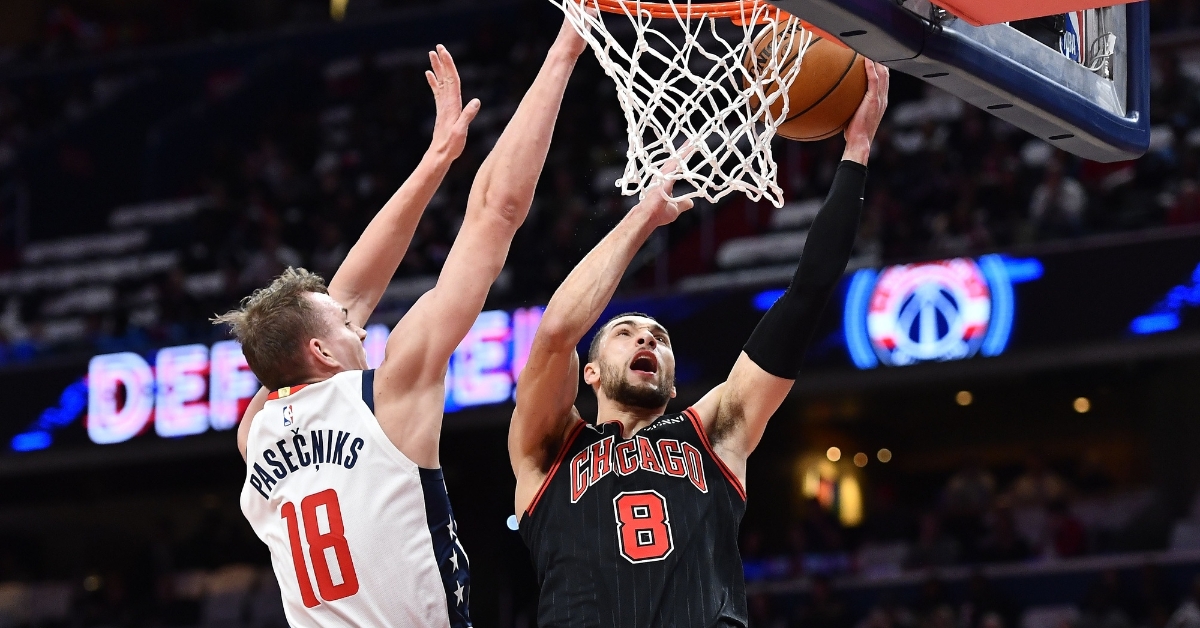 | | |
| --- | --- |
| What could happen for Bulls if NBA season resumes? | |
---
| | | |
| --- | --- | --- |
| Wednesday, March 25, 2020, 12:50 PM | | |
At this point, I think it is safe to say that we will not be seeing sports for a minimum of another month, but possibly longer as the COVID-19 concerns continue to wreak havoc on everyone involved. The toughest part is when you talk to anyone involved in the sports world, no one can give you a definite answer as to what is going on because you can't predict this.
Ideally, the NBA season will be finished out at some point this season, but when. If you ask Dallas Mavericks owner Mark Cuban, he is aiming for a late May or early June start date. The problem with that is how late is too late to push the start date back. Obviously, at this point, anything earlier than May won't happen. However, going into June also has its long term effects.
If they say, the season will pick up in June, how much of the season is played, and do we go directly to the playoffs. Keep in mind that generally, the playoffs can last up to two months, which then moves the end of the season to August. With most teams starting training camp in September, is that logical? Ultimately we that would mean a shortened season next year where we wouldn't see hoops until around Christmas, and then the season would end at normal time only to reset the following year.
There is a lot up in the air this point as to what is the best way to do this, but the result will undoubtedly have repercussions for the Bulls. Let's just say the NBA says May 12th is when the season will start up again. It then becomes how many games will be played at that point. There is no way the remaining games can all be played, especially when you must fit the playoffs in. It then becomes a case of how many games will everyone play and potentially who those games would be against.
Mathematically speaking, the Bulls are still alive in the playoff hunt, but not by much. Would they play until they are eliminated or would they just schedule games against non-playoff teams the rest of the way in hopes of gaining some sort of confidence moving forward.
Another thing to look at is what sort of quality play we could expect from all teams. With the entire sent home for isolation, outside of individual workouts at home, these players are no longer in basketball shape. You can't just stop play for two months and expect things to go back to normal. These teams will need some time to get back in shape and try to get in the mindset of delivering quality ball once again. That leads me to believe that teams like the Bulls and other organizations most likely out of the playoff field may decide to play G League players or rookies just to keep the vets from getting hurt.
If I were to predict as to what happens to the Bulls moving forward, it would be that they are done playing basketball this season. I am not saying that because I don't think the season will be back, I am saying that because of how I think this will be resolved. At this point, the only thing I could see happening is just starting the season as if the playoffs were next in line. That way, you would give teams two weeks to get in shape and then begin the postseason.
You could use the current seeding positions for the format or figure out other sorts of tiebreakers to maybe mix things up should teams be tied. You then would have to think the first round would be a best of three series, and the next two rounds would be a best of five with the NBA finals being the only best of seven series. If that is the case, things could get very interesting during postseason time, and plenty of upsets would be seen.
The way I see it now, and it pains me to say this, but if we don't see NBA, NHL, or MLB by early June, I don't think we will have the pleasure of enjoying sports this season until August when football gets underway. If this is indeed the end for the Bulls in terms of their season, they will be known as a few things.
They will be known as a team decimated with injuries once again, which prevented them from putting a full squad on the floor. Secondly, they will be known as one of the two organizations along with the Knicks that have had continuous front office questions that haven't been addressed that has led to several puzzling decisions, especially when it comes to coaching.
Finally, the Bulls are going to be looked at as one of the youngest teams that continues to have tons of potential. Starting Coby White, the last few games was an essential part of this equation as it sets the Bulls up for next year. Whether Jim Boylen is back next season, or we see a new coach, four of the five starting spots should not be a question nest year.
White and Zach Lavine will be the guards, Lauri Markkanen and Wendell Carter JR will be the bigs with Otto Porter Jr. Do the Bulls elect to resign him for one or two years and see what he can give you when healthy, or do they find his replacement via draft, trade or free agency? Chicago may not be where they once were as an organization, but they will be one of the more interesting teams to watch this offseason.
With a young core that continues to get better, the Bulls have the pieces in place to make some noise soon. They will also have money which will help in free agency as players often look to come to the Bulls because of the market and rich history in this organization. If the Bulls expect to take that next step, however, first they need to figure out the GM situation as soon as possible. Once they do that, the pieces will start to fall in place, as I believe a new coach will follow.