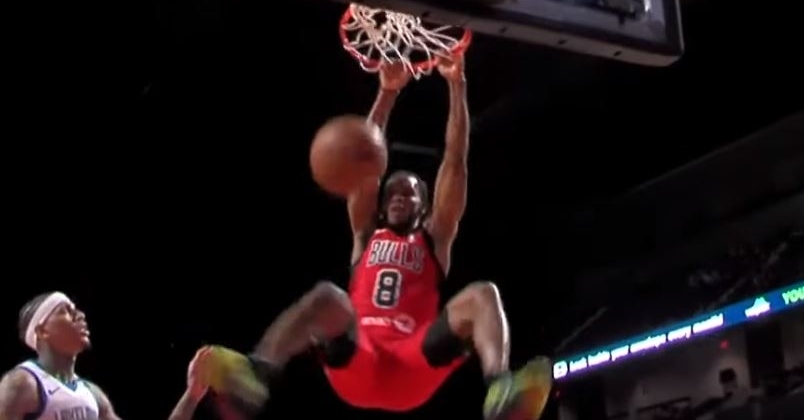 | | |
| --- | --- |
| Windy City Bulls stay hot with third straight win | |
---
| | | |
| --- | --- | --- |
| Monday, February 24, 2020, 8:18 AM | | |
After limping into a week off with four straight losses, the Bulls have responded in a big way as they aimed for their third consecutive win at home on Sunday. Not only were the Bulls aiming for that win, but they were up against a Lakeland Magic team who is battling for the playoffs. In the end, it was a tale of two halves as the Bulls erased a horrendous first half with a dominating second to pick up the 117-110 win to improve to 15-21 for their third straight win.
The first quarter was a chess match between the two sides as the Magic got out to a 7-2 lead before Jaron Blossomgame and Simi Shittu brought the team back with five points of their own to tie things up 7-7. Lakeland continued to have the upper hand once again as B.J. Johnson put together a huge first to give the Magic a five-point lead once again. Still down by five, Milton Doyle connected for a pair of threes to give the Bulls their first lead of the night 19-18 before Blossomgame extended that to 21-18.
Now up 29-25 following threes from Daniel Dixon and V.J. Beachem, That Magic closed out the quarter with the final four points to even things up 29-29 after one. Looking to gain the upper hand in the second, it was Tre'Darius McCallum and Beachem with two quick buckets pushing the Bulls lead back up to three. It was all Lakeland from there over the next few minutes as Johnson and Jon Davis sparked a 9-0 run to put the Magic up 41-35 before Justin Simon ended that run with a layup.
The Lakeland lead continued to grow as Michale Kyser connected on a deep two for the largest lead of the game thus far 45-37. With Shittu and Perrion Callandret making buckets and looking as if the Bulls were fighting back, Andrew Rowsey, paired with Isaiah Armwood, kept the lead in hand as the Magic surged in front by 11 before consecutive Johnson buckets made things a 56-41 game before leading 64-50 at the break.
It was in the third quarter when the Bulls began to take over on both offense and defense as they aimed to continue their recent surge. Blossomgame continued to build on his team-high 24-point effort scoring the first five of the half for Windy City, but no progress was made as they remained down double digits. Lakeland continued to control the pace early as Johnson couldn't miss as the lead was now 18 at 77-59.
That is when Blossomgame ignited a nice Windy City run as his bucket was just the beginning of a 12-0 run as Thomas Wilder, Ferrakohn Hall, and Doyle all chipped in to close the gap to 77-71. After Rowsey pushed the lead back to 10, consecutive threes from Doyle and Wilder made things interesting as we had an 85-81 game after three.
Windy City continued to hold the momentum in the fourth as they looked to pick up where they left off in the third. Things didn't look that way early as the Magic opened the quarter on an 8-2 run to build a 93-83 lead. Four points from Shittu and two from Blossomgame brought the game within single digits, but once again, Lakeland took the punches and maintained a 98-89 lead following buckets from Johnson and Rowsey once again.
Needing some spark, Shittu was hoping to deliver as he picked up four consecutive points, ahead of Justin Simons free throws, but it was the Wilder three that closed out the 9-0 run as Windy City was within one at 99-98. The comeback effort was still in full effect as Wilder, Simon, and Blossomgame added seven more points to put the Bulls up 105-98 capping off a 16-0 run to take command. Rowsey put an end to that with a three, but Simon answered with a three of his own to push the lead back to six at 108-102.
The Bulls only continued to build on their lead from there as Blossomgame was getting inside, and Wilder was knocking down critical free throws down the stretch to give the Bulls a 117-110 win as they closed out the game on a 28-11 run. The win gives the Bulls a three-game winning streak while Lakeland has now lost four straight.
Blossomgame led the way for Windy City as he finished with a team-high 24 points tied with Simon. The outside shooting of Doyle and Wilder gave them 15 and 14 points apiece, while Shittu chipped in with 12.