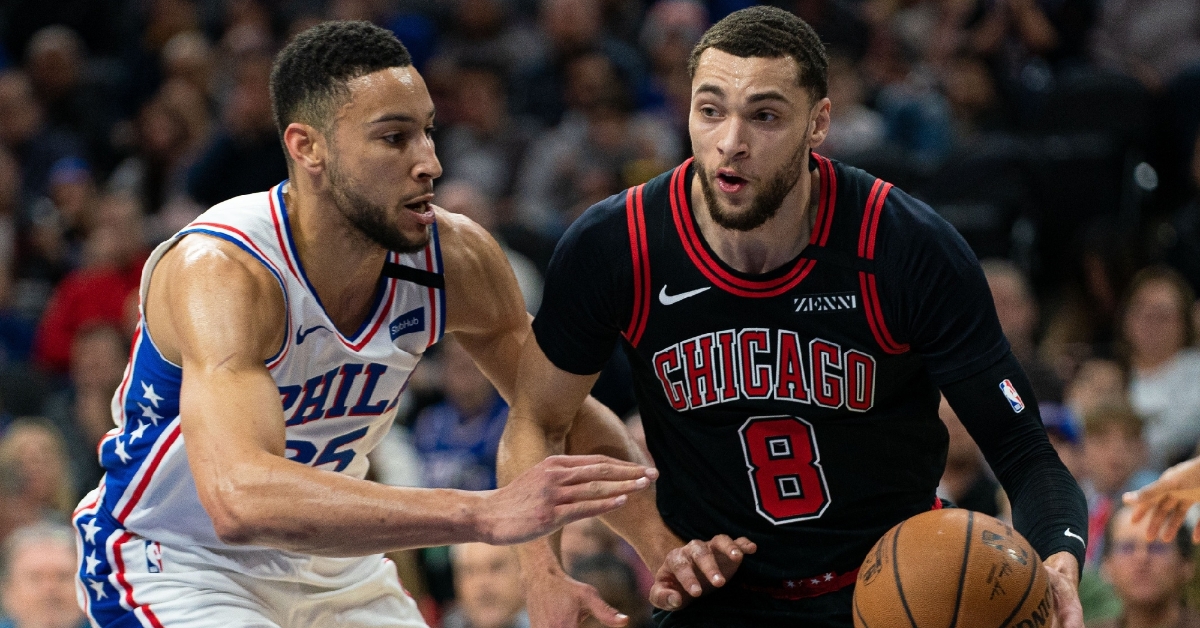 | | |
| --- | --- |
| Zach LaVine defeats Paul Pierce in Round 1 of NBA Horse Challenge | |
---
| | | |
| --- | --- | --- |
| Monday, April 13, 2020, 7:57 PM | | |
While rumors are starting to swirl around that the NBA could return following some sort of 25-day plan, the league has taken upon themselves to give fans at least some taste of basketball action for the time being. It was during the week last week that NBA League pass announced that they would offer free service temporarily, allowing fans to watch any game from this season.
You then had ESPN and the NBA working together to put on a small event for fans that they could see on ESPN. I am not talking about all the NBA 2K games you had a chance to watch as superstars around the league played against each other via satellite and broadcasted their games on ESPN. Instead, ESPN elected to create a HORSE tournament with both past and present NBA players along with some WNBA stars and aired it on ESPN, giving fans a chance to watch it.
One of the Bulls own in Zach Lavine was one of those eight participants, as he blanked Paul Pierce to advance to the semifinal round set for Thursday night. While most of the NBA stars have done their best to stay ready, Lavine proved he is still in great game shape as he has spent tons of time at his offseason home in Washington, getting shots up and staying ready. According to Lavine, he put up roughly 500 shots to get prepared for this event.
?? NBA HORSE Challenge ??

?? @ZachLaVine defeats @paulpierce34 in Round 1 of the NBA Horse Challenge presented by State Farm on ESPN! pic.twitter.com/OiTxcym9mH

— NBA (@NBA) April 13, 2020
The Lavine-Pierce match was the first of four on the night as NBA fans were treated to a rather unique and yet fun competition. Joining Lavine in the semifinal round will be former Detroit Piston and current NBA analyst Chauncey Billups, Mike Conley Jr, of the Utah Jazz and Allie Quigley of the WNBA Chicago Sky as she put on a clinic during her matchup.
Lavine was the only one in the tournament who didn't record a letter as everyone minus Conley shot outdoors for the competition. That is what made this tournament that much better as the ones outdoors had to deal with different elements such as wind, cold, light rain, and maybe even light snow at times. Conley elected to shoot at an indoor facility in Columbus, Ohio, where he knocked off another WNBA star in Tamika Catchings, who used an outdoor hoop in her driveway in Indianapolis for her shots.
Outside of Lavine's impressive round, Quigley had the next best performance as she put on a clinic to eliminate Chris Paul of OKC. Paul was shooting outside at his outdoor home but had to battle with some light rain during his shots compared to sunny skies from Quigley. Lavine, on the other hand, used a whole bunch of creativity to defeat Pierce, as the former Boston Celtic great was impressed by what he saw.
"He was very creative. He really shocked me with a lot of these shots," Pierce told ESPN while battling some light rain on his outdoor court at his Los Angeles home. "The backboard touch threw me off, and then the rain -- it never rains in [Southern] California! The weather threw me off. It was tough. I was going up against some tough conditions on top of Zach's creativity."
The other upset along with I would say Quigley was that of Billups knocking off sharp shooting Trae Young in the first round. After Young opened a HOR to nothing lead, Billups was able to weather the storm as the two of them playing outside at their respective venues but on a great show. Billups finished up the round by beating Young at his own game, sinking some solid threes to advance to the next round of the competition.
The semifinal round will be as follows—Conley vs. Billups and Lavine vs. Quigley with the winners advancing to the Championship round later Thursday night. Competition is set to begin at 9ET, with both semifinal and final rounds being played. The winner of the HORSE tournament won't be awarded anything special, but the tournament sponsor State Farm will be donating 200,000 dollars to aid in the relief of COVID 19.