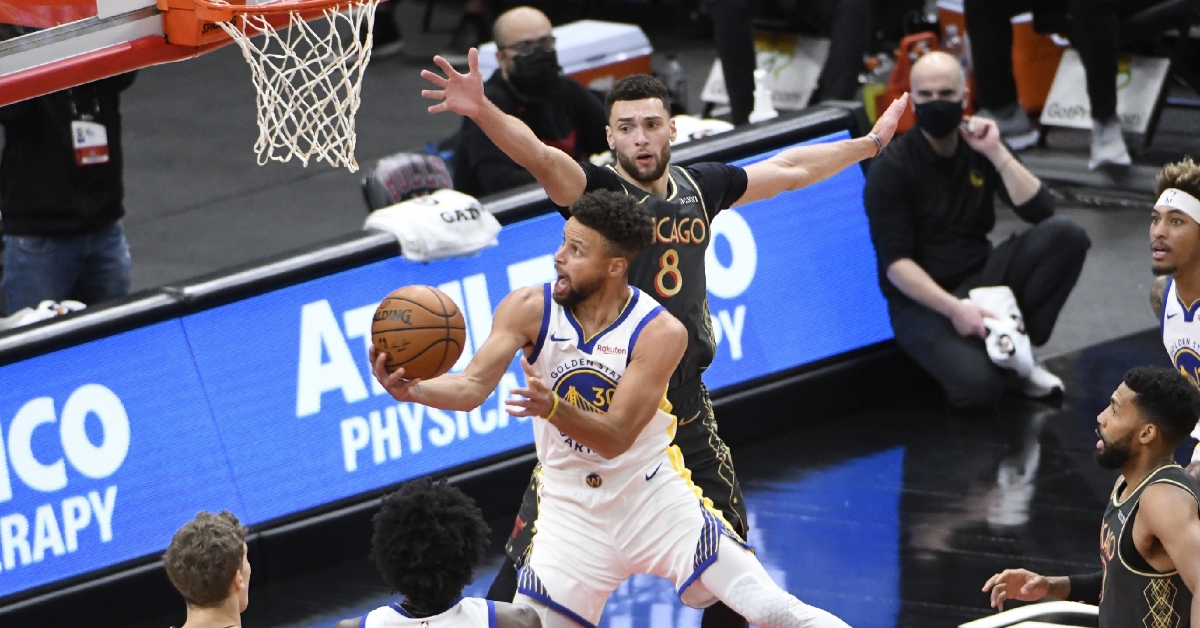 | | |
| --- | --- |
| Bulls News: Zach Lavine scores 33 in tough loss to Warriors | |
---
| | | |
| --- | --- | --- |
| Monday, December 28, 2020, 11:57 AM | | |
After a promising ending to the preseason, the Chicago Bulls entered the 2020-21 NBA season with a new coach, new direction, and new dedication to winning. Unfortunately, the winning side of things hasn't translated over as the Bulls dropped a 129-128 contest to the Golden State Warriors on Sunday, sending their record to 0-3 to start the season.
As much talent as this team could potentially have offensively; the defense needs a ton of work as they rank dead last in defense right now. That doesn't bode well unless you have a team that can consistently score in bunches, and the Bulls don't have that right now. Yesterday, saw the Bulls play what was their best offensive game of the season as they managed to lead most of the second half and most of the game.
They were able to withstand an off night by Stephen Curry and relied on strong three-point shooting of their own. In a tight game with less than a minute to go, Otto Porter Jr knocked down what looked to be the game-winning three-pointer from the corner. Unfortunately, when you're a young team struggling, those struggles are magnified as Damion Lee knocked down the game-winning three with 1.7 seconds to go sending the Bulls to 0-3 on the season.
If the MVP could be given out on a quarter or half basis, then Lauri Markkanen is the First half MVP through three games as he has gotten off to a hot start this season. After an inconsistent season shooting the basketball last year, Markkanen is on fire, especially from deep, giving the Bulls another weapon offensively. Take away their first quarter against Atlanta during the season opener, and the Bulls have played well in the first quarter of games.
That continued against the Warriors last night with seven different Bulls getting in on the first 12 minutes of scoring action. Markkanen was a significant portion of the scoring, but Porter Jr, Zach Lavine, Coby White, and others all got involved in helping the Bulls grab a 27-24 lead after one.
Zach LaVine did a little of everything last night.

33 pts | 7 reb | 3 ast | 2 steals | 2 blocks pic.twitter.com/O8nv6sMJc9

— Chicago Bulls (@chicagobulls) December 28, 2020
The second quarter has been by far the Bulls' worst quarter this season as Billy Donovan is still looking for the right rotation. Hoping for a different outcome this time, Chandler Hutchison got the scoring going, but Andre Wiggins and Lee came out on fire to give Golden State a 37-35 lead. Patrick Williams continues to showcase his all-around game, but it was the Wendell Carter Jr show last night as he picked up the Bulls' first double-double of the season with 22 points and 13 boards.
After Carter Jr. put the Bulls up four following his three-pointer, Golden State went on a 13-5 run of their own capped off by rookie James Wiseman connecting on a three to put the Warriors once again in front. Lavine and Markkanen took over the rest of the scoring in that period, but once again, Chicago endured a rough second quarter and trailed 60-56 after one half of play.
Hoping to avoid the third quarter letdown as they have over their first two games, Chicago knew they needed to continue to play with the intensity they showed during the first half. What better way than to go with White and Carter Jr's inside-out combo to help keep things close. Lavine, who led all scorers with 33, had a strong quarter himself, but this was the quarter where White took control, connecting on several threes to help the Bulls build a six-point lead.
Unfortunately, the Bulls defensive struggles continued as they couldn't put the Warriors away with Wiggins helping Golden State forget a rare off night by Curry. With Wiggins and White taking over in the third, it became a matter of who would get more contributions off the bench. Chicago was hoping Garrett Temple could be that guy, but it was Eric Paschall of Golden State who provided some much-needed scoring to keep the game from getting out of reach.
Leading 97-90 and time running down, it took one shot to change the momentum, and that shot came from Curry, who connected on a near half courter to end the third, closing the gap to 97-93. Holding a fourth-quarter lead for the first time this season, fans were curious to see how the Bulls would go about handling things. Tomas Satoransky went right at the Warriors defense early, only to have Jordan Poole and Kevon Looney close the gap to 100-98.
Looking to close out the Warriors once and for all, Chicago turned to their stars in Lavine and Markkanen as both needed to have a huge final push. They gave the Bulls precisely what they were looking for as Chicago eventually pushed their lead to eight points, the largest of the night.
COBY. WHITE.@NBCSChicago | @CobyWhite pic.twitter.com/u5DDUcy657

— Chicago Bulls (@chicagobulls) December 28, 2020
Unfortunately for them, they could not get things stretched out to doubled digits as Curry began to do Curry things on the floor.
Yes, it may have been an overall off night shooting for Curry, but you can only keep him in check so long before he heats up. For the Bulls, Curry was heating up at the wrong time as his shots started to fall down the stretch. Couple that with the outside shooting from Lee and Poole, and Golden State was beginning to make a run.
Chicago was eventually able to build a 121-112 lead following a Carter Jr. bucket, but the offense went stale over the final minutes, with the Warriors closing out the game on a 17-7 run. Curry was responsible for eight of those 17 points as the Warriors clawed back to 123-121.
Wendell Carter Jr. found his rhythm last night.

22 pts | 8-9 FG | 13 rebs | 4 asts pic.twitter.com/rueRQ2obg6

— Chicago Bulls (@chicagobulls) December 28, 2020
Looking for a big shot, Porter Jr. was left alone in the corner and buried what looked to be the knockout three with less than a minute to go.
That wasn't the case, as whenever Curry is on the floor, great things happen as an acrobatic layup, plus the foul followed by a Looney tip had things tied up at 126 with 17 seconds to go. Instead of playing for the last shot, Lavine took control with under 10 seconds to go, knocking down a smooth pull-up with five seconds left to give Chicago the 128-126 lead.
Expecting Curry to take the last shot, Chicago knew Golden State had plenty of time left, so they made sure to take him out of the equation. The problem with focusing on Curry was the Bulls left another hot shooter in Lee wide open at the top of the key, and he drained the go-ahead and game-winner with 1.7 seconds to go. Satoransky had a look from half-court as time expired, but his shot went wide, sealing the deal in the Warriors 129-128 come back win.
Chicago will be back on the floor Tuesday when they travel to Washington for a pair of games against the Wizards. The Bulls will be looking for their first win of the season, while Washington will be looking for the same.
Zach (33 pts), Lauri (23), Wendell (22) & Coby (20) each scored 20+ last night.

It was the first time four Bulls scored 20+ in a game since March 2017 (Butler, Wade, Rondo, Mirotic). pic.twitter.com/9O8FhVDsxv

— Chicago Bulls (@chicagobulls) December 28, 2020