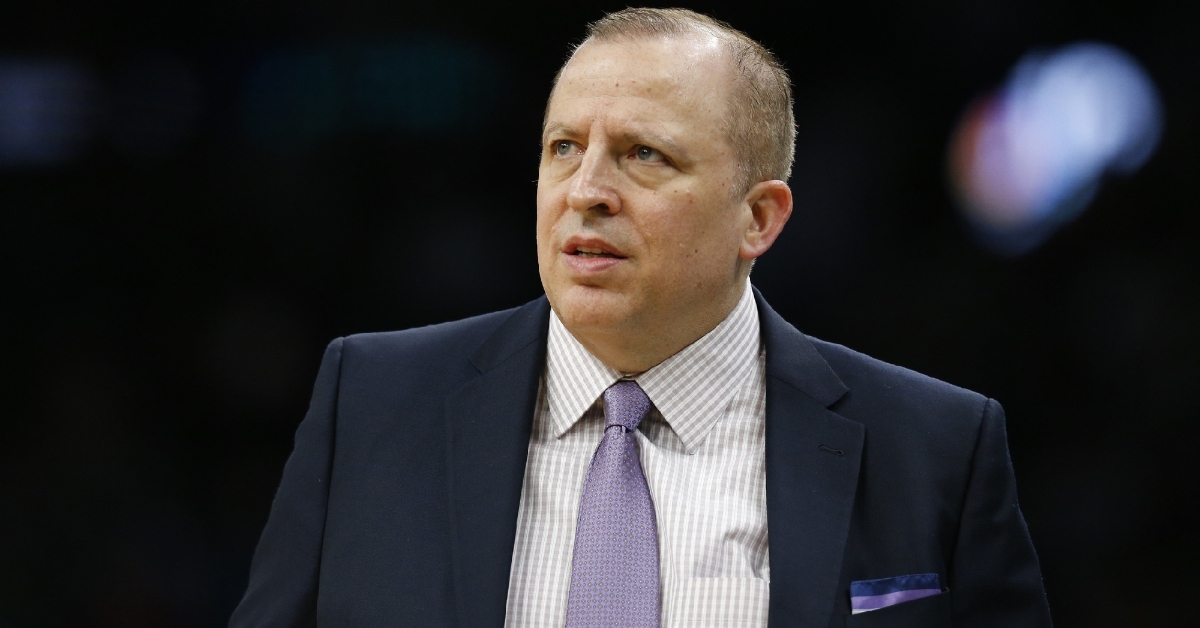 | | |
| --- | --- |
| Knicks reportedly eyeing former Bulls coach | |
---
| | | |
| --- | --- | --- |
| Thursday, May 28, 2020, 9:04 AM | | |
Over the past five or so years, the New York Knicks have been the laughingstock of the Eastern Conference, taking a once-proud organization and turning them into annual bottom feeders.
Ever since the Carmelo Anthony departure and even before that, the Knicks have not been able to live up the pressure of playing in the New York market, and the product on the court has suffered immensely. Despite adding stars like Derrick Rose, R.J Barrett, and Julius Randle to the roster over the past few seasons, the Knicks can't seem to get over the 25-win hump as it has been constant rebuilding for a while now.
Well, if recent reports are accurate, then the future fortunes could change for the Knicks if they are to get whom their targeting as the next head coach. We all know how the David Fizdale tenure ended, and since then, the Knicks have been actively looking for their next man in charge. It appears they have zeroed in on their next choice, and it is a name Bulls fans are very familiar with in former Chicago and Minnesota head coach Tom Thibodeau.
Say what you want about Thibodeau and his hard-nosed defensive style of coaching, but the bottom line is that he knows how to win. He came to Chicago and took a Bulls team searching for an identity and led them to the playoffs all five seasons at the helm, including one Eastern Conference final before the relationship between him and the front office soured.
After that, he was given the task of changing the culture in Minnesota. Granted his luck wasn't as good for the Timberwolves, he was able to establish a competitive foundation in Minneapolis that could have led to success had he stuck around in Minnesota. With a 352-246 overall record as a head coach, including 24-32 in the postseason, the now 62-year-old Thibodeau could be tasked with his greatest challenge yet of bringing the Knicks back to respectability.
New York parted ways with Fizdale last season after a 4-18 start and appointed Mike Miller as the interim man in charge the rest of the way. Miller is expected to get an interview for the full-time gig, but at this point, it seems very unlikely he would win the job, especially if going against Thibs. Thibodeau has not coached since January 2019 since he was fired from Minnesota but certainly knows how to turn losing franchises around.
All you have to do is look at his track record of five straight postseason appearances with the Bulls and then leading Minnesota to the playoffs for the first time in 14 years before ultimately being let go. Going to a market like New York, with the Money, fan base, and historical side of the Knicks organization, will be a great challenge, but one Thibodeau will take head-on if appointed the job.
Ever since 2013, the Knicks have fallen on hard times, which is very disappointing for a team in that New York market with that much history. It is time they go in a new direction and go with someone that knows his stuff over a young and unproven coach. Thibodeau is defensive-minded, yes, but he does know how to build a winner and establishes a winning attitude immediately despite his hard-nosed approach of going about things.
Granted, he may not have the instant success with New York that he had in Chicago and Minnesota; one thing that you will see right away is a competitive Knicks team with a sense of direction. Once that is put in place, then Thibodeau can start building the team he wants in hopes of turning New York into a contender once again. It may take a few years, but trust me when I say this New York will be relevant again if he is there.
Thibodeau has often been viewed as the one that got away, in my opinion, regarding his tenure in Chicago. We have seen how the Bulls have looked since he left, and it hasn't been pretty. Winning in New York would be icing on the cake for him and would cement him as one of the best coaches and leaders in the game. The East will get very interesting if this pans out.