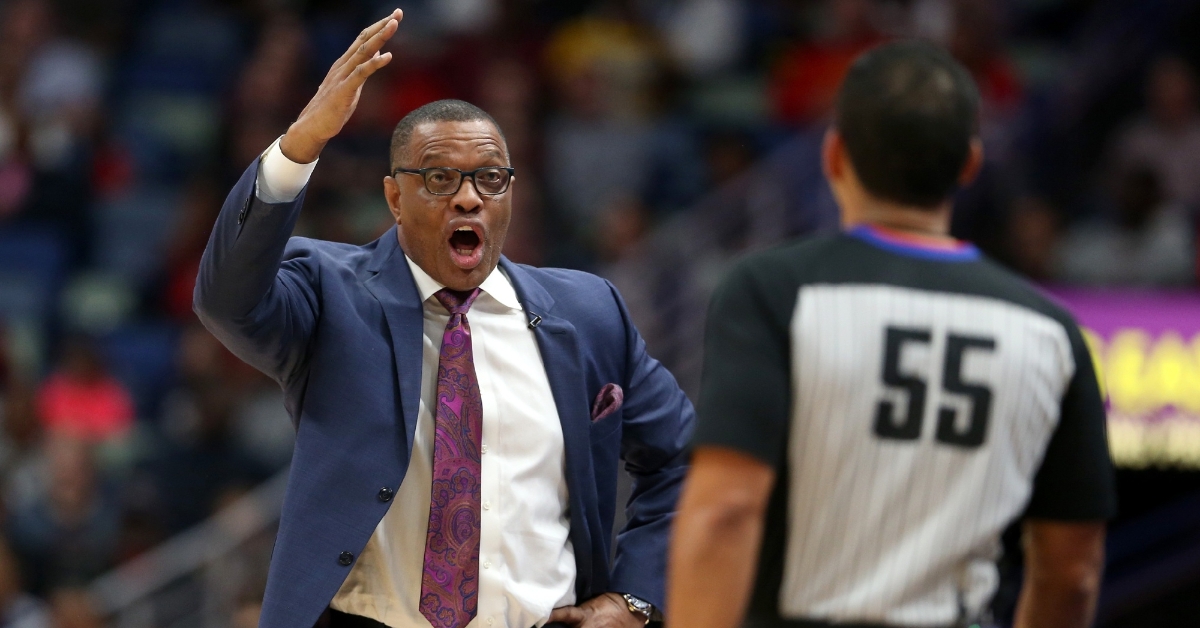 | | |
| --- | --- |
| Is Alvin Gentry a good fit for Bulls? | |
---
| | | |
| --- | --- | --- |
| Wednesday, September 16, 2020, 12:12 PM | | |
There are a lot of coaches on the open market looking for work. Some of them have plenty of experience while others are just looking to get their foot in the door. While it is unclear what the Bulls plan is at this point, we know that they are taking their time during this process to make sure they land the right name.
If Chicago is looking for an experienced mind to lead this young team, Alvin Gentry could be an option going forward. The 65-year old Gentry is what you call a lifer in the NBA as he has spent the majority of his life in the coaching ranks. After starting his career in 1980 as an assistant for Baylor University, Gentry spent 10 years in the college ranks with time at Colorado University and the University of Kansas before heading to the NBA.
In 1989, he got his first NBA assistant job as part of the San Antonio Spurs before shifting gears to the Clippers. His first head coaching opportunity came in 1995 with the Miami Heat before leading the Pistons in 1998-99. Gentry also spent time as a Clippers and Suns head coach before his most recent stop as the Pelicans leader.
Looking at his career, Gentry isn't the most successful as he has compiled a 510-595 record with his best years coming as a member of the Phoenix Suns. As the interim head coach with Miami in 1995, Gentry posted a 15-21 mark proving he could run a franchise. His time with the Pistons was filled with mixed reviews, going 16-21 in his first season before a 29-21 the next year in which Detroit made the postseason. He followed that postseason run by going 28-30, but the Pistons chose to go in a different direction.
His time with the Clippers was anything but a good time as his best record with that franchise was once again in year two, going 39-43. Just when it looked as if the Clips were on the rise, year three was a struggle as the Clippers went 19-39 before Gentry's departure once again. While most didn't expect to see him coach another team, Phoenix gave him a chance where the results were much better.
Even though he made the postseason just once in his five years, going 54-28 in his second season, he posted strong records throughout. If not for his 13-28 start in his final season, Gentry may have been extended as he kept the Suns in playoff contention most of his tenure. His lone postseason berth saw the Suns have great success as they advanced to the Western Conference Finals before bowing out.
Gentry's most recent stop was with the Pelicans, where once again, the trend of his previous stops continued. Another five-year tenure that saw his team make the postseason just once, going 48-34 in 2017 and a conference semi-final loss. Gentry was given the No. 1 pick in the draft, which ended up being Zion Williamson, who missed tons of time as a rookie. Despite that, Gentry coached the team to a 30-42 record and landed them in the Orlando bubble, narrowly missing the postseason.
Now searching for work again, this could be the last chance Gentry gets. When you look at his career track record, Gentry can keep a team competitive, but can't consistently get them into the postseason. That is something the Bulls are not looking for. The thing that makes him an intriguing candidate would be his postseason mark as he has gone 17-13 in a limited sample size. That shows you he knows how to win on the big stage.
Gentry always finds himself in situations where a team is in rebuild mode. That is precisely the situation the Bulls are in at this point. However, apart from the Suns job that he took over a decade ago, the Bulls may have the most talent or, at the very least, the highest upside among the rosters he has worked with.
He is a hard-nosed old school coach that demands a lot from his players. That is something the Bulls roster needs as Jim Boylen and Fred Hoiberg could not hold the team accountable. This is a team that not only requires a leader but one who is going to be hard on them and demand the most of them to make them better.
This would certainly not be a long-term hire, but hiring a Gentry guy would allow him to bring in a good staff where he could mold the eventual replacement. Is Gentry worth talking too? Of course, he is, but this team is ready to win now, but long term, which is not what Gentry has been able to do.