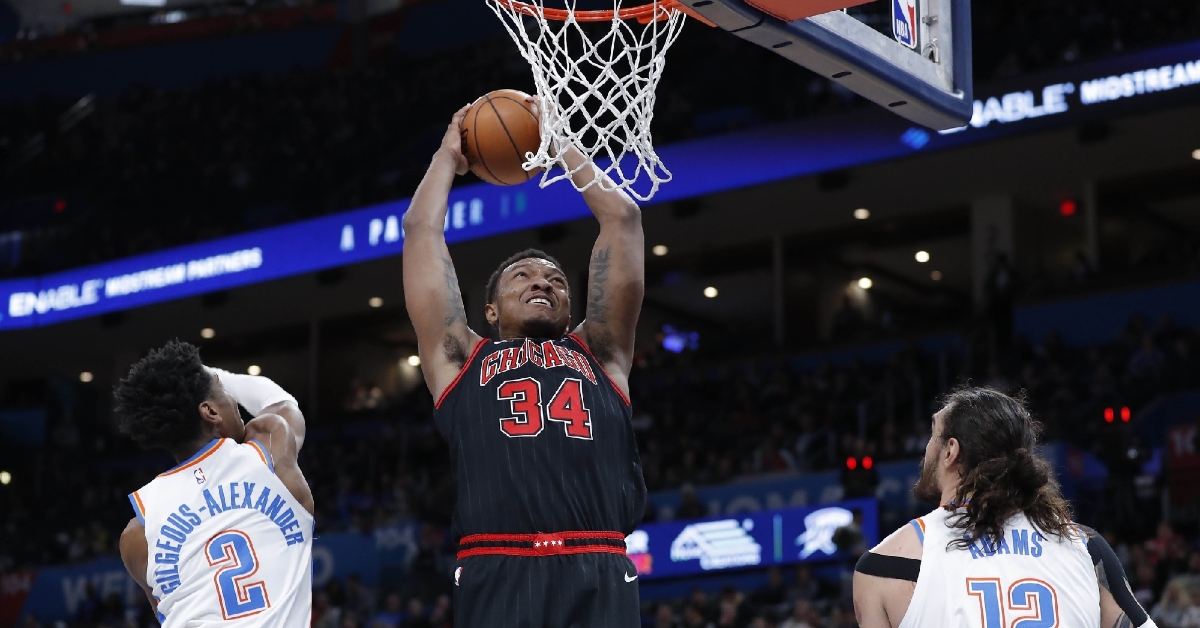 | | |
| --- | --- |
| The latest injury news with the Chicago Bulls | |
---
| | | |
| --- | --- | --- |
| Thursday, February 13, 2020, 1:39 PM | | |
Now that we have reached the all-star break, well, at least for the Bulls, that is, not much is going on with the team as of now. I thought now would be a good time to look at the Bulls injury front and see just exactly how close things are to being back to full strength.
Wendell Carter Jr: The promising second-year center made strides on offense this season as his game has become a lot more diversified than that of his rookie season. We all knew the capabilities Carter had on both defense and offense, but it was more of a case of putting it all together. Yes, Carter has struggled to do that once again consistently, but in year two of his career, he has made significant improvements and has shown he will be a crucial part of their future.
Not only is he averaging just under 12 points a game, but near ten rebounds as well, which is a vital part as to why he leads the team with 17 double-doubles in 37 games. Carter went down with a high ankle sprain in early January and was diagnosed to miss four to six weeks.
All signs indicate that he is good to go, and it looks like he may be ready for the Bulls' first game against Charlotte after the all-star break. At worst, it will be the week after, as Carter looks to be the first of the four injured players to return.
Kris Dunn: Dunn will never be the offensive player the Bulls hoped he would be, but he doesn't get enough credit for his defense. Not only is he one of the best on the ball defenders the bulls have, but he ranks in the top five in the NBA in steals per game.
Averaging just 7.4 points per game, Dunn upped his production to 9.8 ppg once he was inserted into the starting lineup in January. He then went on to Sprain his MCL on January 31, which was revealed on February 4 via MRI. Dunn has been listed to be re-evaluated in two weeks, which should be early next week if everything is good to go expect him back by the end of the all-star break. However, if he still isn't healthy, look for March to be his return date.
Otto Porter Jr.: Looked at being one of the key pieces for the Bulls this season, Porter Jr. never got going as he played in just nine games this season before suffering a foot injury. The injury diagnosed initially as bone bruise later turned out to be a fracture as Porter missed way more time than initially expected.
To make matters worse, Porter was close to returning around Christmas, but a set back in his rehab pushed him back to where we are at this point. The good news is Chicago does expect Porter to be back at some point this season and are even targeting a late February return as their goal. For the season, Porter was averaging 11.2 ppg down from his career 16.4 average.
Lauri Markkanen: Acquired with Dunn in the Jimmy Butler trade that sent him to Minnesota, Markkanen was viewed as the critical building block in the Bulls' future. After his first two seasons, you could see why, as the seven-footer from Finland displays a great outside game with his ability to play in the paint. This season, it appears that Markkanen a step back in virtually every aspect of his game so much so that he is averaging a career-low 15 ppg. That is causing some concern with the Bulls faithful as to how much value he truly brings to this team.
The biggest problem for Markkanen thus far has been his health as he can't seem to stay healthy. His Rookie season it was a back injury that sidelined him the final month. Last year he missed the first three weeks with an elbow injury before missing time at the end of the year with an abdominal injury. This season appeared to be going well until a Hip injury in January proved to be a Right Pelvic Stress reaction, which requires a 4-6-week healing timeline.
Should he take the Full six weeks, and Markkanen will be going into mid-March with less than 20 games to go. The good news, however, is that it appears Markkanen is on the fast track to come back on the earlier side of things as it seems March 1 is his target return date. Remember, before the latest trend of injuries, Chicago was just 3.5 games out of the playoffs, so the sooner these players return, the better it could be.