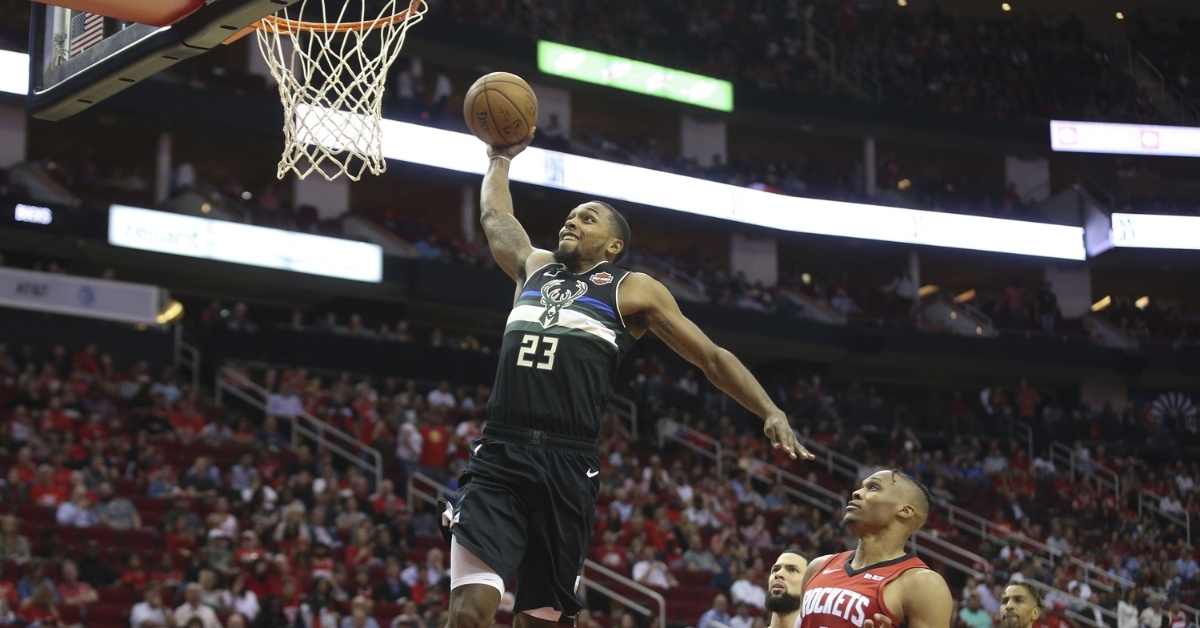 | | |
| --- | --- |
| Would Sterling Brown be a good fit with Bulls? | |
---
| | | |
| --- | --- | --- |
| Friday, October 30, 2020, 10:41 AM | | |
Recently, we discussed the possibility of the Bulls being in on Glenn Robinson III. After all, there is a need as the Bulls are looking for some wing help. If looking for wing help is the key for the Bulls offseason, then there will be plenty of options on the table for this team.
One of those options happens to play just 90 minutes up the road in Milwaukee as Sterling Brown will be free for the taking. He isn't going to be free, but he will be available and someone the Bulls may want to target. The former second-round pick out of SMU has come on late, especially the past few seasons playing in Milwaukee.
Brown is just 25 years old and is starting to come into his own, and that alone will fit well with this Bulls roster. He is also 6-5 and weighs close to 220 pounds, so size and physicality are not an issue. Drafted by the Philadelphia Sixers, Brown never suited up for them as he was dealt to Milwaukee before the 2017-18 season, where he has played ever since.
Across his first two seasons, Brown played in 54 games or more each season with a career-high 58 in 2018-19. His scoring numbers won't wow you as he averages 5.3 ppg, but his 6.4 ppg total during his second year was a career-high, so he has improved his game's overall aspect. Brown is what I like to call the perfect role player as he has a specific role and plays it well.
He will not give you a ton of minutes as; generally, he will be in the 15-20 range, but he gives you his all when on the floor. Brown does put up decent numbers posting a 46.5 % field goal percentage from a shooting side of things, including 36.2% from deep. Add in his 75.8% free throw percentage, and Brown seems like a guy that would thrive with more minutes.
One of Brown's biggest question marks and how things could transpire is the apparent legal issues that he has been dealing with for two years. It was back in January of 2018, where Brown was tased and inappropriately arrested by Milwaukee police. Brown decided to sue the police department, which was brought to trial.
The Police department offered him a $400,000 settlement to drop the suit, but Brown rejected the offer in hopes of standing up for his NBA peers that may suffer from racial profiling. A month later, that hearing was confirmed to go to trial as it will be trialed as a Civil Rights lawsuit.
Brown doesn't have legal issues that would cause concern, but he does have baggage when you look at this case. Many teams may view him as a distraction and someone who needs to be the center of attention. While I can understand why teams would feel that way, Brown is someone I would love to have on my team as he is not afraid to stand up to anyone and would be the teammate that you could count on to have your back.
While Brown may seem limited offensively, keep in mind he hasn't played in over a year and hasn't been given much of a chance to showcase his skills. In college, Brown wasn't much of a scorer but did have a season in which he averaged 13.4 ppg. He also averaged six boards and four assists in that same season, so he showed he could do it all.
If the Bulls want to go after him, they should have no trouble getting him on the cheap. They could even offer him a two-way deal and stash him in the G-League for a while to develop his skills. In his last full season in the G-League, Brown led the Wisconsin Herd with 21.7 PPG. The potential is there if someone gives him a fair shake.