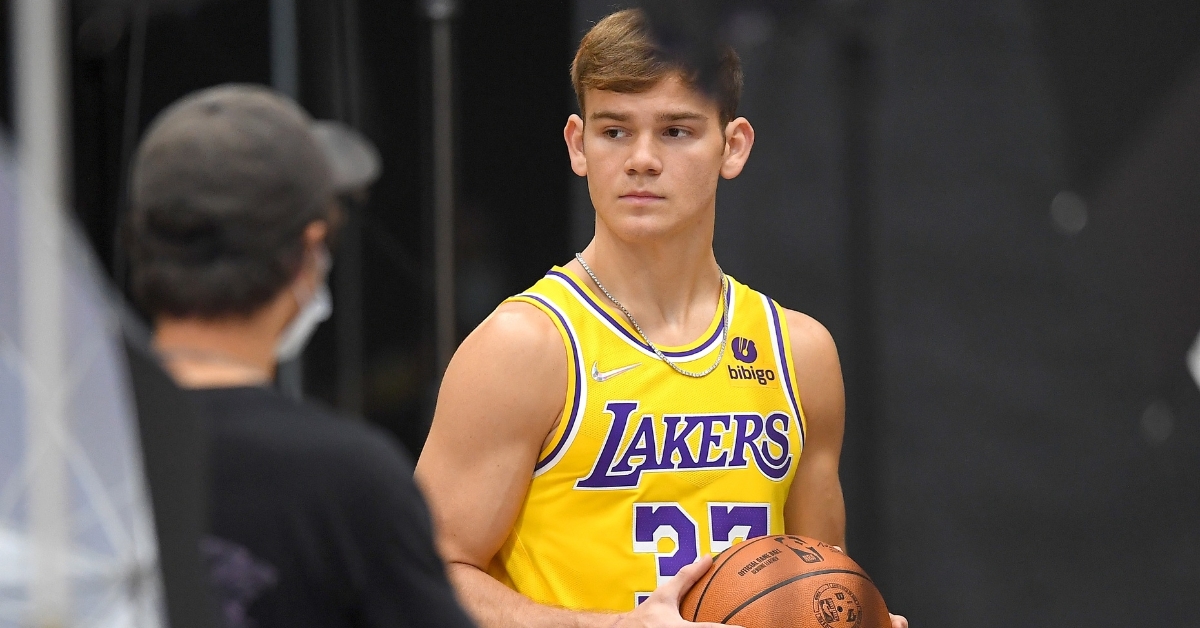 | | |
| --- | --- |
| Bulls snag two players under hardship waiver | |
---
| | | |
| --- | --- | --- |
| Wednesday, December 22, 2021, 9:55 AM | | |
As COVID cases continue to rise league-wide, no team has been hit harder than the Chicago Bulls this season. What started with just Nikola Vucevic in November turned into a massive team-wide outbreak that saw 10 players land on the COVID list at one point. That forced the NBA to step in and shut the organization down for a week as they didn't have enough bodies to compete.
Despite getting a few of those pieces back, the Bulls are still nowhere near full strength as five players remain on the COIVD list. Four of those players are a carryover from the team outbreak, with Devon Dotson being added Tuesday afternoon as a new name to the list. Expecting more players to land on the list at some point, the Bulls continue to be given hardship waivers which allows them to sign a player to a 10-day contract to help the team.
Stanley Johnson was the first of these players, but he contracted COVID before even suiting up and never saw the floor. That signing was followed by the Bulls picking up Tyler Cooks two-way deal before landing Alfonzo McKinnie on a second hardship deal. Unlike Johnson, McKinnie showed promise in his first 10-day contract, thus forcing the hand for the Bulls to sign him to another. Could this be a sign of things to come for him as he seems to be filling in nicely?
With Dotson entering COVID protocols today, the roster stands as follows. Zach LaVine, Ayo Dosumu, Matt Thomas, Alize Johnson, and Dotson are all in COVID protocols, although it looks like three or four of those names will be back soon. To go with that, the Bulls are still missing Patrick Williams, who is out for the season, and Derrick Jones Jr and Alex Caruso, who were both recently injured. Neither one of those injuries appears to be serious, but they will miss a few games putting this roster in a bind again.
The Bulls got some good news on the COVID front as Troy Brown Jr. has exited the health and safety protocols and rejoined the team. He will need to step in big over the next week as the Bulls search for bodies. With Brownback in the mix, he will join Lonzo Ball, Vucevic, DeMar DeRozan, Javante Green, McKinnie, Coby White, Cook, Tony Bradley Jr, and Marco Simonovic as the healthy bodies on this team.
Even with that, the Bulls are still left shorthanded thus have been granted two more hardship players to sign to their roster. Both are expected to join the team ahead of Wednesday's game if they pass their physicals and COVID testing. The first of those two players is Mac McClung, who was a teammate of Caruso in the Lakers organization.
McClung may not be a household name for the casual NBA fan, but he did go through training camp with the Lakers before signing with their G-League team, the South Bay Lakers. Across 13 contests, McClung has been a force averaging 19.5 PPG with 6.2 APG and 1.3 SPG. He also shot near 50% from the field and 39.7% from deep. I would argue that he was the G Leagues version of Caruso, which may not be a bad thing.
McClung may not be a household name to most, but the 6-2 guard has been going viral since his high school days as one of the most emphatic dunkers in the nation. After signing with Georgetown to play under Patrick Ewing, McClung transferred to Texas Tech, averaging 15.5 PPG with the Red Raiders. He is a high-energy type of player, which the Bulls love, and with Caruso out, could see significant time on the floor. Watching Ball and Perhaps Caruso throw some lobs to this man could be fun.
The second of the hardship signings today comes with a lot of intrigue in veteran big man Ersan Ilyasova. One of the most significant issues for the Bulls this season has been a lack of size, and at 6-10, Ilyasova gives the Bulls some nice size off the bench. Come to think of it, and the Bulls may even be tempted to start him, given his pedigree.
Not only is he an 18-year veteran, but a veteran who knows how to win and has played virtually every role imaginable. With 825 games under his belt, Ilyasova is no stranger to NBA action and has played very well across his career. Not only does he give the Bulls some much-needed size, but he has shot better than 36% from deep which allows him to stretch the floor for defenders.
Ilyasova has averaged around 10 PPG, seven RPG, and 3 APG for his career. He is a poor man's version of Lauri Markkanen and will benefit this team. Like McKinnie, Ilyasova is someone I see contributing immediately, and depending on how he does, he might stay longer than just 10 days. If that is the case, the Bulls addressed their need for front-court depth without making a trade to do so.