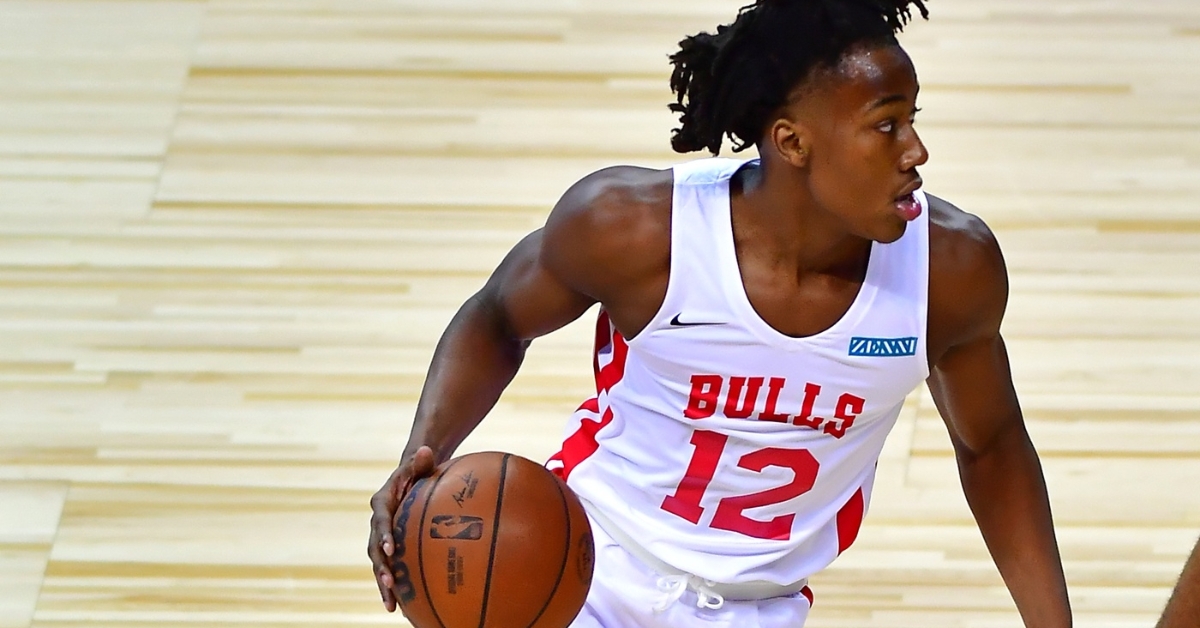 | | |
| --- | --- |
| Takeaways from Bulls loss to Grizzlies | |
---
| | | |
| --- | --- | --- |
| Monday, August 16, 2021, 12:43 PM | | |
The end results in the Summer League haven't been what the Bulls were hoping for, but there is a lot to like going forward. Following a hard-fought 96-91 loss to Memphis on Sunday, the Bulls fell to 1-3 in Summer League play and will wrap up their five-game slate Monday night against winless Charlotte.
While another loss isn't a good thing, the Bulls managed to play right with the Grizzlies, with their best player Patrick Williams sitting this one out as part of a coach's decision. Chicago struggled to get anything going offensively in the first half, with the Grizzlies holding a 53-41 lead at the break. That followed a familiar trend regarding the offense where the team struggles to score if Williams doesn't get going.
The second half was a much different story as the rookie Ayo Dosunmu had by far his best game of the summer leading all scorers with 26 points. Jalen Adams chipped in with 15 points, while Marko Simonovic added 14 more as his great summer continues. Not only did the Bulls offense come to play, putting up 31 points in the third, but their defense set the tone allowing just 16 points to hold a three-point lead after four.
Unfortunately, that momentum they grabbed in the third didn't carry over to the fourth as the Grizzlies used another impressive defensive quarter to pick up the 96-91 win. The loss moves the Bulls to 1-3 as they are guaranteed to finish, the summer league with a losing record.
Dosunmu proving he can play
As the day leading up to the draft continued, Dosunmu continued to see his name fall on the draft board after once being seen as a top 10 pick. While there are no reasons why he fell so far, it is just one of those things that happen during the draft, and the Bulls benefitted from that.
Not only did Dosunmu fall out of the top 10, but out of the first round entirely as the Bulls named the hometown kid in the second round at pick No. 38. While his role on this team is yet to be determined, Dosunmu knows there weren't 37 players better than him in this year's draft and will be playing this season with a chip on his shoulder.
One thing that has stood out about him during the summer league has been his defense, as he has provided the Bulls with excellent on-ball defense. When Chicago has been at their best defensively, Dosunmu is typically right in the middle of it as he makes plays. Sunday, fans saw how good he could be offensively as he dropped a game-high 26 points to go with 11-21 shooting.
Not expected to start this season, Dosunmu will be a wild card for this team as he will have a pivotal role off the bench. The more scoring he does, the more he will play, and that alone will make this team better.
Ayo was locked in.

26 pts | 11-21 FG | 7 reb | 3 ast pic.twitter.com/6grNXbjaDu

— Chicago Bulls (@chicagobulls) August 16, 2021
Bulls prove they can be competitive without their best
Although the Summer League doesn't have guys like Zach LaVine and Nikola Vucevic on the roster, they do have a guy named Williams who has been on a tear. He is the go-to option in terms of scoring and has been demanding the ball down the stretch in key situations.
Sunday surprised many fans when he wasn't in the lineup as he sat out as part of a coach's decisions. Even though the Bulls lost without his presence in the lineup, they proved they can be competitive without their best player, which bodes well for the regular season. With Williams out of the lineup, other guys had to step up and step up they did.
That is something that this team lacked last season when LaVine missed time down the stretch. They never had that player they could count on to pick up the slack, so maybe games like this can give them confidence moving forward. As nice as it would be for the Bulls to win the Summer League title, just seeing the players play and develop the way they have been has been a great sign so far.
Adams steps up when needed
Not only was Williams riding the bench on Sunday, but Devon Dotson was also inactive for the game as he too was a coach's decision. In place of Dotson, who has been playing well, was Adams, looking to pick up the slack. After a strong showing in his first summer league game off the bench, Adams has struggled shooting the ball since and was hoping a trip to the starting lineup would help him.
His shooting was not great, going 4-15, but his outside touch was back, knocking down 3-8 in the game. That led him to finish with a Summer League-best 15 points, providing the Bulls with a nice boost offensively. The 6-3 former UCONN guard went undrafted in 2019 after putting up some impressive numbers in college.
During his UCONN career, Adams averaged at least 14.4 PPG and finished in the top 12 all-time scorers for the University. He proved he could score, but yet teams passed on him during the draft as he has had to work his way up the NBA ranks. After playing overseas in 2020, Adams returned to the Erie BayHawks of the G-League in 2021, where he finished second on the team with 16.1 PPG.
Don't expect Adams to make the opening night roster this season, but fans should get used to his name. He will be someone stashed at Windy City this season, where he should be one of their go-to scorers. If he continues to score at the clip he did last season, Adams may push his way onto the Bulls roster at some point this season.