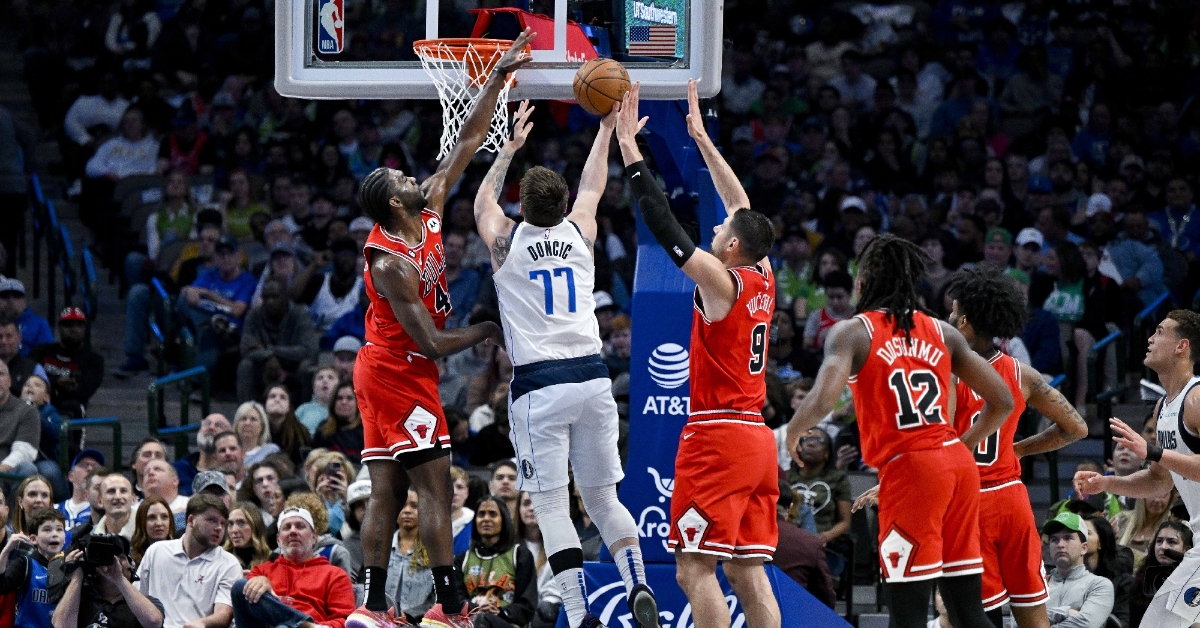 | | |
| --- | --- |
| Short-handed Bulls put an end to the Mavericks' season | |
---
DALLAS - With their season on the line and needing a win to keep their playoff hopes alive, the Dallas Mavericks (38-43) welcomed the Chicago Bulls (39-42) to the American Airlines Center on Friday with tons at stake. However, the problem for them was that Luka Doncic would only play one quarter; Christian Wood and several other players were out of the game, making things more challenging.
Fortunately for Dallas, the Bulls countered by resting some of their regulars, including Demar DeRozan and Zach Lavine, as this was becoming a game of who was more shorthanded than the other. Knowing what was at stake for Dallas, the Mavericks came out firing in the first half to hold a 13-point lead at the break. A big reason for that was their near 40-point second quarter as they outscored the Bulls 38-28 in that quarter to take the advantage.
Without Lavine and Derozan in the lineup, the Bulls knew they were going to have to step up, and step up they did as they outscored the Mavericks by seven in the third quarter to pull within six before dominating the fourth quarter 30-21 to pick up the come from behind 115-112 win. This was a much-needed win for the Bulls to try and gain some momentum heading into the playoffs, and to come from behind without their stars is telling about the fight in this team.
Credit Coby White for not only stepping in to fill Lavine's shoes, but he was looking like Lavine on the floor and led the way offensively for Chicago. On the strength of his 10-17 shooting night, White finished with 24 points while also dishing out 11 assists. White also had seven rebounds for a near triple-double and played arguably one of the best games of his career.
While two of the Bulls big three were unavailable, you still had the big man Nikola Vucevic on the floor, who continued to go about his business. Using finesse on the inside and a great shooting touch, Vooch continued to deliver double-doubles on the floor as he finished with 20 points and 10 boards. Typically Vucevic finds himself in the middle of a Big Three that scores close to 70 points per game.
Even without DeRozan and Lavine, Chicago found a way to put forth a big three, with Patrick Williams coming up huge. Ever since moving to the bench, Williams has looked much more comfortable and has been playing the most consistent ball he has played all season. He carried that over into the starting lineup on Friday and added 23 points and eight rebounds to give the Bulls another 20-point scorer and a different-looking Big-Three.
Lavine and DeRozan were just some of the starters missing in action, as Chicago also chose to rest Patrick Beverley. Arguably the reason why the Bulls have turned it around enough to make the playoffs, his production wasn't missed as Ayo Dosunmu stepped in to drop 12 points while adding nine rebounds and five assists. Chicago also saw Terry Taylor and Dalen Terry connect for eight points off the bench, with Carlik Jones and Derrick Jones Jr adding six in what was a complete team effort.
Given what was at stake for Dallas, not only was it surprising to see so many people out, but it was surprising to hear Jason Kidd say that Doncic would be done for the season after one quarter. He made sure to get the most out of his time on the floor, finishing with 13 points while picking up five rebounds and three assists. With Doncic done for the day, Wood and Kyrie Irving not suiting up, Dallas was missing roughly 60% of their scoring output and needed it to come from somewhere else to have a chance.
Most of that came from the Mavericks bench as the rest of the Dallas starting lineup combined for 22 points, although watching Reggie Bullock hit a half-court shot to end the first half was fun. Joining Doncic with 13 points to lead the team were Markieff Morris and McKinley Wright, who added that off the bench in less than 25 minutes. Dallas also saw AJ Lawson (12), Justin Holiday (11), and Davis Bertans (11) come through off the bench for Dallas, but the lack of available players ultimately cost them a potential play-in spot with the loss.
Not only did the loss eliminate Dallas, but it gave Oklahoma City their first playoff spot since Billy Donovan was the coach three seasons ago. Chicago will look to end their regular season on a positive note as they take on the Eastern Conference worst Detroit Pistons on Sunday. Expect more players to be rested as they prep for their play in a matchup with the Toronto Raptors.