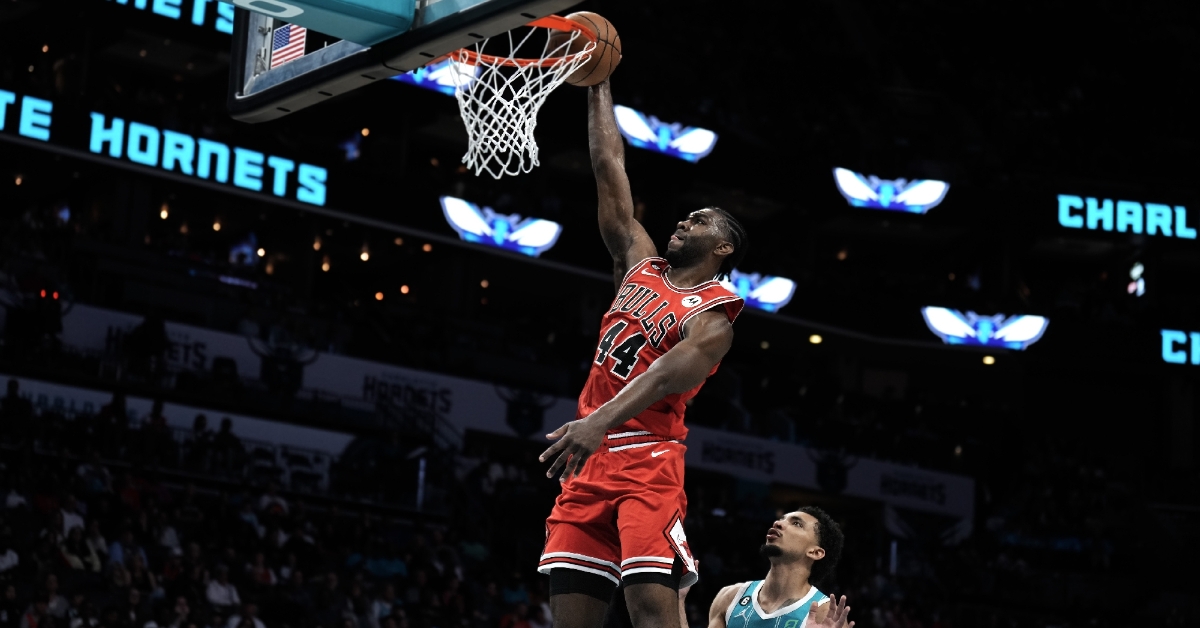 | | |
| --- | --- |
| Bulls sting Hornets as magic number drops to three | |
---
CHARLOTTE - Despite the Chicago Bulls (37-40) not making things easy on themselves this season, they still find themselves in playoff contention with just five games to go. Not only that, but the Bulls are in the driver's seat as they continue to occupy the tenth and final spot and are within a game of the eighth seed.
By knocking off the Charlotte Hornets (26-52) 121-91 on Friday, the Bulls not only maintained their lead, but received a little help in the process, with the Orlando Magic knocking off the Washington Wizards 116-110. That gives the Bulls a three-game lead over Washington for the final playoff spot with five games left, as their magic number to clinch is three. Chicago could clinch with two wins or a pair of losses by Washington, but the Bulls know what they need to do to make the postseason.
A large part of why this team has improved so much has been their defensive effort, as they have been a top-10 defensive team for quite some time. Then you add Patrick Beverley into the mix, and the Bulls finally have the PG they were lacking this season, and the offense has looked more fluid because of it. The addition of Beverley has also created more shot opportunities for everyone involved, leading to a more balanced scoring attack.
You saw that again tonight as the Bulls had three players score 20 points and six players drop double figures. Four came from the starting five as they set the tone in this one. Leading the way was Demar DeRozan, who continues to have a quietly good season. He continues to shoot the ball at an efficient clip 51.7% and led the way with 23 points. DeRozan was joined by Zach Lavine, who, despite having a few down games in recent weeks, is still in the middle of arguably the best stretch of his career.
Lavine didn't shoot the ball as well as he has in this one, but with 23 points, you would never have guessed. For as good as DeRozan and Lavine have been, you can argue that Nikola Vucevic has been the team's best and most consistent player. Not only has he been a double-double machine (third in the NBA), but he is enjoying the best shooting season of his career percentage-wise.
He has taken on a lesser role this season and has taken it head-on, proving he still has a lot of game left. Although he didn't net a double-double, he still finished with 21 points and eight rebounds as the Bulls big three showed up. Rounding out the double-digit starters was Alex Caruso, whose 10 points were the most he has had in over a month.
Those four may have shouldered the load given the minutes they played, but don't overlook the newly improved Bulls bench. Since the addition of Beverley, several players have seen their roles change, including Patrick Williams. Now on the bench, Williams seems much more comfortable as this is the role he played in college. Williams shot the ball exceptionally well and finished with 15 points without adding an assist or rebound.
Arguably the most improved player on the roster this season has been Coby White, who, like Williams, has thrived off the bench this season. White continued to do his thing, especially from distance, as he finished with 11 points. Those two accounted for 26 of the bench's 40 points, as the Bulls had no issues with Charlotte.
Ever since the loss of La'Melo Ball, this Hornets team has been in a tailspin as they have gone from playoff contender to potential top-five pick in the draft. He was the engine that made that offense tick, and it has been a struggle since he has been gone. Leading the way in this one was a surprising face as James Bouknight went crazy off the bench. He connected on 6-11 from distance to finish with 22 points.
Apart from him, the Hornets got little production from anyone, with only two other players landing in double figures. One came from the starting five, with Svi Mykhailluk finishing with 16 points. Throw in the 10 points from JT Thor off the bench, and that was all the double-figure production this team had, as the Bulls defense continues to make things difficult on many teams by forcing turnovers and making their shots.
With just five games left, Chicago needs to win two games to clinch a spot in the play-in, but could get in with some help from Washington. Two of the final five games will be a challenge for Chicago, including their big matchup at home against Memphis on Sunday.