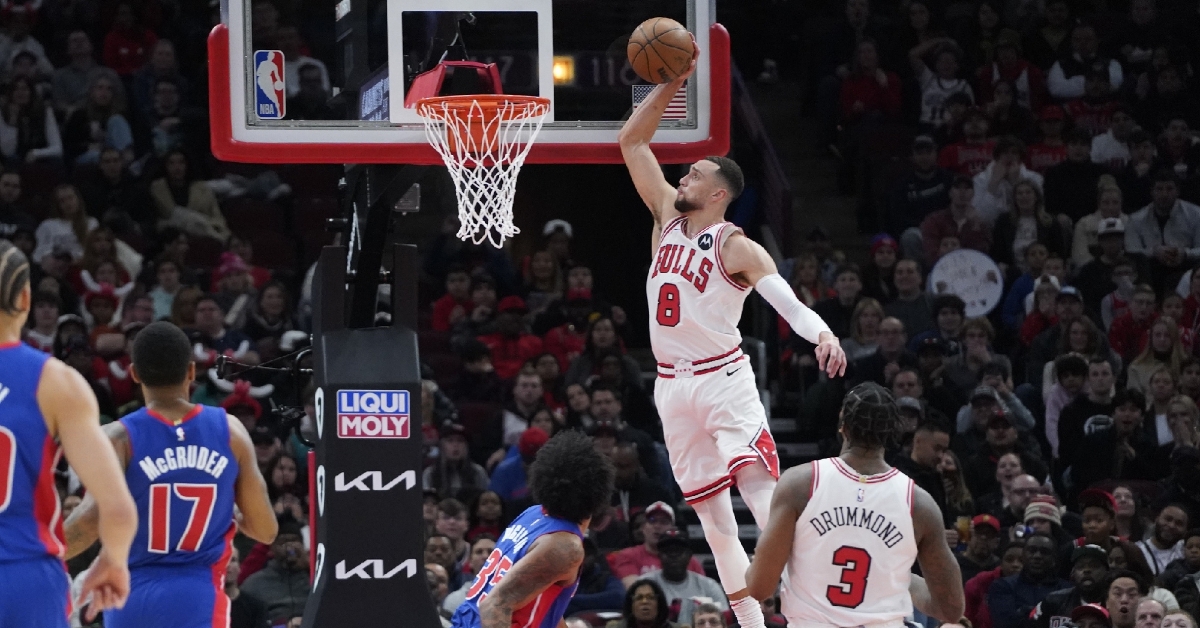 | | |
| --- | --- |
| Bulls reportedly listening to trade offers for Zach LaVine | |
---
After coming off a somewhat disappointing season in 2022-23, the Chicago Bulls knew they would face some tough decisions this offseason. Most of those decisions hinge on their current roster and what they want to do with it. With DeMar DeRozan in the final year of his contract, Nikola Vucevic a free agent, Lonzo Ball still injured, and Coby White a free agent, Arturas Karnisovas and company are going to have to make some decisions on whether or not to run it back again or face the harsh reality of a rebuild.
As things sit today, it appears that Karnisovas wants to run it back one more time or is considering doing that again. You have already seen Andre Drummond pick up his player option to remain in Chicago while you had the reports that the Bulls and Vucevic are in the initial stages of contract extension talks.
However, even if they want to run it back with this roster, the health of Ball is the biggest question, as the Bulls will need to invest in a PG should he not be cleared to play again this season.
When you look at their season as a whole last year, you can say it was a disappointment, and the reality was that it was a disappointing year. The Bulls never met their expectations, but the front office could have done a better job bringing in the right pieces to help. That could be a problem again this season as the Bulls have a ton of money tied up to several players, making it hard for them to add where they need to.
That alone is why this team needs to face the reality of a rebuild, as they need to start over and build within. Trading Vucevic or DeRozan make sense, but given their age, you may not be able to get much for them. However, if you trade your best player, that is a telling tale of the direction this team wants to go, as there are reports out of Chicago that the Bulls are starting to talk to teams about what a Zach Lavine trade would look like.
Make no mistake about it. If the Bulls trade Lavine, it would signal the initial stage of a full-blown rebuild, as he is their best scorer and player. You have seen it during his four seasons in Chicago, as he has gone from a streaky shooter with freakish athleticism to becoming one of the more lethal offensive threats in the game. His play earned him a supermax contract last offseason, and the Bulls locked him up.
Despite Lavine struggling most of the first half last year, some point to his offseason knee surgery as the reason why. Once the all-star break passed, Lavine returned to his old self and looked like the top 10 scorer the Bulls expected him to be. Losing a player of his caliber would cripple this team, but it would also help them out in the long run.
Sure, this team would go from playoff contender to bottom feeder in a hurry, but trading Lavine away would net them assets in return that they may not have now and could fit nicely in Chicago. A trade would also clear a ton of money off their bottom line, allowing them to sign more players on the free-agent market to help this team.
However, the most prominent attribute the Bulls could add by parting ways with Lavine would be the acquisition of draft picks which this team has little of right now. The Bulls put all their chips to the middle when they got Ball and DeRozan, and things were looking great up until the Ball injury. With most of their draft picks gone until 2025, the Bulls need to figure out a way to build within, and that will only come with additional draft picks to help this team.
The news about the Bulls listening to offers on Lavine came 24 hours after the Wizards announced they would be listening to offers on Bradley Beal, as these two guys will be the talk of the NBA offseason. , and that could be the main reason they are considering it at this point.
Teams like the Suns, Lakers, Mavericks, Trail Blazers, Knicks, and Heat are all teams mentioned to be in on Lavine, which could be a good thing for Chicago. All those teams have the draft capital to give Chicago while also having tons of players the Bulls could bring to Chicago. The question now becomes what a Lavine trade would look like.
Right now, the most common trade package sends Lavine to Phoenix in exchange for former No. 1 pick Deandre Ayton. While this seems like a win-win for both sides, adding Ayton doesn't make sense if Vucevic returns. Ayton is one of the last remaining old-school centers that lives in the paint. His offensive game continues to be his calling card, but he has gotten lazy on defense which could be a concern. Chicago is looking to get better on defense, not worse, but they do need help in the paint on offense.
The Bulls also need more perimeter shooting as a team, so look for that as a target in a potential trade package. No matter how you look at this, Chicago will weigh all of these options this summer to make the best decision possible for this team. If Lavine is going to be on the move, he will go down as one of the best scorers in Bulls history.
https://www.youtube.com/watch?v=YngwL3Dbzy4