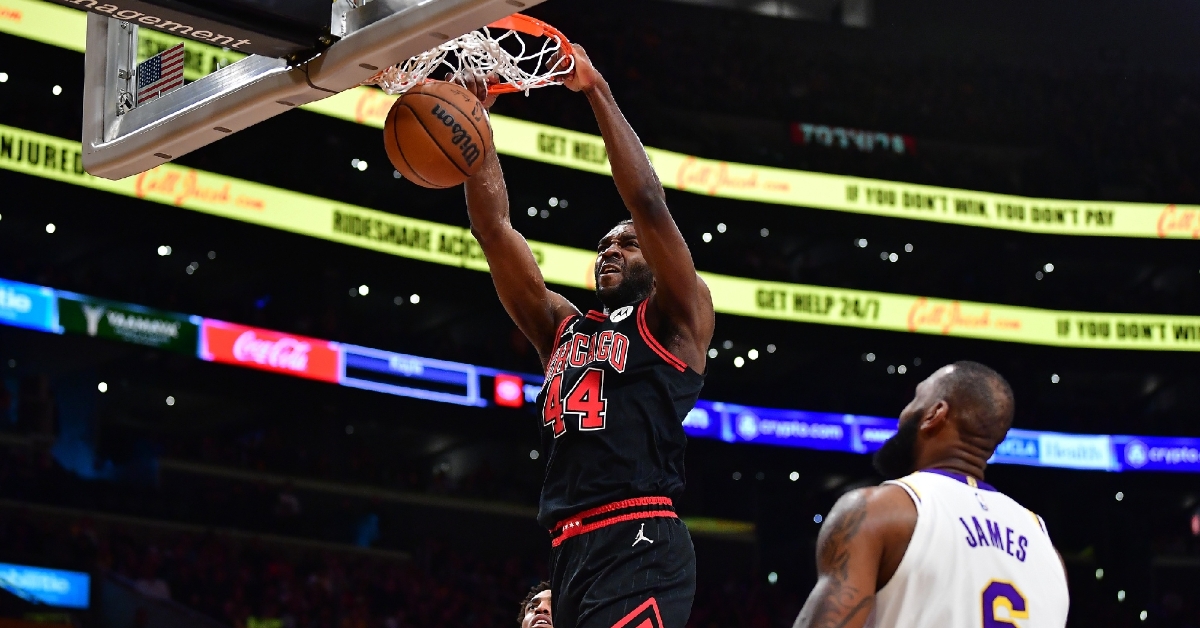 | | |
| --- | --- |
| Bulls continue late surge with win in Lebron James' return | |
---
| | | |
| --- | --- | --- |
| Sunday, March 26, 2023, 10:00 PM | | |
LOS ANGELES - If the Chicago Bulls had played the way they did since getting Patrick Beverley all season, they wouldn't have to fight for a playoff spot with just eight games to go. It is incredible what desperation can do for a team, as the Bulls are playing with more of a sense of urgency than at any point this season.
Looking to pick up another road win against a Los Angeles Lakers (37-38) battling for a playoff spot of their own, Chicago was going to be up against a more significant challenge as LeBron James tested out his foot and was cleared before the game. Chicago didn't let that bother them as they continued playing inspired basketball and took down the Lakers 118-108 to move closer to the No. 8 and No. 9 seeds.
When Zach Lavine plays the way he has the past two months, it makes the Bulls one of the better offensive teams in the league. When on, Lavine can score from anywhere on the floor, making things easier on the rest of the Bulls roster. Lavine continued to do his thing on the floor as he shot nearly 70% again and led the way with 32 points.
While the Lakers received a huge in getting James back, the Bulls also received a big lift as Demar DeRozan returned from a two-game absence with a quad injury. Although he didn't have as good of a game as Lavine, he still shot 50% from the field and finished with 17 points to give Lavine an excellent tandem.
The game's big story came from Nikola Vucevic, who was ejected in the second quarter after receiving two technicals. That put the Bulls offense in a bind, as they would need help making up for his absence. Fortunately for them, Andre Drummond continues to see an increase in minutes over the past month, and he played a crucial role on Sunday.
Drummond filled in nicely for Vucevic to come away with 12 points and eight rebounds. Another player that continues to set the tone off the bench is Coby White, who has put together his best season as a Bull. Had he played this way across his first three seasons, Chicago may have viewed him as part of their future.
Now, his future is up in the air, but if he continues to do what he has done this season, you can bet the front office will consider bringing him back. He again led the bench with 13 points and connected for a team-high three triples. Chicago hit 14 threes in the game and shot better than 40% from distance. Beverley rounded out the double-digit scorers for Chicago, finishing with 10 points. This was one of the two games Beverley circled on his calendar when he arrived in Chicago, and he got the best of his former team in round one.
Although James returned from a foot injury, he didn't start the game and came off the bench, which is a rare occurrence for him. Even then, he played a good game and led the team in scoring with 19 points and eight rebounds in 30 minutes. The Lakers also had Malik Beasley come through with a massive game off the bench, as he had 18 points in 26 minutes, with all 18 points coming from behind the arc.
Like the Bulls, the Lakers have primarily relied on their starting five to shoulder the load, but things have changed. Since acquiring D'Angelo Russell at the trade deadline, the Lakers have been a much more balanced team which is another reason they have put themselves in the playoff picture again. Adding Anthony Davis back into the mix helps, but this team has figured out how to win without Lebron.
With James coming off the bench, Los Angeles needed someone to step up and pick up the scoring. That happened to be former Chicago Bull Troy Brown Jr, who has had his best season as a pro. Brown led all starters with 18 points and knocked down four three-pointers of his own. Joining Brown in having double-digit games were three other players, including Dennis Schroder.
The PG delivered a 17-point game while dishing out five assists and three rebounds. Speaking of Davis, with James on the bench, it would come down to Davis and his efforts to lead the way. However, the Bulls defended him well and limited him to 15 points in 36 minutes. Austin Reaves rounded out the strong showings by the Lakers with 13 points in the loss.
Chicago will close their road trip tomorrow when they take on the Los Angeles Clippers. A win moves them to within one game of the .500 mark, their highest mark since December.