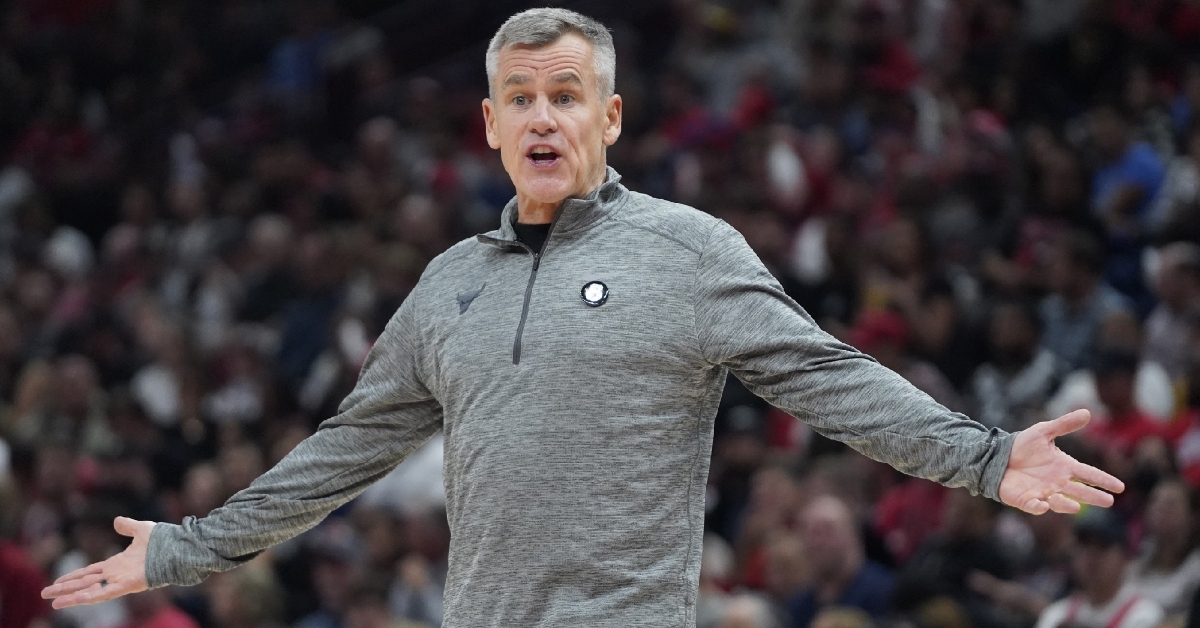 | | |
| --- | --- |
| Bulls embarrassed at home by Cavaliers | |
---
| | | |
| --- | --- | --- |
| Sunday, October 23, 2022, 12:21 PM | | |
CHICAGO - It is amazing how different a year can make. After going through the entire 2021-22 NBA season without being under .500, the Chicago Bulls (1-2) fell below .500 just three games into their 2022-23 season after an embarrassing home opener against the Cleveland Cavaliers (1-1).
With Zach Lavine making his season debut after missing the first two games with a knee injury, there was a different sense of energy at the United Center as fans were anxious to see what this team would look like at full strength. Instead, it was the Cavaliers that put on the show as they started fast and didn't stop as they spoiled the Bulls' home opener with a dominating 128-96 victory.
You could see there was a little bit of rust on the part of Lavine despite leading the Bulls with 23 points. He shot 9-17 from the field and just 2-6 from deep, but at times the offense tried to run too much through him that it became forced. That has always been the concern for a lot of fans and some would argue that this team is a better overall team when he isn't on the floor.
You saw it during the first two games this season where the Bulls looked far more competitive without him than they did with him and that is something to watch for going forward. Apart from Lavine and his game, the Bulls struggled to find consistent production although Nikola Vucevic continues to put up solid numbers.
He added 16 points, but his lack of rebounds was a concern as he finished with just four rebounds. Given that Chicago has a lack of frontcourt size if he can't rebound the team is going to be in trouble. In order to beat the Bulls, you have to take DeMar DeRozan out of the game and Cleveland did a great job of doing that.
Coming off of consecutive 30-point games, the Cavaliers were not going to let that happen again as they held him to 3-9 shooting en route to his 13-point effort. No one else on the roster scored more than eight points with Derrick Jones Jr and Andre Drummond grabbing eight points off the bench. Following a six point night from Patrick Williams, you have to wonder if Billy Donovan will consider moving him from the starting lineup as his production has not been what the Bulls have been hoping for.
When it comes to the Cavaliers, not only were they a surprise playoff team last year, but they could be one of those Eastern Conference teams on the rise this season. When you make the trade to acquire Donovan Mitchell in the offseason, you can see the vision the Cavaliers have and Mitchell went off against the Bulls.
Rumored to be on the Bulls' radar this offseason, Mitchell led all scorers with 32 points and did that on 10-19 shooting. He also knocked down four shots from the perimeter as he gives the Cavaliers an added dimension they didn't have a season ago. Along with him, Cleveland had plenty of scoring balance with five other players landing in double figures.
In terms of starters, Evan Mobley was next on the team in scoring as he dropped 16 points while adding three rebounds. Add in the 14 points from Caris LeVert and the Cavaliers had three outstanding starters which is more than enough for the Cleveland offense to settle in.
While those three had phenomenal games, guys like Jarrett Allen did struggle so it was up to other players to step up. Kevin Love and Cedi Osman played a huge role in picking up the slack as each of them dropped 15 points. with Love adding 12 rebounds to go with that 15 points.
Say what you want about Love and his production at this stage of his career. If he can give the Cleveland team a double-double off the bench similar to what he showed on Saturday, this team has the potential to be a top-four seed in the East which makes the Central Division that much tougher.
Former Chicago Bull Robin Lopez rounded out the double-digit scorers for Cleveland as he finished the game with 12 points off the bench. This loss was not a good look for Chicago especially when you look at the expectations this team has put in place this year, but there are still 79 games left this season.
https://www.youtube.com/watch?v=FktjaX7wqco