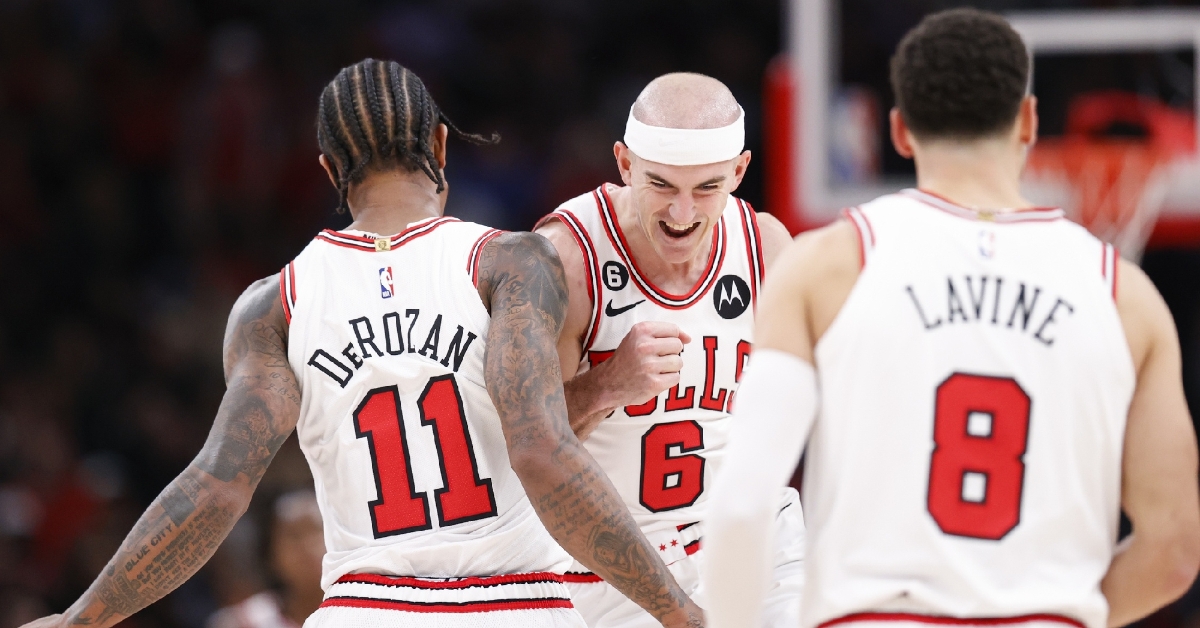 | | |
| --- | --- |
| Bulls stun Celtics for confidence-building win | |
---
CHICAGO - Just when you thought you had seen it all this NBA season, the Chicago Bulls (7-10) played arguably their best game against one of the elite teams in the Eastern Conference. With the Bulls losing four straight and the Boston Celtics (13-4) riding a nine-game winning streak, many fans expected this to be another loss for the Bulls.
However, considering that this is the third time these two teams have met over the last month, the Bulls seem to have figured out the Celtics, as two of Boston's four losses have come against Chicago. The second of those two came on Monday when the Bulls delivered a very impressive performance and topped the Celtics 121-107.
After getting benched in the fourth quarter against the Magic, Zach Lavine voiced his frustrations with the situation. He has now cleared the air and respects what Billy Donovan did, but he needs to play better. Granted, he did score 22 points in this one, but he also struggled shooting the ball as he connected on 40% of his shots, but 50% from deep.
For a player getting paid the kind of money Lavine is, you would expect more consistency from him, but that is coming from Demar DeRozan, who continues to prove his the best player on this team. Despite being held to under 50% shooting, DeRozan connected on plenty of shots and finished with a game-high 28 points. Those are the types of games you need to have against the Celtics, but the Bulls had plenty more where that came from as all five starters, and six players total dropped double digits.
Perhaps the biggest takeaway from this game was the performance of Patrick Williams. Still a bit of an unknown given his inconsistency and injury history thus far, Williams is starting to show the aggressive side of him that the Bulls wanted to see, as he finished with a season-high 17 points to go with four rebounds.
Add in 12 points and 13 rebounds from Nikola Vucevic and 10 points from Ayo Dosunmu, and the Bulls starting five gave Boston plenty of struggles. Throughout the early portion of the season, the Bulls bench has plagued them apart from Goran Dragic and his emergence. That wasn't the case in this one, as Alex Caruso had another great night with 10 points while Coby White (9), Javonte Green (8), and Andre Drummond (5) all found themselves in the scoring column. Drummond added 12 rebounds as those four made up for the scoreless night from Dragic.
Boston has been one of the biggest surprises this season, mainly because they have had to endure a coaching change after Ime Udoka was let go. All they have done since then is win games as they continue to show why they were the Eastern Conference champs and have a great shot at reaching the finals again.
It does help when you have two perennial All-Stars and an MVP candidate in Jason Tatum, who came into the game averaging better than 30 PPG. Although he didn't reach 30 points, Tatum still had a great night picking up a game-high 28 points. Fellow All-Star Jaylon Brown joined him as he came through with 25 points.
Unlike the Bulls, who had all five of their starters in double figures, only Grant Williams and his 13 points were the only other starter to land in double figures for Boston, who also so Al Horford endure a rare zero-point night. That never happens, and you, too, look at his shooting for that. However, you also have to give the Bulls defense some credit, as they made things difficult for Horford.
With Celtics starters struggling to score points, Boston needed help from the bench, and Malcolm Brogdon certainly provided a lift. The Celtics outscored the Bulls bench 33-32, but 23 of those points came from Brogdon as his great season continues. Not only does he have the makings of a sixth man of the year candidate, but he will be a force to deal with this season, and the Bulls know that. He was the last of the double-digit scorers for Boston as they have now dropped two of their first three against the Bulls this season with back-to-back losses.
Chicago will now hit the road to take on Division-leading Milwaukee on Wednesday, as that will be the beginning of a season-long six-game road trip. To make matters worse, the final five games are out West, as this will be the annual West Coast Rodeo that teams dread when the season starts.