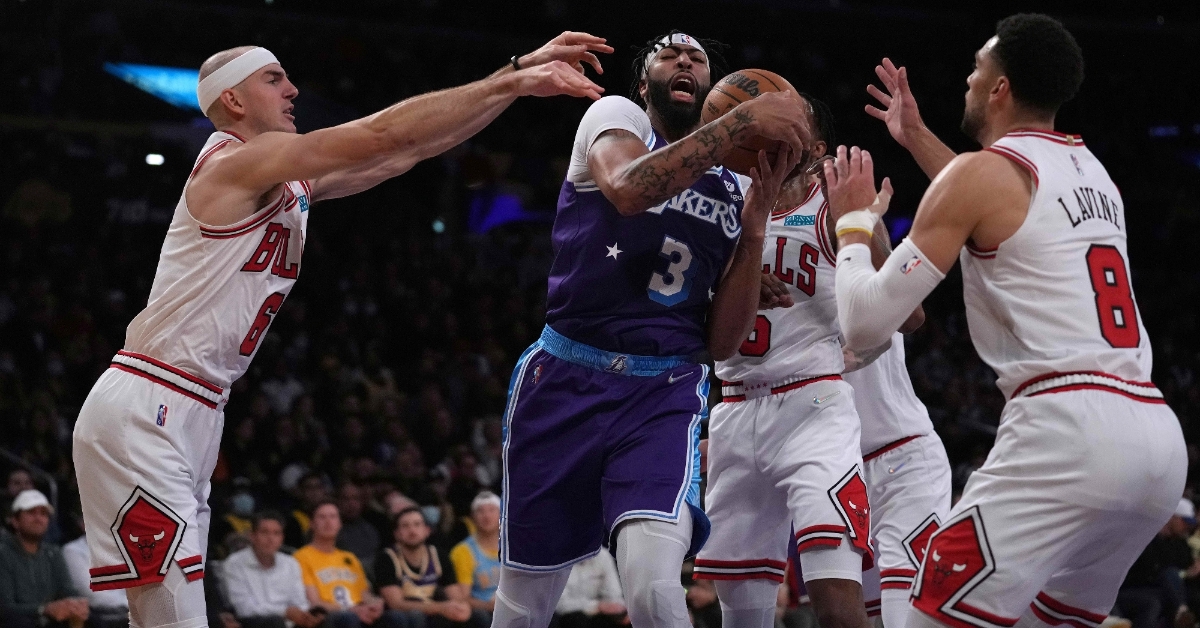 | | |
| --- | --- |
| Bulls get first win over Lakers since 2016 | |
---
LOS ANGELES – With every passing victory, more and more people are starting to believe in this Chicago Bulls (10-4) team. What was looked at being the telling point as to where this team is, the Bulls continue to go about their business as they looked for the LA sweep against the Lakers (8-7) last night.
In a homecoming of sorts for Lonzo Ball and Alex Caruso, there were some emotional moments for sure, but a game still had to be played in front of a packed Staples Center crowd. Speaking of Ball, the PG put on quite a show in front of the fans that once cheered for him as he knocked down a career-best seven three-pointers for the second time in a week to drop a season-best 27 points.
He wasn't alone in having a big night as the NBA's best duo was at it again, showing why this team is dangerous. Zach Lavine had a quiet 26 point night to finish third on the team in scoring, but it was the DeMar DeRozan show again. A homecoming in his own right, growing up in Los Angeles, DeRozan has been balling out this season, and that continued yet again. Not only did he score a game-high 38 points, but he did so on 15-23 shooting as his impressive start to the season continues.
Add in 13 points from Derrick Jones Jr. off the bench to go with some other contributions across the board, and it is no secret why the Bulls came out on top 121-103. After acquiring Carmelo Anthony and Russell Westbrook, among other moves this offseason, the Lakers were considered one of the best teams in the NBA this season.
Anthony Davis said it best himself the other day when he stated the Lakers are not a great team right now. A big reason for that is the continued absence of Lebron James, who is nursing an ankle injury right now. Take him out of the equation, and the Lakers are a different team, but still have plenty of firepower with Talen Horton-Tucker leading the way with 28 points for the Lakers as his strong start to the season continues.
Westbrook continued to go about his business, dropping 25 points while Davis added 20 points of his own. Davis was the center of attention all game long as the Bulls got under the Lakers skin from the start. During the second half, Davis had his shoe come off and voiced visible frustration to the officials. That didn't sit well with them as they ejected him from the game, further putting the Lakers in a bind. That played a massive role in why they couldn't come back, but give this Bulls team credit as they continue to pile up wins against good teams.
Take wins while you can
The Bulls have struggled to beat teams with winning records for the longest time. This season that is not the case as Chicago is proving they can compete and beat anyone in this league. Following victories over both the Lakers and Clippers in consecutive days, Chicago further cemented themselves as an elite team as they are winning games they stood no chance in a season ago.
No one will take these wins away from Chicago, but keep in mind the Lakers were without James last night while the Clippers are down Kawai Leonard. I am not going to say the results would have been different if they played, but you have to consider that the wins the Bulls are getting right now are against good teams that may not be at full strength.
Chicago is also in that same situation with Patrick Williams and Nikola Vucevic out, so they are not at full strength themselves. At some point, Chicago will start to see teams at full strength, whereas they will never be this season with Williams done for the year. The more wins they can bank now, the better their chances are for making the playoffs.
Well worth the wait
Sticking with beating quality teams, it has been a long time coming for the Bulls when it comes to defeating the Lakers, five years to be exact. Following their victory last night, Chicago can now say they have beaten the Lakers again as this was their first victory against them since 2016.
That was by far the longest streak in the NBA among any team and one the Bulls are happy to get off their back. Not only was this a confidence booster for the team, but this is just the beginning of a lot of streaks that may go down this season.
A happy homecoming
It is one thing coming back to the team that drafted you as an opposition. It is another thing to go out there and ball out to remind people they made a mistake. That is precisely what Ball did in front of the fans that cheered for him during his Lakers tenure as he put on a clinic last night.
The biggest knock against Ball when he was with the Lakers was his inconsistent shooting from the PG spot. Eventually, that began to grow old with the Lakers as they traded him to New Orleans as part of the Anthony Davis deal. Despite his struggles, Ball continued to put the work in every season and got better when it came to shooting the ball, even if people don't realize that.
This season, Ball has been shooting the ball at an all-time best clip, and he put the Lakers on notice with his performance. Not only did he drop a season-high 27 points on them, but his seven made three-pointers tied a career-high, and it was the second time he accomplished that feat in a week. Ball has shown the ability to have games like this, but they don't come enough. If this were to continue, the Bulls will be contenders for the top spot in the East.