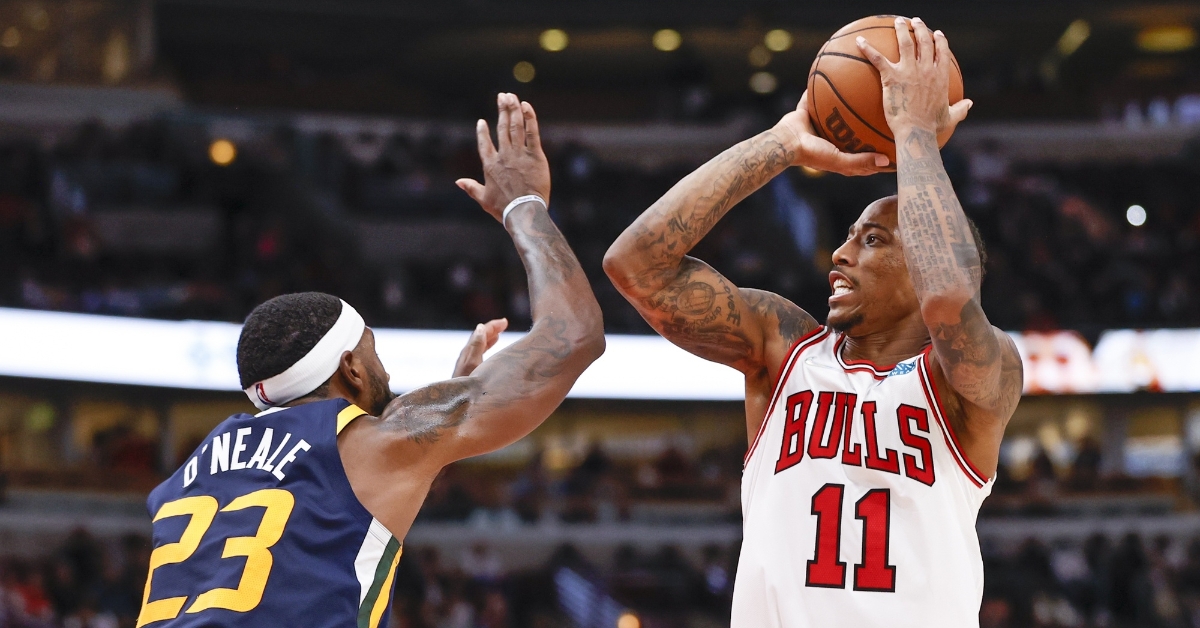 | | |
| --- | --- |
| DeRozan drops 32 points in Bulls win over Jazz | |
---
CHICAGO – After suffering their first loss of the season in heartbreaking fashion on Thursday, the Chicago Bulls (5-1) were back on the floor Saturday night in hopes of starting a new winning streak. Standing in their way was a Utah Jazz team that entered the contest unbeaten in their own right at 4-0.
In what was game two of a very difficult stretch for this Bulls team, Chicago was going to find out what they were really made of as their already small team got smaller in a matter of 48 hours. That size proved to be an issue when stopping Rudy Gobert as he poured in a monster 17-point 19 rebound double-double. He teamed up with Donovan Mitchell and his team-high 30 points as the Jazz erased a nine-point first-half deficit to take a three-point lead into the half.
As the second half began, the Bulls came out guns-a-blazing with their defense setting the tone holding the Jazz to just 15 third-quarter points. Their tenacity on the defensive end helped set things up for the offense where DeMar DeRozan and Zach Lavine went to work. Lavine continued to go about his business with another solid 26-point night, but it was DeRozan who continues to be the best offensive player on the team right now, dropping a game-high 32.
Those two were joined by Nikola Vucevic (16) and Lonzo Ball (11) as Chicago continues to get plenty of balanced scoring across the board, with the Bulls building a seven-point lead heading into the fourth quarter. Expecting a battle from the Jazz in the fourth quarter, Chicago had 12 minutes to find out what they were truly made of as closing out games was an issue last year. That has not been the case so far this year, and once again, that remained true as the Bulls handed the Jazz (4-1) their first loss of the season 107-99.
Already facing a considerable disadvantage when looking at other teams around the league, the Bulls were put into a more difficult spot prior to Saturday's game. After going down with a wrist injury on Thursday, Williams has been ruled out for the rest of the season and will undergo surgery soon. That leaves Vucevic as the only player on the active roster over 6-8 as the Bulls need to add height in a hurry.
Chicago used Javonte Green in place of Williams last night, but at some point, this team needs to get away from a four-guard offense and figure out a way to help Vucevic inside. Ideally, guys like Alize Johnson, Tyler Cook, and Tony Bradley Jr will start to see consistent minutes, but neither has shown the consistency to play starter minutes at the NBA level.
2020 second-round pick Marco Simonovic has been viewed as a critical future piece, but he is nowhere ready to contribute on the NBA roster right now. The bottom line is, Arturas Karnisovas has some tough decisions to make as he will need to address this size issue sooner rather than later. Coby White seems like the most logical trade chip at this point to acquire someone, but who would the Bulls consider pulling the trigger on? Joakim Noah and Tony Kukoc were honored this week. Are they healthy enough to suit up?
The bench needs to be more involved
As the Bulls roster came together this offseason, one couldn't fathom how well they added depth. The Alex Caruso signing was a significant pickup. Still, the team wasn't finished there, as they would later add Johnson, Bradley, Derrick Jones, Matt Thomas, and several others to build what looks to be one of the better benches in the league.
However, despite investing in plenty of new faces, the Bulls bench hasn't done much to get things going, which hasn't helped this team so far. Caruso continues to do his part on the floor when called upon, but outside of that, the rest of the bench has failed to step up to this point. Johnson and Bradley are starting to play more minutes while Ayo Dosunmo continues to go through the growing pains a rookie shows.
Until last night, Jones Jr hadn't recorded a point, but after putting in four points last night, Cook and Thomas are the lone Bulls who have yet to score this season. Another name that needs to see the floor more is Troy Brown Jr, as he has shown plenty of potential when called upon. Regardless, Billy Donovan knows this team is in for a difficult stretch of matchups and needs to get the bench more involved with more guys stepping up in the clutch.
The Bulls continue to prove they are not last year's team
One of the things that Lavine harped on all offseason and preseason long was that this team is not last year's team. Until fans saw results on the floor, it was hard to believe what he was saying, but if the first two weeks of the season are any indication, he is right.
This Bulls team is not only a balanced scoring machine capable of beating you in many ways, but they are getting after it on the defensive end, holding the high-powered Knicks and Jazz to 104 and 99 points across the last two games. Another thing this team has shown is the ability to fight for a full 48 minutes, as no deficit has proven to be too much for this team thus far.
Regardless if they win lots of games or not, this team has continued to show fans what the organization believed they could do this season. They are a great offensive team filled with depth and a variety of weapons. They play exceptional defense to slow down their opponents, and most importantly, they are starting to beat the good teams in this league.
That was the biggest issue for the Bulls last season as they beat up on the teams they should beat up on, but failed to top playoff-caliber teams. For Chicago to reach the level they expect to this season, they will need to beat playoff-caliber teams. If the first two tests proved anything, it would be that this team will be a tough out for anyone.