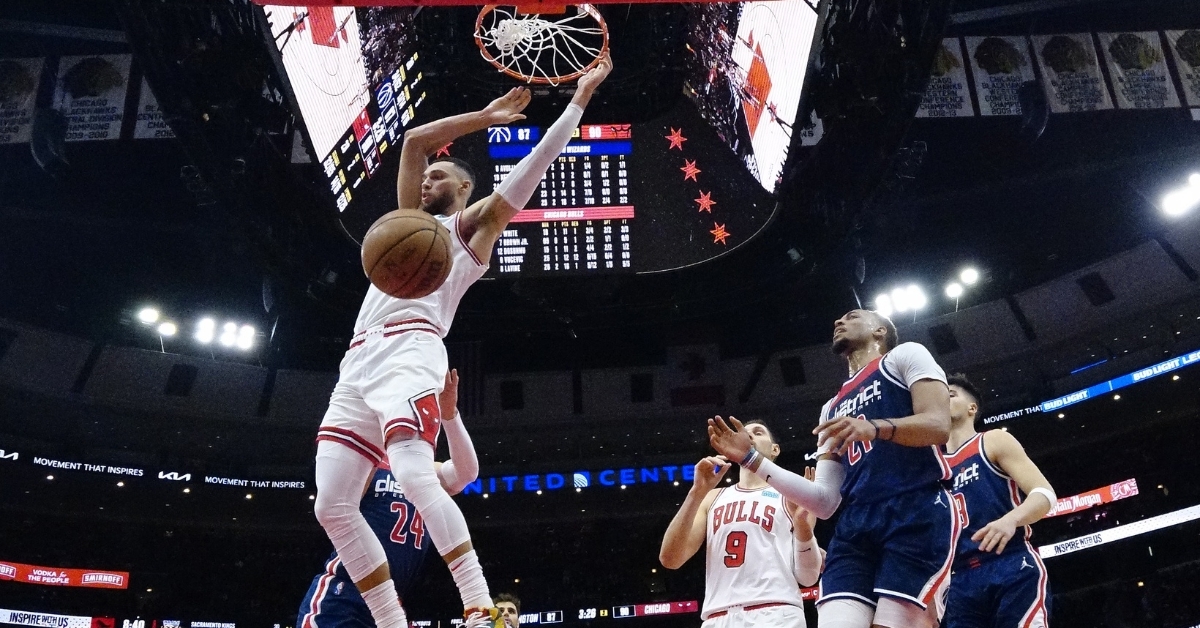 | | |
| --- | --- |
| Trade rumors has Bulls landing a ton for Zach LaVine | |
---
The Zach Lavine saga in Chicago continues to have plenty of twists and turns as his future and pending free agency remains in question. On the one hand, you have a dynamic scorer who has shown the ability to lead a team when called upon.
On the other hand, you have a player who has dealt with knee injuries and hasn't shown up consistently on the big stage. For those reasons alone is precisely why the Bulls are split on giving him the Supermax deal he is searching for.
Losing a player of Lavine's caliber would hurt even more than losing Jimmy Butler. However, this team has holes to fill, and if those holes can be filled by trading away, a LaVine trade might be the best option for this organization. However, what would it take for someone to get him if the Bulls put him up for a sign and trade?
Well, if you look at the most recent trade rumor, a LaVine trade would not only land the Bulls some players, but also a top 10 pick in this year's draft. That proposed deal being discussed revolves around the Portland Trailblazers as the Bulls would receive Josh Hart, Anfernee Simons, and the No. 7 pick in the draft for Lavine.
When looking at this deal, it makes a ton of sense for both sides. From a Portland side of things, they have been trying to get Damian Lillard some help for the last several seasons, and after trading away CJ McCollum, that help is nowhere to be found. Lavine would not only bring plenty of support to Portland, but would give Lillard the best complimentary piece he has ever had.
From a Lavine side of things, despite his desire to play for the Los Angeles Lakers, as he has said, sending him to Portland would be a bit of a homecoming for him. Given that he is from Renton, Washington, Portland is very close to where he grew up, and that alone might be enough to entice him. Given his price tag may top 200 million, getting a deal done for him may not be easy, but if someone wants him bad enough, they will make it happen.
Many fans are wondering why you would trade Lavine away, especially since the Bulls are coming off the year they had? Well, this is a business, and from a business side of things, it may be their best option in both the long and short term. That is why the Blazers could present a package to the Bulls that is more enticing than others.
That package begins and ends with the No. 7 pick in the 2022 NBA draft. As things sit right now, the Bulls have the 18th pick in the first round. While that is not a terrible position to be in, many people expect the Bulls to explore some trades or potentially make a trade to add another pick. Adding the No. 7 pick would be huge as the Bulls would have an opportunity to draft two contributors for the 2022 season, which they haven't had in a while.
However, a top 10 pick will not get it done, and that is where the Players come in handy. Apart from Lillard, there is not one player on the Blazers roster that can replace Lavine, so multiple players would need to be packaged. Eric Bledsoe would have been an option pre-Lonzo Ball, and the possibility of extending Jursef Nurkic could be an option if Nikola Vucevic weren't still under contract.
The package that continues to be talked about the most is the NO. 7 overall pick paired with Josh Hart and Simons. Hart is not the most gifted offensive player in the world, but he is a rising star, especially on the defensive end. That is something the Bulls needed a lot of help with down the stretch last season, so adding a piece like Hart would help.
Hart has averaged a shade under 10.0 PPG across his career, but started to show signs of life this season when he averaged 14.9 PPG to go with 7.2 RPG. Once he got to Portland mid-season, Hart was averaging nearly 20 PPG, so he began to show what he is capable of. His defense alone is miles better than Lavine, which would help the Bulls more than many realize.
Simons, on the other hand, is the X-Factor in this deal and could be one to put the trade over the top. At just 22 years old, Simons might be an unknown among the casual basketball fan, but he is coming off a career year of his own. After failing to average more than 8.3 PPG across his first three seasons, Simons erupted for 17.2 PPG this year while playing 57 games.
No one knows what led to that dramatic increase, but some believe the loss of Lillard and the McCollum trade allowed him to get consistent playing time which does help. As we press along through the offseason, I don't expect the Bulls to let Lavine go that easily. However, knowing his status and the position the team is in, all options should be on the table.