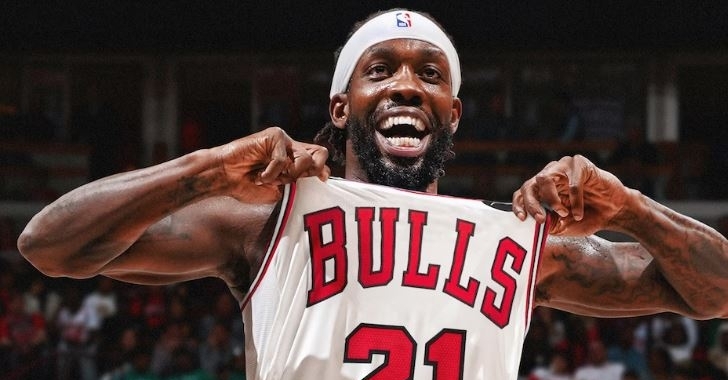 | | |
| --- | --- |
| Bulls dismantle Nets in Beverley's first game | |
---
CHICAGO - It is incredible how much difference even one move can make. After the Chicago Bulls (27-33) failed to do anything at the deadline and then whiffed on Russell Westbrook, Chicago continued to sort through a few things and signed Patrick Beverley for the remainder of the season. The addition gives the Bulls a much-needed PG to put in their starting lineup while allowing other players to shift around.
Two of those players happen to be Ayo Dosunmu, and Patrick Williams, as both of them went from the starting lineup to the bench to join Coby White on the second unit. This was just the first game with the new configuration, but if this is a sign of the things to come, the Bulls will be better off as they destroyed the Brooklyn Nets (34-25) in their first game out of the break.
Beverley will not wow you offensively, as he finished with eight points, five rebounds, and four assists, but he does so many other things well that this team has lacked. With an actual PG running the show, it opened up a better flow to the offense, which Zach Lavine capitalized on. Lavine led all scorers with 32 points and knocked down four triples. Lavine was also red hot from within the three-point arc as he knocked down 12-17 overall.
Lavine may have been the only player with 20 points for the Bulls, but they had plenty of other guys step up, including Demar DeRozan and Williams. DeRozan has been dealing with minor injuries the last few weeks and returned to the lineup to score 17 points. Williams matched that and was the Bulls leading scorer off the bench, as he came away with 17 points and six rebounds.
One of the big areas of need for the Bulls to address this season will be the direction of the front court. Not only is Nikola Vucevic a free agent, but Andre Drummond was signed to a one-year deal, as both players could be gone next season. Friday showed what they could do when they play well together as Vucevic picked up another double-double with 13 points and 10 boards, with Drummond matching that with 13 points and 10 rebounds off the bench. You also had Dalen Terry continue his strong run of play with 11 points in just 10 minutes.
Not only was Beverley a recent pickup, but so was Terry Taylor, who the Bulls signed to a two-way contract. Taylor got on the floor for four minutes and connected on both his shot attempts in the win.
Despite the Nets being a playoff team, Kevin Durant and Kyrie Irving are no longer with this team. Throw in an injury to Ben Simmons, and things could go south quickly, much like it did on Friday. Cam Thomas continued to be one of the few bright spots for the Nets over the last month and continued that with 22 points off the bench. He led Brooklyn and was one of two players with more than 15 points on their roster.
The other was Seth Curry, who also came up huge off the bench with 19 points and connected on three of his six triples. Regarding the Nets starters, Mikal Bridges had the best game as he was the significant return from the Durant trade. Known for being an excellent all-around player, Bridges showed some flashes again, but still had just 13 points and six rebounds.
Joining Bridges in terms of having a double-digit output was Cameron Johnson, who added 10 points. Scoring was about all Johnson could do, as he had just one rebound and one assist to go with his stat line. The game's biggest story was how the Bulls managed to contain both Nic Claxton and Spencer Dinwiddie.
Dinwiddie was the big return from the Irving trade and had played well since arriving in Brooklyn. That shouldn't come as a surprise, as his best days were during his first go around in Brooklyn, but the Bulls held him to a season-worst two points. Claxton felt a similar wrath as he finished with seven points and six boards in the loss.
Chicago returns to the court on Sunday when they host the Washington Wizards. The win moves the Bulls within 1.5 games of the final playoff spot and are in the midst of a massive stretch of games. Washington holds the final playoff spot and could create some distance with a win, while the Bulls could close to within .5 games.