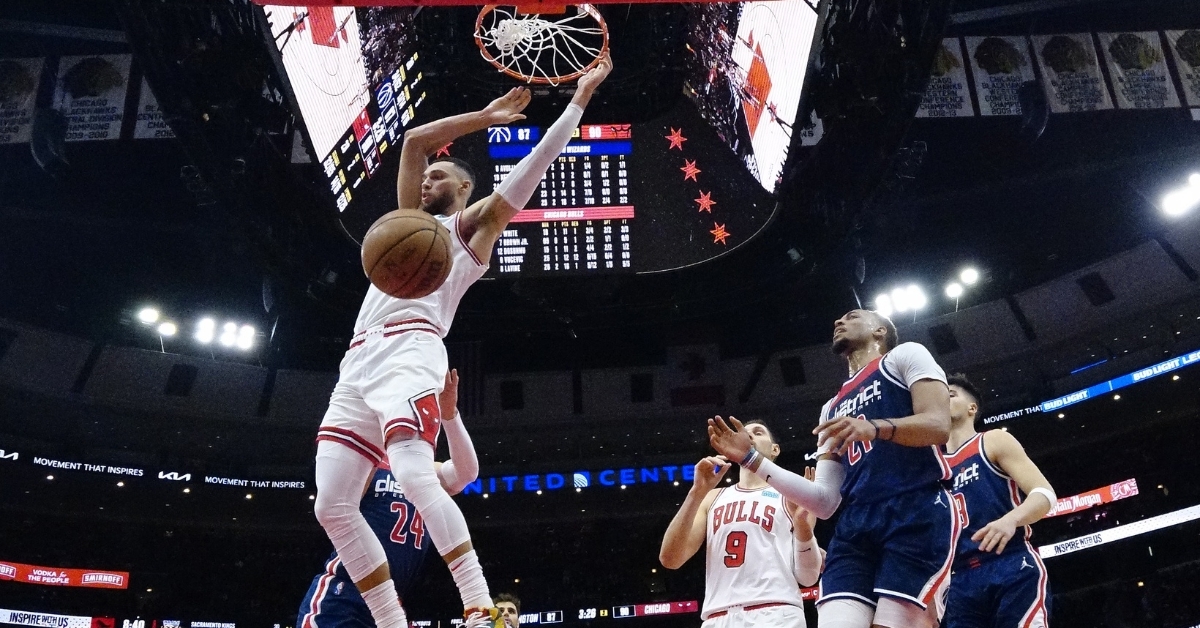 | | |
| --- | --- |
| Donovan notches 300th career win as Bulls win ninth straight | |
---
| | | |
| --- | --- | --- |
| Saturday, January 8, 2022, 10:06 AM | | |
CHICAGO – Things are going well for the Chicago Bulls these days as they continue to be one of the hottest teams in the league. Not only have they won every game since returning from their COVID shutdown, but they are going on nearly three weeks without a loss which is an impressive feat when you look at things.
Granted, their schedule hasn't been as challenging as some other teams, but a win is a win in the NBA, and this team is doing what they need to do to win games. Facing the Washington Wizards (19-20) for the second time in a week, the Bulls were looking to keep the magic going after DeMar DeRozan hit a buzzer-beating three to win their first meeting.
Unlike the last time these teams met, where the Bulls trailed nearly the entire game, Chicago got off to a much better start and held off the Wizards for most of the game. They did this with DeRozan having one of his worst if not his worst game of the season as he finished with just 15 points on 5-16 shooting.
This was the first time all season where DeRozan wasn't carrying the team, so it was up to his supporting cast to get the job done. They did that in a big way, with Zach LaVine dropping a game-high 27 points and being one of Chicago's six double-digit scorers. Coby White continues to play at an elite level off the bench connecting for 21 points, with Ayo Dosunmu adding 18 points on a near-perfect night from the field.
The Bulls also saw Lonzo Ball drop 18 points along with another strong 16 point 14 rebound effort from Nikola Vucevic as his run of double-doubles continues. The Wizards go as far as Bradley Beal will take them, and he had a strong night himself, connecting for 26 points to lead the Washington scorers.
Kyle Kuzma made it two great games in a row against the Bulls, connecting for 21 points and 11 rebounds, putting together a solid double-double effort. The Wizards also saw Spencer Dinwiddie (18), Kentavious Caldwell-Pope (14), and Daniel Gafford (14) as all five of their starters finished with double figures.
The biggest difference in the game was the battle of the benches in which the Bulls bench came out swinging. Not only did Chicago have nearly two 20 point scorers off the bench, but they outscored the Wizards 52-29, which proved to be the difference in Chicago's 130-122 win for their ninth straight victory.
The offense is rolling
No one will argue the success of this team this season, especially on offense. However, this team hasn't been healthy for a single game this season, so it is hard to fathom what this offense will look like when healthy. If the last six games are any indication, this is an offense that is soaring right now as they are the healthiest they have been all season.
Throughout their nine-game winning streak, the Bulls have scored 100 plus points in every game, but it has been what they have done in their last six that stand out. During those six games, the Bulls are averaging 116 PPG, including three games where they have topped the 130 point mark. I don't care who you are; you will be tough to beat when you put up 130 points in any contest.
With Alex Caruso and Patrick Williams still out of the lineup and now joined by Javonte Green and Tyler Cook, it could be a while until this Bulls team is fully healthy. That hasn't bothered them this season, and at this point, it may not matter as the Bulls are the best in the East for a reason.
The TOP PLAYS from the @chicagobulls 9-game winning streak...their longest since 2011! pic.twitter.com/siW0uHo1Ln

— NBA (@NBA) January 8, 2022
A big week for Ayo
Although not a first-round pick like most expected, Dosunmu couldn't have asked for a better start to his NBA career. He is playing for his hometown team, having a significant role, and playing with added confidence that is seeing Donovan put more trust in him with every passing game.
Dosunmu has had a lot of big weeks this season, but none were as significant as this week for him. Not only did he have a massive 18-point effort off the bench last night where he missed just two shots, but he had the opportunity to return to the University of Illinois earlier in the week to witness his jersey being retired in the rafters.
An extraordinary moment for him and his family, it was also a special moment for the Bulls as several of his teammates were in attendance with him for the event. Most notable was DeRozan, who continues to impact this Bulls roster. This team has become a family this season, and Dosunmu is now part of the Illinois family for life as his jersey will forever be entrenched in those rafters.
A short night after a quick trip to Champaign was worth it to see @AyoDos_11 go up in the rafters. Legendary status sealed. #Ayo #Legend #Illini #Bulls #Chicago @IlliniMBB @chicagobulls pic.twitter.com/bcEx8WkOZn

— Ryan Baker (@RyanBakerMedia) January 7, 2022
No. 300 for Billy
When Donovan came to the NBA seven years ago, there was a lot expected out of him. After all, he was a two-time National Champion with the Florida Gators and put together one of the best winning percentages in NCAA history. From the moment he arrived in Oklahoma City, you could see the kind of coach he was as he was the rare breed to find instant success.
Not only did he make the playoffs in his first year, but he led the Thunder to the Western Conference finals setting the bar high for his future. He would make the playoffs every season with OKC before ultimately leaving the team after five years and joining Chicago. After enduring his first-ever losing season as a coach last year, Donovan has bounced back in a big way this year, where he now has the third-best record in the league and leads the NBA.
With the win last night, he has reached 300 career NBA wins and is averaging nearly 50 wins a season despite the rough year last year. Add those 300 wins to what he did in college, and you have someone approaching 1000 career coaching victories which is no easy feat. Donovan has proven to be one of the best coaches in the league and deserves to be a serious coach of the year candidate.
Congrats Coach Donovan on 300 career wins! pic.twitter.com/vcvDphm3f3

— Chicago Bulls (@chicagobulls) January 8, 2022