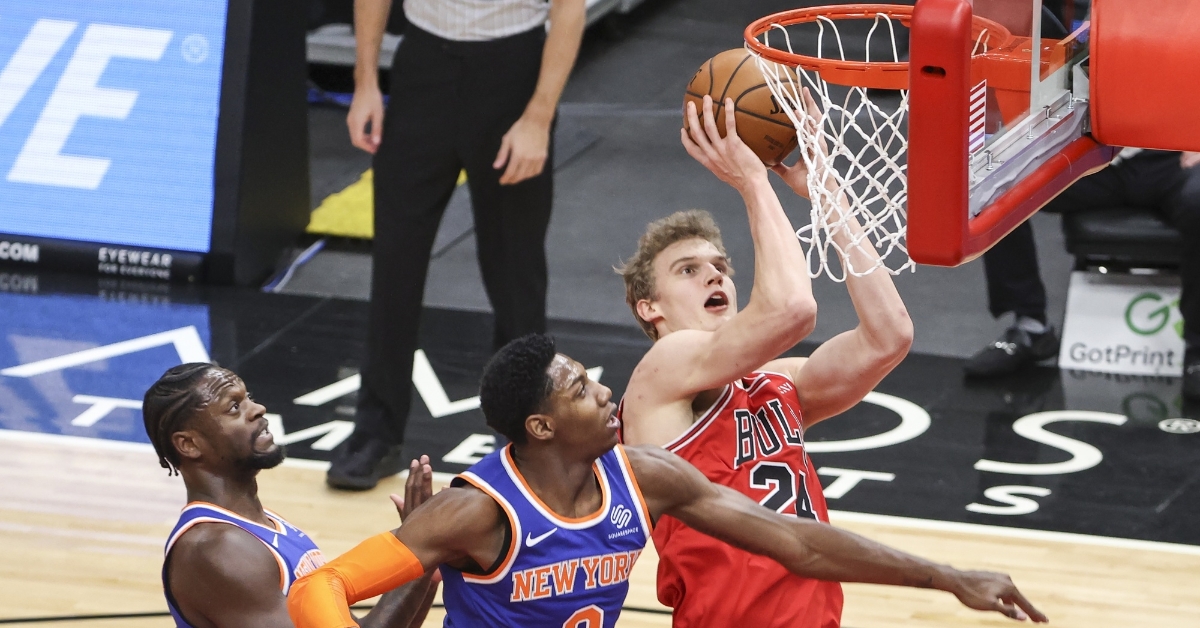 | | |
| --- | --- |
| Bulls trade Lauri Markkanen in three-team blockbuster | |
---
| | | |
| --- | --- | --- |
| Friday, August 27, 2021, 1:18 PM | | |
At long last, there has been a solution to the Lauri Markkanen saga as the Bulls were finally able to grant him his wish of a fresh start. After stating how visibly frustrated he was with the team and his desire to play elsewhere in the league, the Bulls were looking for the perfect situation to not only send Markkanen, but to gain a significant package in return.
It may have taken nearly a month, 25 days to be exact, but the Bulls finally found the place for him, and for what it is worth, Chicago did a great job. Not only will Markkanen be heading to Cleveland, but Portland was also included in the deal, which is what makes the deal intriguing. Not only will Markkanen receive a four-year 67-million-dollar deal for an average salary of just under 17 million a season, but the Bulls not only add a player, but two draft picks in return.
In exchange for Markkanen, Chicago will receive a lottery-protected future first-round pick from Portland while also landing a second-round pick from Cleveland. Considering what the Bulls lost in draft capital this offseason through all the moves they made, they needed to make an effort to get at least one pick in return. Also coming to Chicago from Cleveland will be Derrick Jones Jr, who will dive into in a minute.
Portland received Larry Nance Jr from Cleveland as part of the deal, but that is far less important than the remainder of this deal. Markkanen has always been a player loaded with potential, but someone who never quite lived up to that potential. Standing at 7-1 256 pounds, Markkanen was the ideal size for a center, but he played out on the perimeter given his three-point shot-making ability. The Bulls were hoping to build around him as they expected him to be a 20 plus point scorer to pair with Zach LaVine.
Instead, they got someone who was inconsistent at best and had a hard time staying healthy on the floor. He showed plenty of potential when he was on the floor, averaging a career-high 19.4 PPG through the first half of the season this year. When the Bulls acquired Nikola Vucevic, his role went from a starter to a bench player, and the numbers suffered. That is where his unhappiness with the team began, but Markkanen still had a solid career averaging almost 17 PPG in five seasons in Chicago.
While the move by Cleveland is a solid pickup, it is a questionable move nonetheless, as Markkanen is joining a team that will again make it difficult for him to carve out an everyday role. The Cavs traded for Jarrett Allen from Brooklyn last season, and given the way he played, you can expect them to invest a ton of time into him. They also drafted big man Evan Mobley third overall this season, and he is counted on to start and contribute from day one.
Essentially Markkanen could run into a similar situation with Cleveland as he did in Chicago, but he is no longer the Bulls problem. The Bulls, in return, receive an intriguing piece that is going to help bolster the Bulls defensive side of the ball at the wing position. That player coming to Chicago is Derrick Jones Jr.
While the Bulls still lack overall height, especially with Markkanen and Daniel Theis no longer in the picture, Jones Jr was a player the Bulls have had on their roster in the past, and they finally were able to land him. Not much of a scorer on the offensive end, Jones Jr. is an athletic freak who can provide highlight-reel plays on a given night.
Pair that with LaVine, and Chicago will be one of the most exciting teams to watch, primarily when dunking the basketball. Jones Jr. is coming off a season where he averaged 6.8 PPG, which aligns with his career average. With Coby White missing time to start the season, those numbers could go up, and Jones Jr will provide a nice boost to this team.