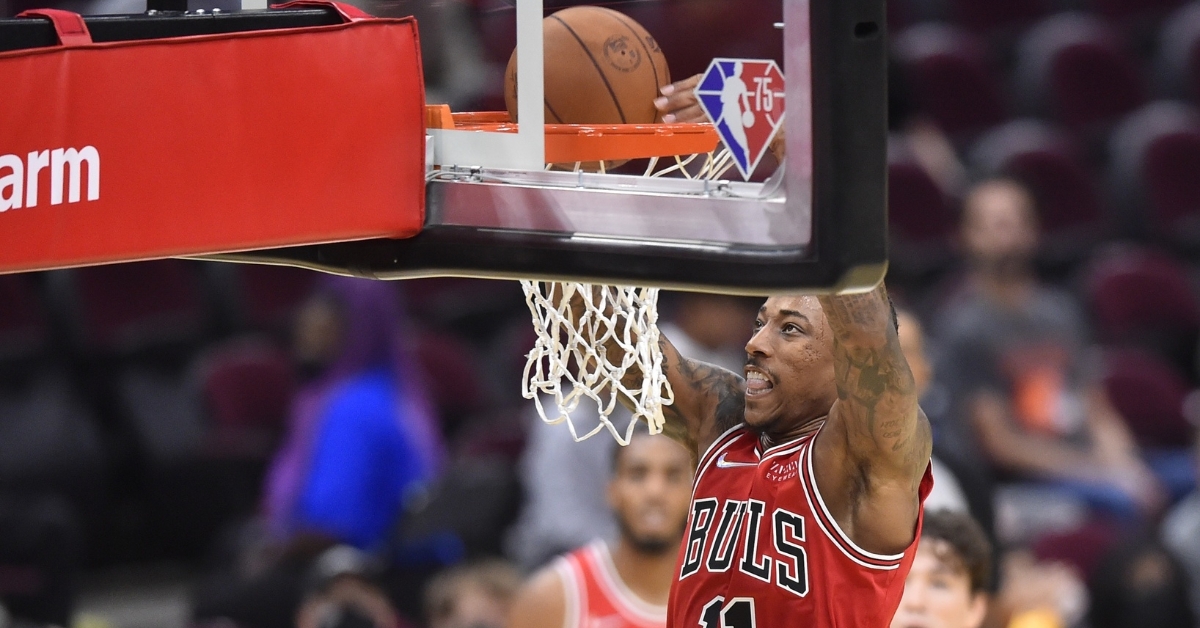 | | |
| --- | --- |
| Bulls stay undefeated in preseason with win over Cavs | |
---
| | | |
| --- | --- | --- |
| Monday, October 11, 2021, 11:45 AM | | |
CLEVELAND – If only the Bulls could bank their preseason wins for the regular season, as it could help them land a playoff spot. I know that is not the case, but the Bulls continued to go about their business in the preseason on Sunday, taking down the Cleveland Cavaliers for a second time 102-101 to move to 3-0 in the preseason.
Unlike their previous two games that saw the Bulls offense average close to 130 points while allowing around 90, the Cavaliers finally gave the Bulls a tightly contested contest, one in which the Bulls managed to land on top. Led by DeMar DeRozan and his 23 points, the Bulls displayed the balanced scoring needed to succeed, with six players landing in double figures. Four of them were starters, with Jalen Green the lone starter in single digits as the Bulls continue to impress.
After getting embarrassed during their first preseason meeting of the season, the Cavaliers looked like a different team this time out, with Lauri Markkanen leading the way with 18 points. This was the kind of game he needed after being traded from the Bulls to the Cavaliers about a month ago, as he will be looking to have a strong showing in 2021-22.
Cleveland not only remained tied with the Bulls at halftime but hung right with them during the second half holding a seven-point lead in the third quarter and a four-point lead late in the fourth. This was the first time the Bulls had to play from behind late in the game, and after one test, the Bulls earned an A as they found a win to win yet again 102-101.
Jalen Green will be a crucial piece
Despite having his worst game of the preseason, scoring just two points, Jalen Green has already put the Bulls on notice so far. Acquired from the Boston Celtics along with Daniel Theis last season, Green played sparingly off the bench in two months, with the organization averaging around 5.2 PPG in limited minutes.
With Patrick Williams out with an ankle injury to start the season, an opportunity has arisen for Green not only to take on a starting role, but to play himself into a valuable asset for the Bulls. So far, Green has done that and more as he has been one of their most impressive players throughout the preseason.
Not only has he shown the ability to score in various ways, but Green has been playing top-notch defense despite being matched up with larger defenders. I am not sure what his role will be going forward when this team gets healthy, but for now, Green has done more than enough to earn plenty of minutes to open the season.
When you look at the Bulls roster this season, you will immediately notice that practically everyone from last year's team has moved on. That includes Young and Gafford, who played significant roles both off the bench and as a starter for this team.
With both with new organizations, the Bulls needed to figure out a way to fill their holes without breaking the bank in the process. Enter Stanley and Alize Johnson. While Alize signed a two-year contract, Stanley wasn't given a guaranteed deal and instead had to play his way onto this roster. The former first-rounder has proven his worth, and he will most definitely earn a spot on this roster, most likely taking over the role that Young filled.
For Alize Johnson, his status on the team was more solidified, especially after signing a two-year deal. Not much of a scorer, Johnson has proven to be a significant weapon off the bench, putting up a 14-point 11 rebound double-double last night. Although those are not numbers to expect throughout the season, he will bring that kind of potential with him every game.
At worst, look for him to possibly start in place of Williams as the season opens while shifting to more of a Gafford type of role as the season goes on. Either way, this team has so many options this season as their depth is as good as ever.
How will this team look with Williams and Coby White?
No one is going to argue with you when you say the Bulls have looked great thus far. However, this team isn't at full strength and won't be at full strength until January at the earliest. Williams will be back sooner rather than later while White is recovering from offseason shoulder surgery.
When those two are healthy, the Bulls are not only adding two starting-caliber players to the mix, but two players capable of scoring in double figures every time out. The question I have is, how will this team look when they return?
I have no doubt this team will be clicking all season offensively long, but at some point, you must wonder about the scoring and how it will be getting distributed. There is only one ball to go around, and if you have seven players capable of putting up 10 plus points, will there be enough sharing to go around? For now, this is a significant problem to have if you are a Bulls fan, as this roster is loaded and ready to run in the Eastern Conference.