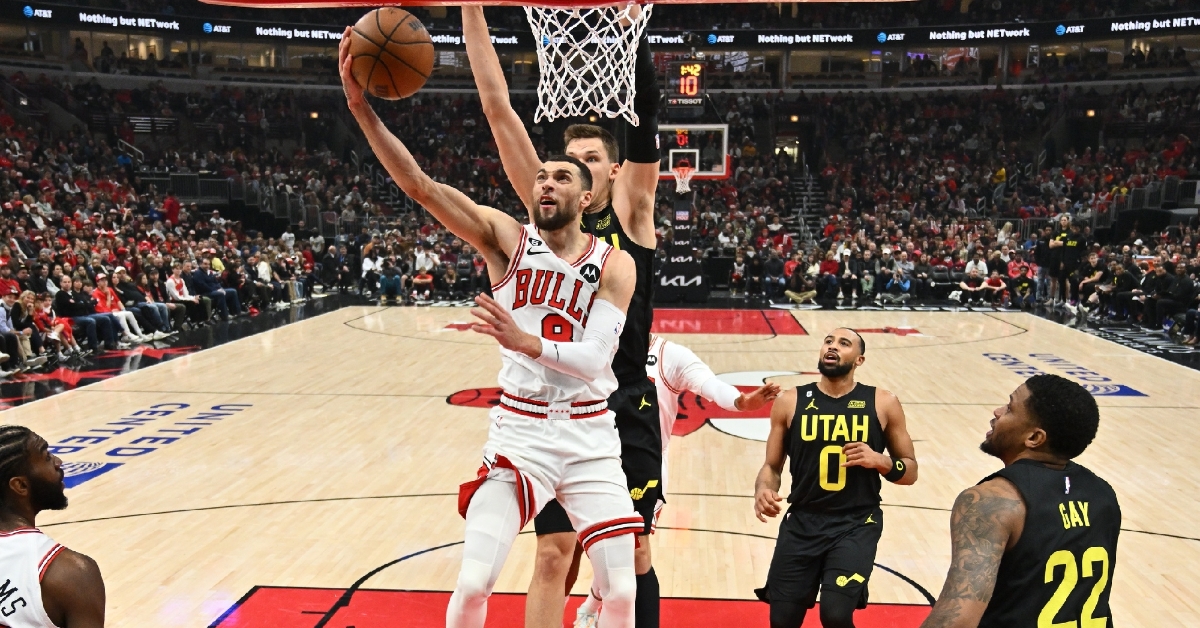 | | |
| --- | --- |
| LaVine drops 36 as Bulls stay hot with win over Jazz | |
---
| | | |
| --- | --- | --- |
| Sunday, January 8, 2023, 11:35 AM | | |
CHICAGO - You heard Zach Lavine say it himself on Friday. "When we are at our best, we are as good as anyone in the NBA." The problem is the Chicago Bulls (19-21) have yet to be at their best this season, leading to plenty of early-season struggles.
However, things have been changing over the last month, and it all started when the team called each other out after allowing 150 points to the Minnesota Timberwolves. That game brought everyone together, and now this team has quietly begun to play their best ball of the season as they move closer to the .500 mark and climb the Eastern Conference playoff standings.
Looking to remain hot, the Bulls welcomed the Utah Jazz (20-22) to the United Center on Saturday as they were looking to close out an excellent week on a strong note. After a back-and-forth first half, the Jazz came out firing in the third quarter and outscored the Bulls 40-31 to gain a five-point advantage. In the fourth quarter, Chicago put the game away, outscoring the Jazz 42-29 down the stretch for the 126-118 win and the team's third straight victory overall.
The LaVine and Nikola Vucevic duo led the way on Friday night, and guess what? LaVine was at it again on Saturday. His game-high 36 points set the tone for the Bulls, as he has been the Lavine Chicago has been waiting for over the last month. LaVine also knocked down six more triples and has connected on 17 of his 25 threes in the previous two games.
As mentioned, Vucevic gave the team a big-time effort on Friday, but was much quieter on Saturday, as he finished with 15 points and 16 rebounds. Regardless of what anyone thinks, this is the best Vucevic has looked since joining the Bulls, and it is starting to show on the court.
Even with Vucevic being a little quieter on the court, DeRozan did more than enough to make up for that as he joined Lavine in having a huge night with 35 points. That gave the Bulls two players with at least 35 points, as they scored more than half of the team's combined points. After a quiet first three quarters that saw Ayo Dosunmu and Patrick Williams held to under six combined points, both guys started to heat up late and finished with seven points a piece in the win.
While the Bulls starters did most of the damage on the night, they did have some excellent production off the bench, including Andre Drummond, who led the way with 11 points and four boards. Derrick Jones Jr, Goran Dragic, and Coby White all landed in the scoring column and scored five points a piece in another big win.
When it comes to the Jazz this season, this is a much different-looking group, as Donovan Mitchell and Rudy Gobert are no longer with this team. Still, they have managed to stay right around .500, as the former Bull Lauri Markkanen has been a big reason why. Markkanen is by far having his best season as a pro this year and went to work against his former team to lead Utah with 28 points.
He was one of five double-digit scorers for Utah, but the only player who scored more than 20 points for the Jazz. Jordan Clarkson continued his outstanding season with an 18-point-eight assist effort, while Jarred Vanderbilt added a phenomenal 15-point, 14-rebound performance to round out the strong starting performance by the Jazz.
Off the bench, it was Ochai Agbaji coming through with a massive showing as he not only led the bench, but finished second on the team with 19 points in the win. That was all he did, as he had just one rebound and no assists in the loss. Talen Horton-Tucker added 12 points from the Jazz's second unit to cap off the double-digit scoring outputs, but it wasn't even to cool off the suddenly hot Bulls.
Game Recap: Massive Fourth pushes Lakeland past Windy City
Through three-quarters of G-League action on Saturday, the Windy City Bulls not only looked like they were going to win their third straight, but led by 15 points with just 12 minutes to go. Keep in mind that was with Carlik Jones having a quiet 18-point night despite adding 10 assists, so you had to like their chances for another win.
That was until the fourth quarter when the Bulls offense not only went quiet, but their defense picked a bad time to forget how to play fundamental basketball. The Lakeland offense nearly doubled up the Bulls and outscored them 35-19 in that final quarter to secure the 109-108 victory.
With Jones having a quiet night among his standards, it was up to others to step up, and Marko Simonovic took it upon himself to do that. Not only did he lead Windy City with 21 points, but he did that on 10-13 shooting and added 12 rebounds for a big double-double. Ethan Thompson continued his strong run of games with another solid 17-point night, with Nick King adding 15 to the starting lineup.
King connected on five or more threes for the second straight game, as his outside shot has started to come through for him late. Javon Freeman-Liberty added the final double-digit, showing off the bench with 14 points and 11 rebounds, but it wasn't enough to hold off Lakeland in the end. Scrubb led the way for Lakeland with 32 points, while Simpson (23 points) and Keon Harris (20 points) gave the Magic an excellent scoring trio.