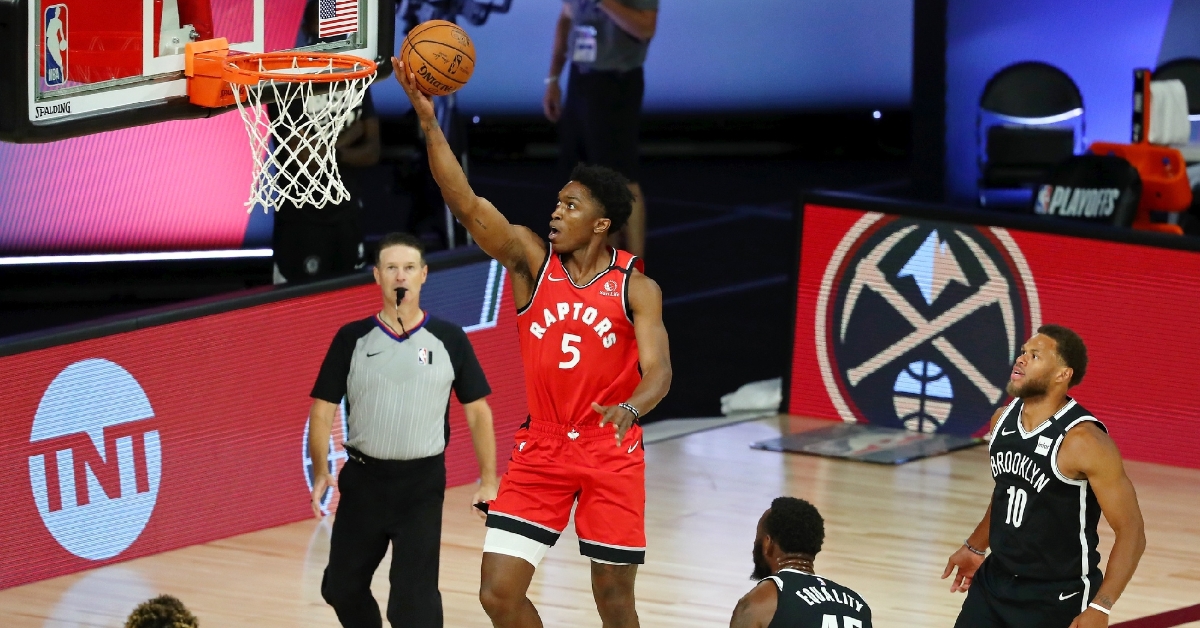 | | |
| --- | --- |
| Bulls continue to round out roster with trio of signings | |
---
| | | |
| --- | --- | --- |
| Wednesday, September 8, 2021, 9:46 AM | | |
Throughout the NBA offseason, the Chicago Bulls have not only retooled their entire roster but have been one of the more aggressive teams in doing so. In the process, you have a team that not only has Nikola Vucevic, Patrick Williams, Coby White, and Zach LaVine, but now you add Lonzo Ball, Alex Caruso, and DeMar DeRozan into the mix.
Those top seven players will compete with any roster out there, and the Bulls should be thinking playoffs this season. All seven of those guys can score, and all seven can beat you in a variety of ways, so defenses will have to pay close attention to the Bulls offense this season. Outside of those seven names mentioned, the Bulls have a bunch of players slotted to make the bench, but no real threats of someone who can take over a game.
They lost Lauri Markkanen and Thaddeus Young, among others, and haven't addressed those needs on this team. Not to mention with the Williams expected to be the starting PF this season and the Bulls lack overall height, which will be a problem as the season goes on. Guys like Marko Simonovic and Tony Bradley added to the mix this season, and those two will be looked at, providing the team quality minutes to make up for the points and minutes lost by others.
However, with training camp less than a month away, as is the first preseason games for the season, Chicago continues to round out their roster as they still have some positions to fill. They took care of many of those positions over the weekend by signing a trio of players in forwards Stanley Johnson and Alize Johnson and sharpshooter Matt Thomas. That leaves the Bulls with one more roster spot to fill if they chose to, along with one two-way deal if needed.
Stanley Johnson
Going back to the weekend signings and we will start with Stanley Johnson, who the Bulls should be familiar with. Not only that, but offseason pickup DeRozan also is familiar with how Stanley Johnson plays, given they played together briefly in Toronto. At 25 years old, Stanley Johnson hasn't reached his full potential as a player but will be an excellent defensive standout off the Bulls bench this season.
Johnson was a former top 10 pick, No. 8 to be exact by the Detroit Pistons in 2015, and now has 377 career games under his belt. At 6-6 242 pounds, what Johnson lacks in overall height, he will undoubtedly make up for in size and physicality as he provides the Bulls with some excellent depth at the SF or PF positions. Not a big-time scorer, Johnson has averaged just over 6.2 PPG across his career, with a career-best season coming in 2017 when he averaged 8.7 PPG. Last year with the Raptors, the Bulls got an up-close and personal look at what Johnson could do as he dropped 36 points against them in an April contest.
That is not saying that Johnson will go out and ball at that level every game, but instead, he does have the potential to put up numbers similar to Young. If the Bulls can get that from him, you are looking at quite a nice pickup late in the offseason. Given his young age and someone who has yet to reach his full potential, you added another intriguing piece for the Bulls to build around.
Alize Johnson
Speaking of Johnson's, the Bulls doubled up on Johnson signings by adding Alize Johnson to a two-year contract. Another forward who will most likely fill in the backup PF role, Johnson, is also 25 years old after being selected by the Indiana Pacers at No. 50 in the 2018 NBA draft. After Paul Millsap and LaMarcus Aldridge chose to sign elsewhere last week, the Bulls still needed PF depth and called Johnson after the Nets elected to release him.
Not the tallest or longest forwards in the game, Johnson makes up for that with pure athleticism, which is something the Bulls are going to have a lot of this season. Primarily a G-League player who had put up consistent numbers, Johnson finally had a chance to see the floor consistently last season, although limited to just 18 games.
After averaging just 1.4 PPG in his first 31 games across two seasons with Indiana, Johnson nearly tripled that scoring output last season while playing in just 18 games. During his small sample size with the Nets, Johnson averaged 5.2 PPG, to go with 5.0 RPG in just under 11 MPG. That is impressive when you think about it and leads me to believe he could be a Daniel Gafford type of player with increased or consistent minutes going forward.
Whether you are on board with this signing or not, the Bulls know the holes they need to fill, and Johnson does fill one of those holes. Now Chicago has just one or two more decisions to make heading into camp and then can focus on this highly anticipated season.
Matt Thomas
Lost in the shuffle of the Johnson pairing, the Bulls added another player over the weekend who also spent time with the Toronto Raptors organization. That player is sharpshooting guard Matt Thomas who has yet to confirm the length of his contract, but will be in Chicago this season. A bit older than the other two pickups, Thomas is 27 years old, but is still far from reaching his potential.
The former Iowa St. Guard and Onalaska (WI) SF was a top 100 prospect in the country when he came out of high school and was one of the better overall players in high school. He helped lead his Hilltoppers to several conference titles while averaging nearly 25 PPG, 8 RPG, and 6 APG, all while shooting almost 50% from three in high school.
Once he got to college, the three-point shooting continued to be his strength, although his scoring numbers would go way down. Thomas averaged 5.5 PPG as a freshman, but played in all 36 games that season. The rest of his tenure was less than appealing, seeing a diminished role as a sophomore before becoming a starter his junior season. His numbers never reached the level the Cyclones expected, but he still can shoot lights out from deep.
After going undrafted in 2017, Thomas took his career overseas to begin his NBA career and earned a reputation as a great catch and shoot player. In fact, he earned the nickname Mr. 99% in 2019 as he connected on 99% of his catch and shoot attempts. That is better numbers than the likes of Klay Thompson and Stephen Curry, so put that into perspective for a moment.
Following the shooting clinic Thomas put up overseas, he was finally able to latch on with an NBA team spending time with Toronto and Utah over the last three years. Not much of a scorer right now, Thomas has seen action in 89 games as a pro, compiling about nine minutes per contest. Despite averaging just 4.0 PPG with a career-high 4.9 PPG in 2019, Thomas has knocked down nearly 42% of his NBA three-point shots.
That is what the Bulls are signing him for, as he will most likely replace the role occupied by Ryan Arcidiacono. Thomas will never be an elite scorer in this league, but his three-point shot-making ability makes him a deadly asset off the bench. The best way to describe him is a poor man's version of Kyle Korver.