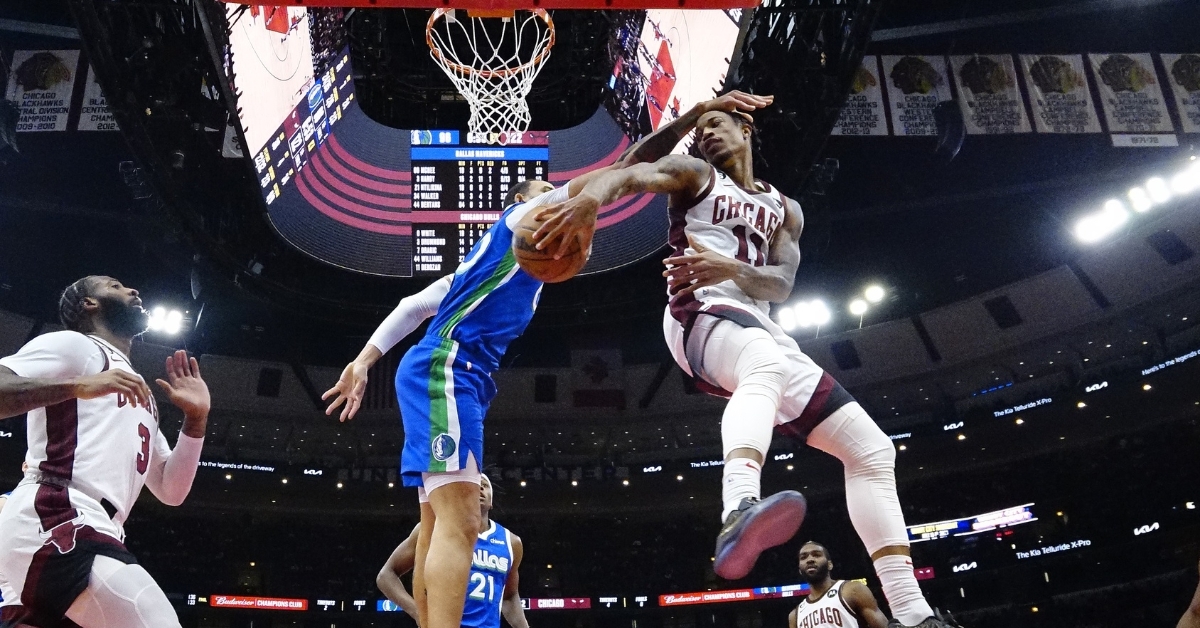 | | |
| --- | --- |
| Luka-Less Mavericks no match for Bulls | |
---
| | | |
| --- | --- | --- |
| Sunday, December 11, 2022, 8:12 AM | | |
CHICAGO - Sometimes, all it takes for a team to get on a roll is to capitalize on an unexpected situation. That is precisely what the Chicago Bulls (11-14) were trying to do as they welcomed in the Dallas Mavericks (13-13) on Saturday night.
Coming off a hard-fought game with Milwaukee on Friday, the Bulls were a well-rested group, while the Mavericks were on their second leg of a back-to-back. To make matters worse, their MVP candidate Luka Doncic was out of action, making things that much more difficult for Dallas. Had he played, it may not have made a difference as the Bulls offense came out scorching with 82 first-half points before rolling to the 144-115 victory.
A big reason for their massive offensive output was having four starters and seven total players land in double figures, as the balanced scoring proved to be an issue for Dallas. As expected, Demar DeRozan led the way as he finished with 28 points to lead all scorers while also logging nine rebounds.
Putting together another solid game alongside him was Nikola Vucevic, who added 20 points with eight rebounds. Often overlooked, Vucevic has put together an excellent season this year and continues to be the Bulls third option they were counting on. Granted, those may have been the only two players to surpass the 20-point threshold, but there was still plenty of scoring, including double-digit showings from Patrick Williams and Zach Lavine.
As weird as it sounds, Williams may have finally figured it out at the NBA, and it couldn't have come at a better time for this team. He finished the game with 16 points, while his defense improved. Lavine added 16 points, but Chicago expects him to produce much better than that as his up-and-down season continues.
For all the good that Chicago had in this one, there was some bad, as Alex Caruso didn't return for the second half after hurting his back. He only had one point in the game, but he does all the little things that most teams tend to forget about. With him being gone, it gave others off the bench an opportunity to shine, including Ayo Dosumu, who finished with 17 points.
You also had Goran Dragic put together one of his better performances of the season, as he added 14 points after a long drought of single-point games. Perhaps the most impressive showing on the night came from Derrick Jones Jr as airplane mode had a great night. Not only did he shoot 60% from the field, but he finished with a season-best 16 points. Dalen Terry and Tony Bradley Jr also notched rare points as everyone that touched the floor scored.
Without Doncic on the floor, someone had to step up for the Mavericks, and that someone was former Chicago Bull, Spencer Dinwiddie. Throughout much of his NBA career, Dinwiddie has primarily been a sixth-man, but has seen some recent success as a starter when called upon. He led the way for Dallas with 27 points while adding nine assists to help run the offense.
Dinwiddie wasn't alone in having a great game, with Christian Wood continuing to provide some excellent inside-out combo play. The big man finished second on the team with 21 points, picking up nine rebounds to notch a near-double-double. Tim Hardaway Jr added 12 points to be the final starter with double figures, but that was about it for the Mavericks.
While the Mavericks staters were less impressive than the Bulls, they did a great job getting some of their bench players involved. In particular, JaVale McGee who put together a quiet 18-point night, but only missed two shots from the field. That has been his niche for years as he comes in, gives his team quality minutes, and does all the dirty work others forget about.
Jaden Hardy added 15 points of his own off the Dallas bench to cap off the double-digit scores, but their 115 points were not enough in the end. The win moves Chicago closer to that .500 mark as they return to the court Sunday to face the Atlanta Hawks on the road.