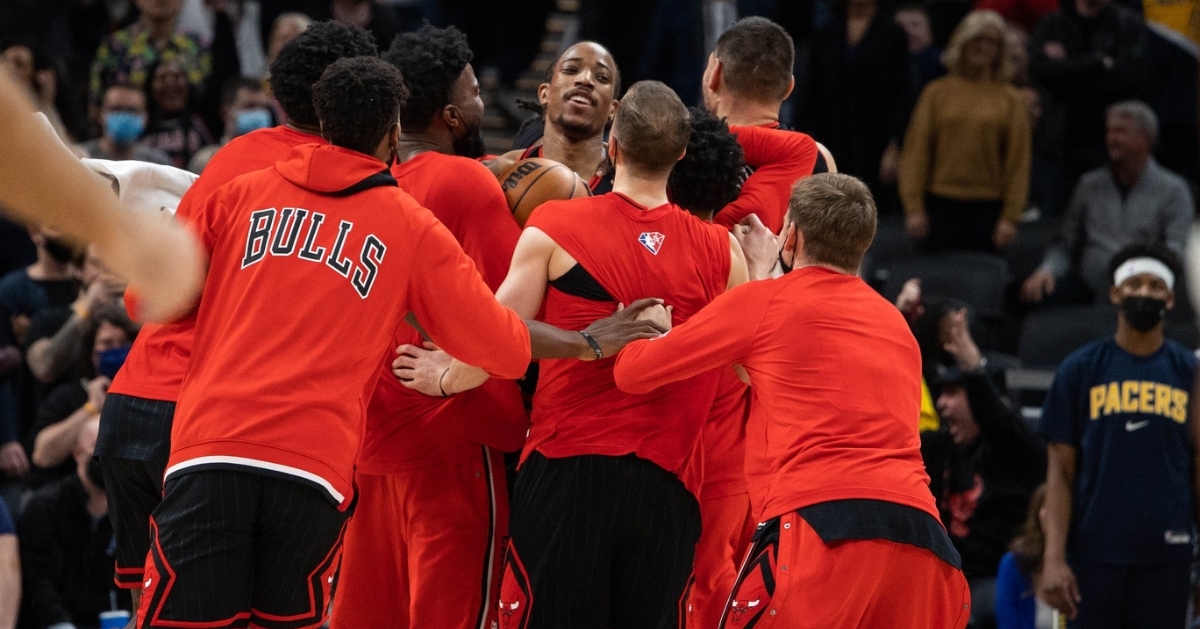 | | |
| --- | --- |
| Bulls News: DeRozan sinks buzzer-beating three for sixth straight win | |
---
| | | |
| --- | --- | --- |
| Friday, December 31, 2021, 7:12 PM | | |
INDIANAPOLIS – The Chicago Bulls (23-10) have been on quite a roll as of late and continue to be one of the hottest teams in the NBA. Despite a COVID outbreak that saw this team missing 10 players at one point, the Bulls filled in the gaps and continued to win games. Already on their first five-game winning streak and looking for six in a row, Chicago headed to Indiana to take on the Indiana Pacers (14-22).
In what was their third of three meetings this season, you have a Pacers team who not only has split with the Bulls across two games, but has given them some fits in the process. Unlike most of their games this season, the Bulls suffered a rare rough shooting night as both DeMar DeRozan and Zach LaVine struggled to find the bucket consistently.
You wouldn't have guessed looking at the box score where DeRozan led all scorers with 28 points despite 8-24 from the field. LaVine was also bitten by a rare off night going 7-17 and finishing with just 17 points as other people had to pick up the slack. Coby White was one of those guys, and he put forth his best effort of the season.
Not only was he 7-11 from the field, but he was a perfect 5-5 from deep at one point and finished 6-7 from deep overall to drop a much-needed 24 points. Nikola Vucevic continues to rack up the double-doubles and once again came away with a monster 14 point 16 rebound performance to help counter the struggling Bulls offense.
For the Pacers, it was more of the same as Caris LeVert continues to have his way against Chicago. Coming off a huge game last week in Chicago, LeVert was back at it again, finishing with a team-high 27 points to go with six rebounds and six assists. Domantas Sabonis not only did a great job chipping in, but put together one of his best double-double performances of his career.
His 24 points were good for second on the team, but he added 14 rebounds to make up for the lack of production from Myles Turner on the inside. Justin Holiday added 16 points for the Pacers. Outside of those three, Indiana struggled to get much going offensively in their own right.
This was a game that was not only close from the opening tip, but stayed that way throughout as the Bulls held onto a four-point lead at the half and a three-point lead after three. As the fourth quarter rolled along, the Bulls shooting struggles started to do them in as the Pacers continued to hang around before eventually taking a one-point lead.
Following a pair of made free throws from LeVert, the Bulls raced down the court and needed three chances before DeRozan knocked down a mid-range jumper to pull Chicago within one. DeRozan wasn't done as he would run down the court after a missed free throw to knock down a game-winning three as time expired, lifting the Bulls to a 108-106 win.
DeRozan for the win
What can you say about DeRozan and his performance with Chicago this season. Brought over from the Spurs in a sign and trade, DeRozan will not only be around for the next several years, but has been the leader on offense all season. His play has seen him land in the top 10 in scoring while also earning MVP consideration for the time being.
If DeRozan wants to continue being talked about for the MVP, he needs to come up big when needed. Chicago not only needed him to come up big in this one, but he delivered. After closing the game to one point late in the fourth, DeRozan upped the ante by connecting for a game-winning three as time expired to give the Bulls the win. Not a big three-point shooter, DeRozan has gotten better this season as he is more about quality than quantity.
Give Indiana credit
There haven't been many teams that have been able to contain the Bulls this season, but Indiana seems to match up well. Despite being 1-2 on the season against them following this loss, the Pacers deserve a ton of credit for how they have been able to match up with Chicago.
They not only have the size to give Chicago trouble, but have made the Bulls earn every bucket across three meetings. This is one team that the Bulls wouldn't want to see come the playoffs, and with one meeting left to go, they can learn a lot about their team. With a back-to-back against Washington tomorrow, the Bulls could have easily packed it in on Friday, but that is not in their DNA as Chris Fleming improves to 4-0 while filling in for Billy Donovan.
Ending the year in style
The Bulls couldn't have asked for a better start to their season as they officially close the book on the 2021 portion of their schedule sporting a 23-10 record. That is good for second in the Eastern Conference as they continue to chase down the Brooklyn Nets, who they have beaten twice.
Not only do they continue to hold down the second seed in the Eastern Conference, but they have also gone on a nice little run, winning six straight games and looking for more to open 2022. Keep in mind that this team went through a COVID outbreak with virtually every player in protocols and were missing White for over a month.
They also lost Patrick Williams three games into the season with a season-ending wrist injury, as this team has yet to be 100% healthy at any point this season. Think about that for a minute. They have yet to be fully healthy at any point this season, and yet they sit at 23-10. Credit Marc Eversley, Arturas Karnisovas, and Donovan for the job they have done as this team continues to play their best basketball in a long time.