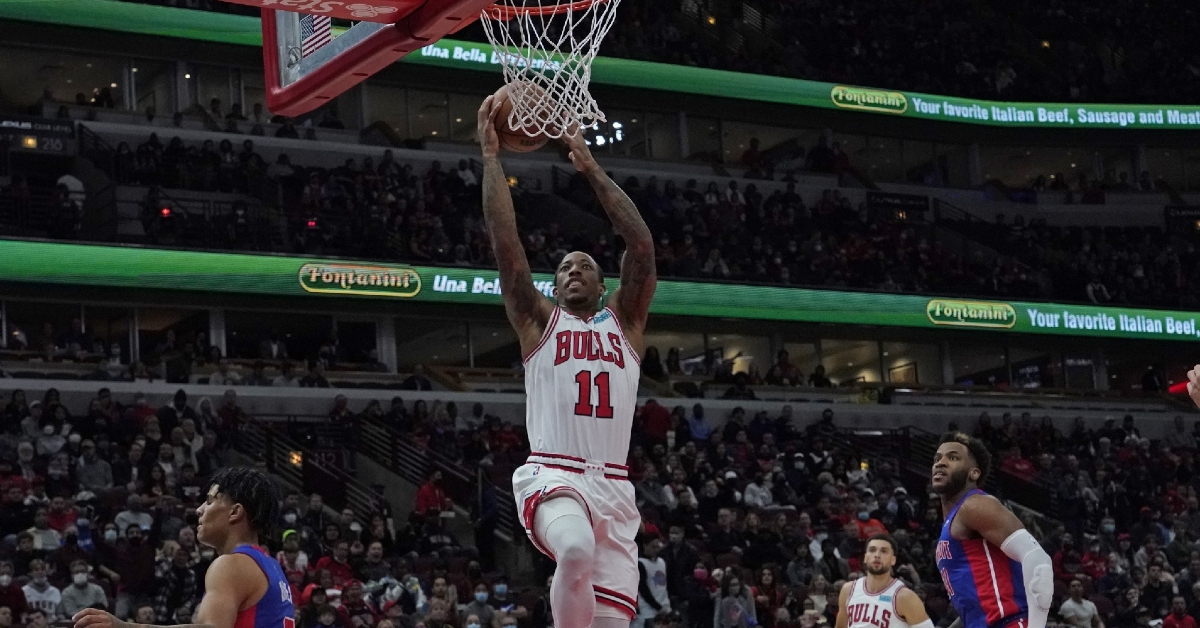 | | |
| --- | --- |
| Bulls have best record in NBA after win over Pistons | |
---
| | | |
| --- | --- | --- |
| Sunday, October 24, 2021, 8:44 AM | | |
CHICAGO – The beat goes on for the Chicago Bulls, at least in the early part of their 2021-22 season, as this is clearly not last season's team. Already sporting a 2-0 mark and a chance to get to 3-0 for the first time in nearly a decade, Chicago welcomed in the Detroit Pistons (0-2), who gave the Bulls quite a battle on Wednesday for their season opener.
Unlike the previous matchup between the sides that saw Chicago not only play from behind, but struggle with overall shooting, the Bulls (3-0) wasted no time getting their offense going dropping 54 points in the first half while the defense continued to play exceptionally well. Their play on Jerami Grant was huge as they held him to just nine points after he scored 24 during the team's opener earlier this week.
Despite his lack of production, Saddiq Bey took it upon himself to have a monster game leading the Pistons with 20 points while adding 16 rebounds for a massive double-double. Add in 10 points from Kelly Olynyk and 12 points from Trey Lyles, and the Pistons were getting scoring from different faces, but the Bulls defense continued to play well, holding them to just 82 points in another relatively easy 97-82 win.
On the flip side, you have to give the Pistons some credit, especially defensively, as they held the Bulls under 100 points for the second time in as many tries this season. That is not only hard to fathom, but it is something that may not get done all that often, especially when you have a player like Zach LaVine, who was looking to make history on Saturday.
After scoring at least 32 points in his first two games of the season, LaVine had a chance to join Michael Jordan as the only two players in franchise history to open a season with three consecutive games of at least 32 points. Instead, he was held to just 14 as the Pistons did a great job holding him to a rare off night from the field.
While he may have been off his game, the rest of the team was not, as the Bulls had six players record double figures, including DeMar DeRozan, who dropped a game-high 21. Coming off his triple-double, Lonzo Ball dropped 13 points while Nikola Vucevic continues to put up strong numbers despite his shooting struggles as he finished with 15 points, but added an impressive 19 rebounds.
One thing the Bulls have been hoping for better production from this season is their bench which has gotten off to a slow start this season. Despite only three players scoring from the bench, Alex Caruso and Javonte Green combined for 22 of the 24 points off the bench, with Caruso dropping 12 and Green connecting for 10. That alone was more than enough for Chicago to get things done as they continue their unbeaten start to the season.
This team can win without LaVine dominating
Since joining the Bulls, LaVine has become a household name and one of the best scorers in the game. He has been putting up numbers not seen since Jordan and has done more than enough to earn another contract extension beyond this year.
For as good as he has been, there are times when he does struggle to score, and when that happens, this team typically struggles to win games. That is not the case anymore, as Chicago has more than enough weapons to make up for it when he has an off night. If he were to miss time with an injury, that would be another question, but the bottom line is this team has more talent than they have had in a while and are gelling quickly than most expected.
The Bulls will only go as far as LaVine, and the starters can take them. However, they have five players in that starting rotation capable of taking a game over, so look for them to be a tough out for anyone this season.
Let's keep it going #BullsNation! pic.twitter.com/dJS5qh9ggw

— Chicago Bulls (@chicagobulls) October 24, 2021
Where are the haters now?
Even after making the trades and all the moves this team has made this offseason, they still didn't seem to get much love from the rest of the league of NBA experts. According to preseason power rankings, most people had this team as a playoff team, but a team who would contend for the 8-10 seed with a projected 43 win season.
That landed them 19th in the league in terms of power rankings to open the year. Say what you want about Power Rankings because they don't mean a thing, but I believe this team took some of the preseason articles to heart and is playing with a chip on their shoulder. The Bulls understand this is a long season, and if they are to play .500 ball the rest of the way, you are looking at a 42-43 win season.
Could that be good enough to make the playoffs, given the new format? Maybe, but this team has higher goals than that. From a talent side of things, they are one of the more talented teams in the Eastern Conference and one of the deepest. It is the experience side of things that they lack and knowing how to play together.
That is one thing that many expected would take a month or two to get used to, but instead, it looks as if these guys have been playing together for years. Make no mistakes about it. This team is capable of winning 50 plus games this season to land in the top four of the East. They are also a team that no one will want to play during the second half of the season because as good as they have started, they will only get better.
Waking up to the Chicago Bulls having the best record in the NBA. pic.twitter.com/Kz4tJb9x2o

— Daniel Greenberg (@ChiSportUpdates) October 24, 2021
Getting to the free-throw line matters
Another thing this team struggled at last season was getting to the free-throw line to make shots. Whether it was their fault or not as to why fouls were not called, the Bulls just were not aggressive enough on offense to give them a chance to get to the line. That made things extremely difficult for Billy Donovan and that offense, as they had to make more shots than they needed to be competitive.
With a new look offense this season, filled with guys who play with an aggressive style, getting to the free-throw line will not be an issue as they should be averaging close to 20 attempts per game. Once they get to the line, more success is sure to follow as they shot 84% from the line last night and are over 80% to begin the season.
That is an impressive line for a team that shows you that Donovan can trust nearly everyone on this team to knock down free throws in clutch situations. When Coby White comes back from his shoulder injury, it will give the Bulls not only another scorer off the bench, but another player capable of knocking down free throws with the game on the line. Bulls fans should start paying attention to this team, as they are fun to watch again.