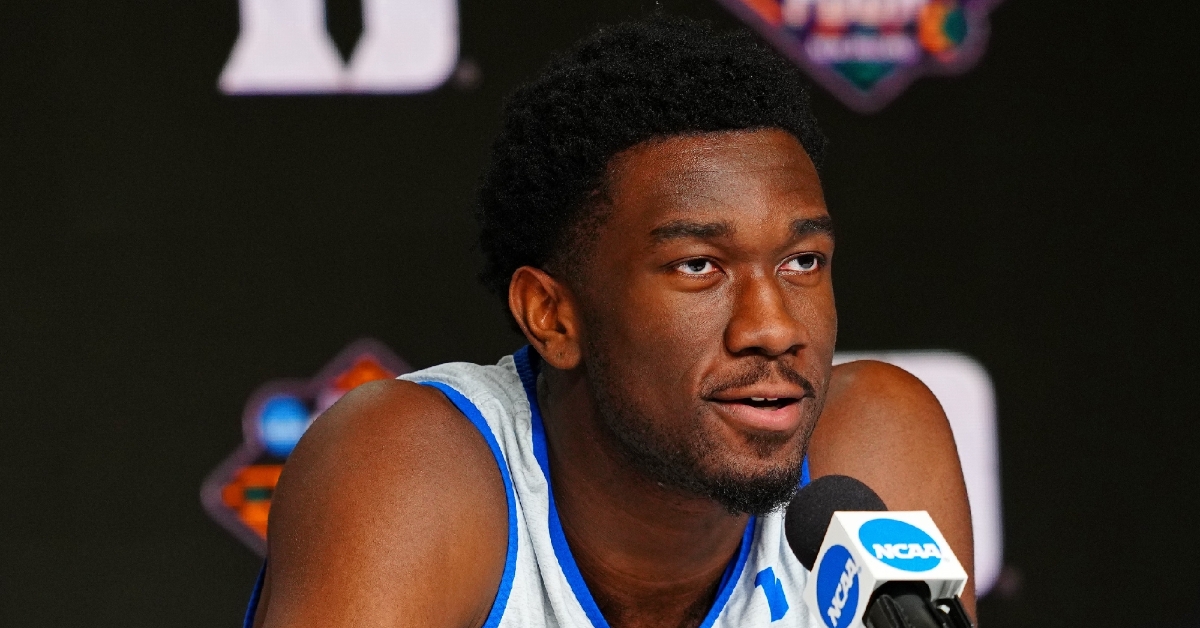 | | |
| --- | --- |
| Bulls could trade up for a draft-day steal | |
---
| | | |
| --- | --- | --- |
| Thursday, June 23, 2022, 5:32 PM | | |
To get a little, you have to give a little. That is exactly where this Chicago Bulls team currently sits, with Draft night starting tonight. This team is coming off their first playoff appearance in five seasons and seems to have most of the pieces in place to be a dangerous team next season.
However, there are some glaring needs that this team must fill, and you can bet that Arturas Karnisovas will do what he has to do to fill them. While most of the talk surrounds Rudy Gobert and his likely arrival in Chicago, it would take a lot for that deal to happen and a price that might be too rich for Chicago.
Considering the Bulls are picking 18th this year, there will be a lot of options on the table for them, especially for guys who fit a position of need. However, Chicago is also in a situation where they could potentially trade a guy like Coby White and the 18th pick to move up in the draft. If that is an option, here are three intriguing names who could be draft night steals.
Mark Williams
When you talk about a potential X-factor in this draft, look no further than the former Duke center Mark Williams. Fresh off an impressive sophomore campaign, Williams declared for the draft and comes with some of the best measurables.
At 7-0, Williams is a true Center, but his absurdly long wingspan makes him a nightmare on the defensive end. He is what you call an elite rim protector and someone who can come in immediately and contribute.
Although Williams carries a sturdy frame with him, he has some athletic limitations, but he runs the floor well for his size. He converted on 72% of his 2-point attempts last season, which means you get the ball down low, and chances are he will score.
Some of his initial concerns stem from his ability to create a jump shot and a lack of free-throw shooting. Some scouts feel he could lack the play-making ability on the offensive end despite being compared to Clint Capela.
Jeremy Sochan
Another player who is NBA-ready on the defensive end is Baylor Freshman Jeremy Sochan. Unlike Williams, who is a true center, the 6-9 Sochan is listed as a forward, but can play any of the five positions. In other words, he could be a bigger version of Patrick Williams.
Sochan is extremely quick off his feet and is one of those high-energy guys who looks to make a play on both ends of the floor. Although not the most polished scorer right now, Sochan is fearless on the floor and isn't afraid to put his head down and get to the rim. He is also a better ball-handler than people initially thought, which could help him carve out a more defined role.
To last in this league, Sochan must improve his efficiency from behind the arc and free throw shooting. While his 58.7% from the line seems to be a one-season struggle, his 29.6% from deep has been a trend that needs to improve.
Despite having the energy you look for in a player, it can also be his worst enemy as he tends to do too much and force up bad shots. Once he can harness that in, you will have a very reliable piece. Sochan has also seen Al Horford comparisons which are not bad company.
A.J. Griffin
Perhaps the biggest mystery and upside in this draft comes from Duke Forward AJ Griffin. The 6-6 SF is one of the best, if not the best, shooter in the entire class, as he shot an absurd 44% from distance as a freshman. Not only that, but he averaged to make four triples a game and is the true definition of a knockdown shooter.
Griffin's ability to shoot the ball would make him an immediate contributor for any team, but when it comes to a Bulls team that lacked shooting, he would be huge. If his shooting ability doesn't have you sold, why not add a 7-0 wingspan on his 6-6 body, as he can be a top-notch defender at multiple positions.
Griffin is also a much better ball-handler than anyone expected and plays with a physical side that can't be taught. This is one of those fast-rising players who continues to rise the draft boards.
Of all the players listed above, Griffin is my favorite, and I think he is the perfect fit in Chicago. However, will his previous injury history cause teams to shy away from him. Yes, he did play in 39 games last season, but he has had a history of knee and ankle injuries which isn't a good sign.
Those injuries have also limited some of his athletic ability; had those injuries not happened, he had top 5 talent written all over him. Griffin also needs to improve on becoming a better all-around player and not just a knockdown shooter. Bojan Bogdanovic comes to mind when watching him play.