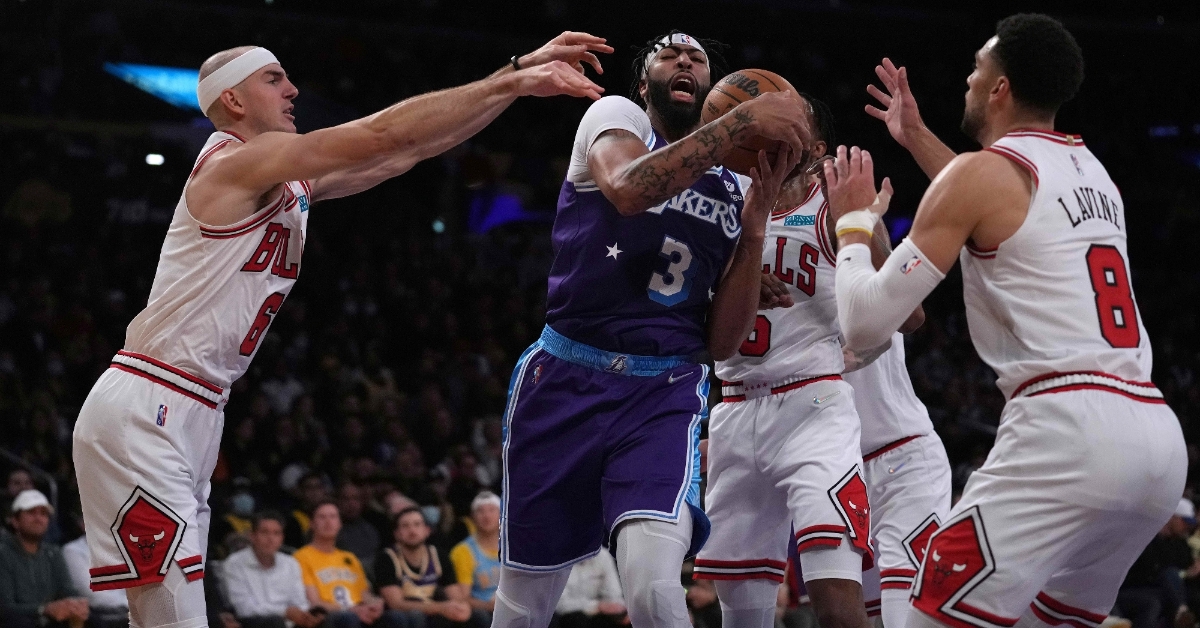 | | |
| --- | --- |
| Commentary: NBA should have stepped in earlier for Bulls | |
---
| | | |
| --- | --- | --- |
| Tuesday, December 14, 2021, 9:43 AM | | |
Out of all the professional sports leagues, the NBA is doing the best in terms of fully vaccinated players. As of Sunday afternoon, NBA Commissioner stated that 97% of the league is fully vaccinated. That includes a large number of teams that have reached 100% vaccinated status, with the Bulls being one of those teams.
However, vaccinated or not, COVID is still a real thing and needs to be handled with care. Thus, the league has gone above and beyond to put in particular health and safety protocols. The Bulls have recently found out firsthand how tough those protocols areas they have been playing shorthanded for the better part of the last month as COVID has hit them hard.
What started with Nikola Vucevic missing 10 days with COVID turned into a widespread outbreak as Javonte Green and Coby White followed shortly after. That was just the beginning of it as Derrick Jones Jr, Ayo Dosunmu, Troy Brown Jr, Zach LaVine, DeMar DeRozan, Matt Thomas, and Alize Johnson have all been added to the COVID list and are now in safety protocols. Mix in Stacey King and several other members of the Bulls organization, and it is safe to say Chicago is dealing with a massive outbreak within their organization.
Given how fluid and serious this situation is, you would have thought the NBA would have stepped in and made things easier for this team. That was not the case, and instead of acting when it was becoming a problem, it is now too late, and the Bulls and the league are suffering from it. According to the league, teams can file for a hardship roster when they are missing a certain number of players.
The Bulls were allowed to file for that type of transaction, but even the recently acquired Stanley Johnson was added to that list, so it didn't even matter. The League also has stated that for a team to compete, they must have a minimum of eight healthy players. The Bulls were sitting around nine players for the better part of the week but now are down to seven.
There is no way this team could have continued to be competitive, so instead of forcing the Bulls to add another piece to their roster, the league finally stepped up and has postponed the Bulls' next two contests against Detroit and Toronto. Although the timing, I feel, was a week overdue, it was something that needed to happen and something this team needed as they wait to get back to health.
According to the policy, a player must sit out a minimum of 10 days or have two negative tests within 24 hours. After that, they must then go through cardiac screenings to ensure they can return to the court. The fact that none of these players have returned is not a good sign which means that most likely everyone has tested positive at some point.
Had they not, or had they had two negative tests in a 24- stretch, they would have been back to action by now. Although this team was putting together a G-League roster over the last few games, you can't take away the fight this team had. Sure, the wins never came, but this team gave their best for 48 minutes, but you could tell the lack of bodies was leading to fatigue.
I understand the Leagues Policy and wanting to keep players safe, but they dropped the ball big time on this one. Having three players test positive through 20 games is one thing, but when you saw over seven players hit the COVID list in less than a week, something had to be done. It got to the point where it was one or two players a day as the Bulls would wake up in the morning not knowing who would be walking into the practice facility.
Now that the league has given the Bulls extra time to heal with the postponements, it is time to look at the protocols as a whole and see if they need to be changed. You have already heard some executives say that they expect a massive uptick in positive cases as we approach the holiday season. The NHL has expressed those same concerns, but for the most part, they haven't gotten to a point where over half your roster has been infected.
Not only was this a terrible decision to let the Bulls go through this as long as they did, but it was reckless by the NBA as every team they have played during this stretch could become infected. That is not what the league wanted to happen, and they have only themselves to blame if you see more team breakouts.
Hopefully, the Bulls will start to return to health over the next week, and they can get back to winning ball games.