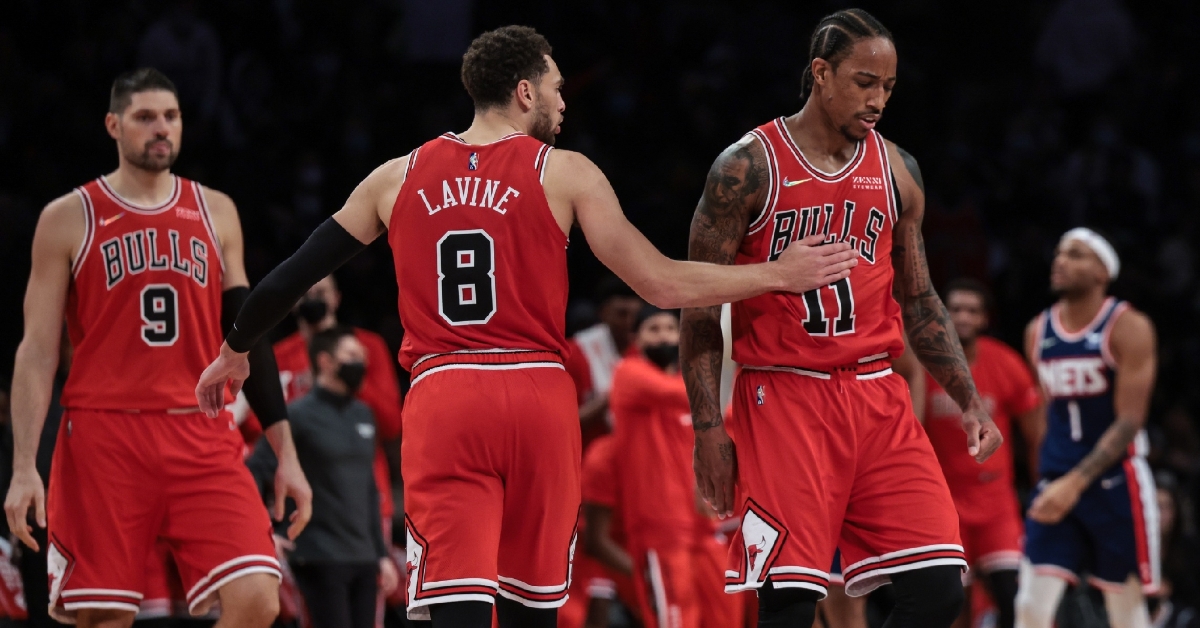 | | |
| --- | --- |
| Bulls News: Zach LaVine drops 31 points in road win against Nets | |
---
| | | |
| --- | --- | --- |
| Sunday, December 5, 2021, 9:33 AM | | |
BROOKLYN – Remember all those doubters out there to begin the season? Well, they are no longer doubting this team as the Chicago Bulls (16-8) continue to go about their business and play great basketball. Facing off against another great Brooklyn Nets (16-7) team on the road, Chicago faced an uphill battle as both Javonte Green and Coby White landed in COVID protocols.
That meant that the already shorthanded Bulls would be that much more shorthanded, which is never good going up against a team like the Nets. Give Chicago credit, they will not make excuses, and they continue to face adversity head-on and find ways to win games even when no one expects them to. Led by the duo of Zach LaVine (31 points) and DeMar DeRozan (29 points), the Bulls were able to keep things close throughout the game, giving them a great chance at pulling off the victory.
Outside of those two, the Bulls didn't have a go-to scorer as Nikola Vucevic added 11 points of his own, but he was the last of the starters who landed in double digits. Chicago did receive an excellent effort for Ayo Dosunmu, who dropped 11 points off the bench as the Bulls were in striking distance to secure a nice upset.
Given what fans have seen out of the big three, in recent games, 71 combined points is good, but it may not be enough, especially when you have to contend with James Harden and Kevin Durant on the other end. Durant went about his business dropping a team-high 28 points as he continues to have his way with Chicago. However, the Bulls defense did a great job keeping Harden contained as he finished with just 14 points as their effort defensively is what turned things around.
Although Harden had a down game, LaMarcus Aldridge picked up the slack as his quietly impressive season continued. After flirting with retirement this offseason, Aldridge elected to come back to the Nets and has put together his best season in a while. He has not only given the Nets some much-needed scoring with Kyrie Irving still out, but has been the next most consistent player behind Durant as he finished with 20 points.
Trailing by three points after the third quarter, it was all Chicago after the first as they trailed by six after the opening quarter and then outscored the Nets in each quarter after. Their big quarter happened when it mattered most as the Bulls offense and defense were clutch in the final frame. Add in a clutch three-pointer from Lonzo Ball, and the Bulls were able to not only go on the road and secure another huge win but did so, missing more pieces as they come from behind to top the Nets 111-107.
The best in the East
Although the standings may not indicate that right now, I would argue that this Bulls team is the best team in the Eastern Conference. Looking at their 16-8 record, you find a team that is the No. 2 seed in the East just .5 games behind the Conference-leading Nets. Chicago happens to own two victories in as many attempts against Brooklyn, so they also own the tie-breaker for what it is worth.
Going a little further, you will notice that this Bulls team hasn't been healthy all season and will never be at 100%. They lost Patrick Williams for the season less than 10 games in and missed White for the first few weeks as he was recovering from shoulder surgery. Add in three players who have been placed in the NBA Health and Safety protocols, and the Bulls continue to play shorthanded and make things work.
For as good as they have been this season, the one glaring weakness they have is the lack of a true Power Forward that can help with the size on the interior. Expect Chicago to explore all options as the season goes along, as the trade deadline could signify if they are confident in this group or if they want to add a PF for the stretch run.
Caruso is a leader
From a number side of things, LaVine and DeRozan are having an impressive season, and both of them will garner MVP votes at some point. However, one player on the Bulls has proven to be more valuable than the rest. That is free-agent pickup Alex Caruso, who continues to be the leader of this team in more ways than one.
Caruso may not be the scorer that LaVine and DeRozan are, but he does so much more for this team and is a big reason why they are off to the starter they are. Not only has he bounced between starter and bench role, but when he is called upon, he often delivers and comes up clutch when needed.
His defensive prowess has turned the once liability portion of this team into a top-10 unit while he continues to lead the NBA in steals. His winning attitude and tenacity on the floor allow him to guard anyone of any size without fear, and his style of play is starting to rub off on this team. Caruso was one of the best pickups of the offseason, but at that time, I am not sure anyone saw how good of a fit he would be. Arturas Karnisovas struck gold on him, and it is paying off in a big way.
Is Durant the best player in the world?
For the longest time, there has been a debate about whether LeBron James or Durant was the best player on the planet? Add Giannis to the mix, and you have three legitimate opinions about who could be the best player, as they have all done plenty to earn that title.
However, things haven't gone as planned for him recently as the injuries are starting to mount question the type of player he might be. While Giannis may be the most physical player in the world, James has been the best player in the league for 15 years, and no one is going to argue that. On the other hand, Durant has been primarily healthy during his career, and if not for the Torn Achillies he suffered a few years ago, his missed number of games would be less.
If I were to argue, Durant is the best player in the game. He is as tall as a center, he can handle like a guard, and he can shoot with the best of them from all over the floor. It doesn't matter who you put on him while on defense. Durant is a scorer who can do it all, and it is nearly impossible to stop him.
Put a smaller player on him, and he will rise over the top. Try to get physical with him, and he can put the ball on the floor and blow by the defender. He is also the best isolation player in the game. In other words, Durant is a once-in-a-generation type of scorer, and he will continue to be that type of player until he retires.