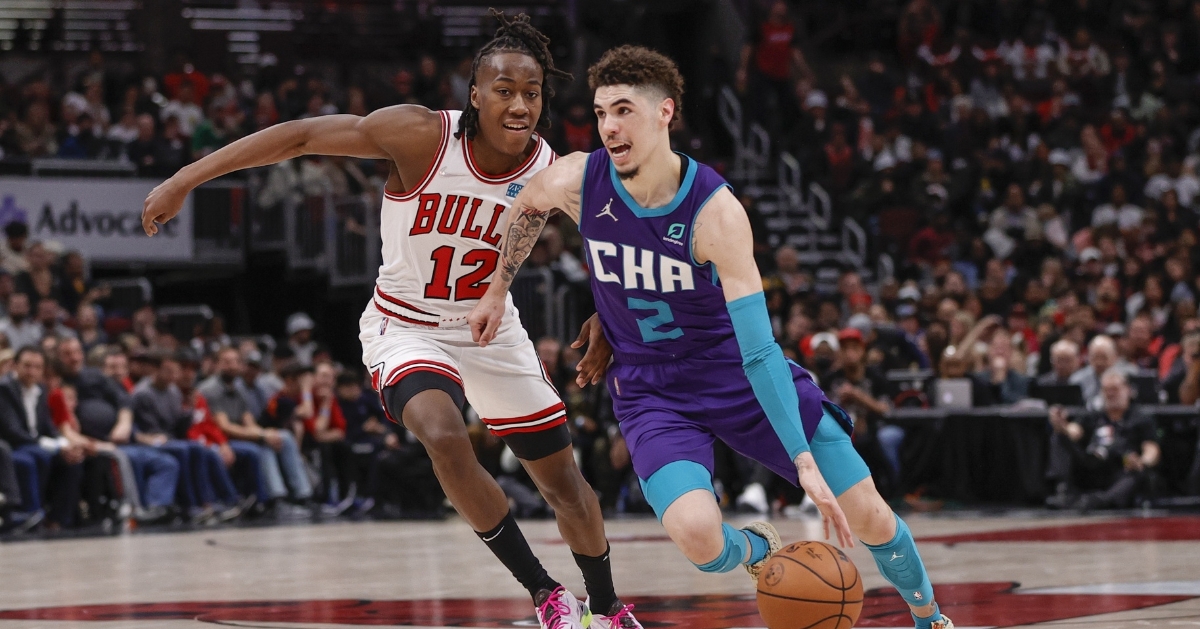 | | |
| --- | --- |
| Bulls scattered with boos after blowout loss to Hornets | |
---
CHICAGO - Three months ago, the Chicago Bulls (45-36) were sitting at 27-11, leading the Eastern Conference looking like a title-contending team. In the months since this team has gone 18-25 and has looked far from a playoff team despite clinching the No. 6 seed.
With the Charlotte Hornets (42-39), this was the perfect opportunity for the Bulls not only to get back on the winning track, but to win their final regular-season home game. Instead, the fans got another terrible performance as the Bulls trailed by 30 points in the first half before falling 133-117.
We have talked about the difficulty the Bulls are having when it comes to beating the top teams in the league. That trend has now carried over to just playoff teams in general. It is one thing to lose games competitively, but the Bulls are getting blown out every time they touch the floor. This made four-straight games where they lost by double digits, and all four were not even close.
I don't care what anyone says, it is hard to beat a team when you allow 79 first-half points, and that is precisely what the Hornets did, leading 79-51 at the break. It was a season-high for points allowed in a half by Chicago as they were never in the game.
Lamelo Ball played a significant role in that as he came out firing to finish with a game-high 24 points. Ball started a perfect 5-5 from the field and knocked down virtually every shot he took. While Ball has been the focal point for the Hornets this season, he is far from their only option as Miles Bridges added a fine game himself.
The former Villanova start shot 66% from the field and added 20 points to join Ball. Charlotte also received 18 points from Kelly Oubre Jr off the bench as those three provided the best games for the Hornets. However, you don't score 133 points with three double-digit scorers. In fact, the Hornets had seven double-digit scorers, with four of them coming off the bench.
Joining Oubre Jr in having massive nights off the bench were Montrezl Harrell (14 points), Jalen McDaniels (13 points), and Cody Martin (11 points). Add in the 15 points from Terry Rozier on 50% shooting, and you can see why this offense was so tough to stop and why they are a playoff team this season.
Things have gotten terrible for the Bulls in recent weeks. So bad that they finished their regular-season home slate with four blowout losses. Keep in mind this team had the best home record in the Eastern Conference heading into this stretch.
Amid the struggles over the last, but over the last month in general, you have several players and coaches critical of the team's play. Billy Donovan continues to reiterate that his team is better than how they are playing, but not as good as their start. Demar DeRozan has gotten on his team about getting back to the basics.
Now you have Zach Lavine speaking to the crowd before the game and then having a performance like this back that up. No wonder Lavine said the Boos were warranted as something needs to change with this team and change quickly. Struggles or not, Lavine did his best to carry the team against, shooting 60% from the field and dropping a team-high 23 points to go with seven assists.
Apart from him, the Bulls had several other players have big nights, which is often the case when you score 116 points. Coby White returned to the starting lineup and went about it by dropping 19 points on six triples. You also had DeRozan have an efficient shooting night from the floor, but he finished with just 17 points as those three had the hot hand.
In desperate need of a confidence boost was Ayo Dosunmu, as his last few weeks have been a struggle. Back on the bench for the first time in a month, Dosunmu went on to have one of his better games since February, where he led the bench with 16 points.
Another player who has stepped up as of late is second-year man Patrick Williams. Not only is he back in the starting lineup, but Donovan had a long talk with him about being a more aggressive player. That talk seems to have worked as Williams added 15 points to go with four rebounds in the lopsided loss.
With just one game left in the regular season, I wouldn't be surprised if Donovan sat all his starters against Minnesota to clear their head for the postseason. This is a good theory in thought, these same guys have been struggling, and they need to find a way to win while on the floor to get some of their confidence back.

Upgrade Your Account
Unlock premium boards and exclusive features (e.g. ad-free) by upgrading your account today.
Upgrade Now