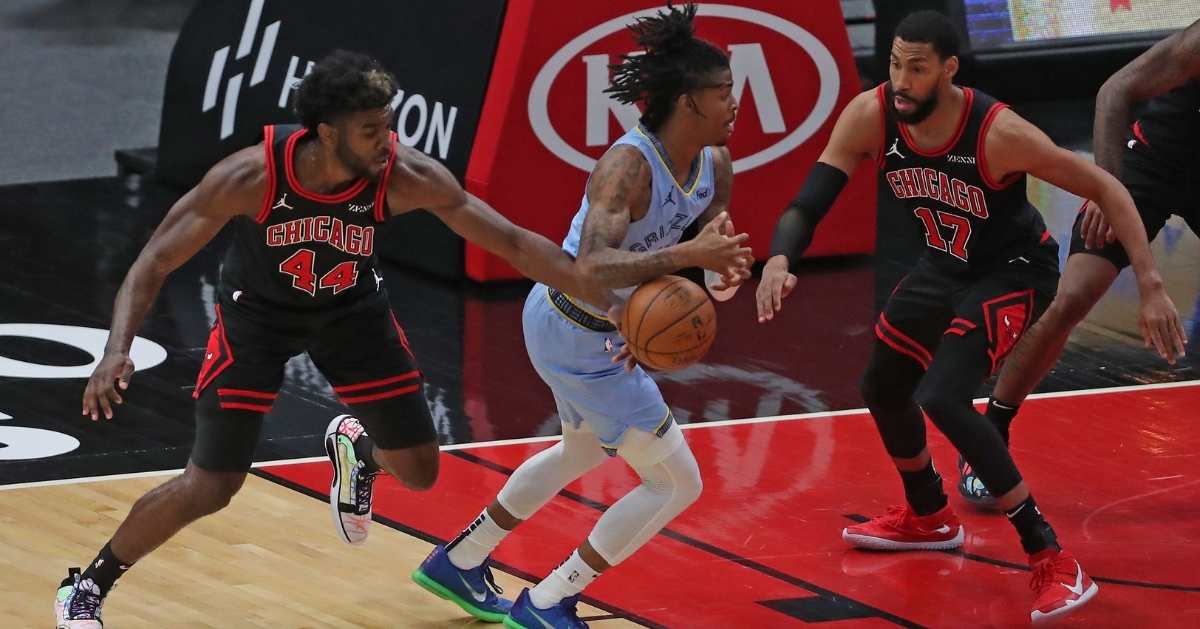 | | |
| --- | --- |
| Takeaways from Bulls loss to Memphis | |
---
| | | |
| --- | --- | --- |
| Sunday, April 18, 2021, 8:19 AM | | |
The sky is falling in Chicago now. After perhaps surpassing expectations in the first half, the Bulls have come down to earth in a big way. Not only have they fallen into a tie for the final playoff spot, but they are playing some of the worst basketball in league with only two teams sporting worse records in the East.
To make matters worse, Zach Lavine is lost for the next two weeks after coming in close contact with someone having COVID. There is some serious soul searching that needs to happen in Chicago, and it needs to happen quickly. With Lavine on the COVID list, Chicago had to shut down their practice facility Monday and put a makeshift starting lineup together on the fly.
That new-look lineup had some familiar names, but without being able to practice together, would it be enough to top the Grizzlies, who beat them earlier in the week. With guys like Daniel Thies, Garrett Temple, and Coby White inserted into the starting lineup, the Bulls hung tough with the Grizzlies matching them point for point in the first half.
A big reason for that was White and his team-high 27 points as he finally broke out of a prolonged shooting slump. Even with Nikola Vucevic adding 24 and Thaddeus Young picking up 17 off the bench, it wasn't enough as Dillon Brooks, and his game-high 32 helped push Memphis to a massive second-half surge and eventual 126-115 win.
An excellent game for White
When the Bulls drafted Coby White last season, they had visions he would become a premier scorer in the league. He has shown the ability to do that so far despite bouncing between the bench and starting rotation. While his scoring has always been decent even to keep him in the lineup, his decision-making hasn't hence why Billy Donovan sat him in favor of Tomas Satoransky.
As smart of a decision as it seemed, it may have been the wrong decision, at least for White and his development. Ever since moving to the bench, White has seen his scoring take a hit. He went from 15.4 PPG as a starter to 7.2 PPG off the bench. He only has three double-digit scoring games off the bench.
Along with decreased minutes and decreased scoring, White has seen his shooting percentage take a hit as he has been stuck in a prolonged shooting slump. After last night's performance, maybe White has shot himself out of that slump and back into the starting lineup. With Lavine gone for two weeks, White will need to elevate his game and become the scorer the Bulls hoped he would.
Dropping 27 points in his first start in a month was a great start as he looked like the White of old last night. His three-point touch was back, aggressive nature around the rim, and just the ability to take people off the dribble. White made a case to stay in the starting lineup the rest of the way, even if Lavine comes back.
Lauri Markkanen is next
While White may have shot himself back into the starting lineup, what about Lauri Markkanen. Another starter who was averaging a career-best 19.3 PPG this season, Markkanen was sent to the bench in favor of Young and now is averaging less than 6 PPG. Much like White, Markkanen has seen his struggles shooting the ball, and after a 1-7 performance last night, it has gotten worse.
Could a move back into the starting rotation be exactly what Markkanen needs? Perhaps it is, and it is time for Donovan to scrap the lineup change he made earlier this season and go back to what was working. With Young and Satoransky in the starting lineup, the Bulls got off to faster starts but saw their offense take a hit.
Young has played well as a starter, but he is much better off the bench, and that showed last night. Markkanen hasn't adapted well to his new role, and he needs to start. They need his scoring to make up for the loss of Lavine, and he needs to rediscover his shot. If Markkanen can come in and give Chicago 15 PPG in the starting lineup again, that will be a huge lift.
Ultimately, it may be all Donovan needs to see to put his best lineup on the floor the final month. If you ask me, that lineup is White, Lavine, Williams, Markkanen, and Vucevic. Four of those five guys can go off for 20 plus points on a given night, and teams will have a tough time defending that scoring punch.
22-33 record
At 22-33, the Bulls have reached a season-worst in terms of games under .500 and have now lost five straight. That comes on the heels of a three-game winning streak which followed a six-game losing streak. Chicago has now lost 12 of their last 16 games after sitting at 18-21 when they made their trades.
To make matters worse, their hold on the final playoff spot in the Eastern Conference has evaporated as the Toronto Raptors overtook them last night with their win over Orlando. Yes, both teams are 11-games under, but with one more win than Chicago, Toronto holds the advantage in percentage points as they have more games in hand.
Thankfully for Chicago, they have beaten Toronto twice this season and have another meeting with them in a few weeks. Win or lose that game, Chicago has taken the season series against them, and should they tie for the same record, the Bulls get the nod over them. There is a long way to go before worrying about that, and right now, the Bulls need to focus on winning their next game and go from there.
https://www.youtube.com/watch?v=6onnkWTGueE&t=404s