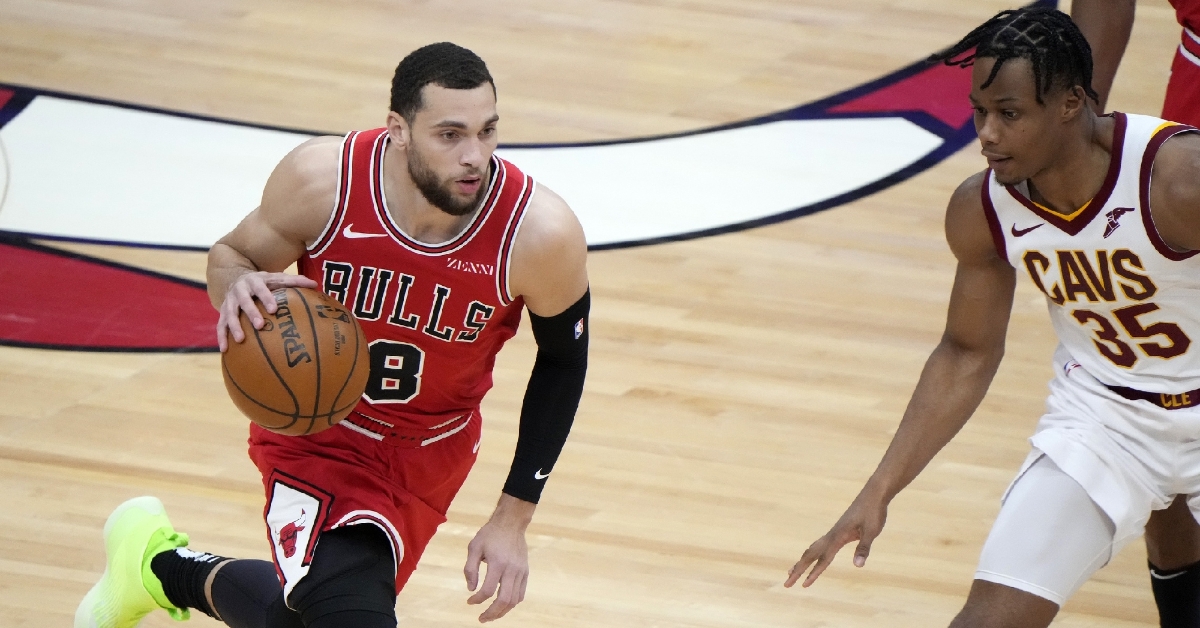 | | |
| --- | --- |
| Takeaways from Bulls frustrating loss to Cavs | |
---
| | | |
| --- | --- | --- |
| Thursday, March 25, 2021, 11:17 AM | | |
Despite a rough go of things to start the second half of the season, the Bulls are in a great position to not only make the postseason but to possibly move up in the standings with a few more wins. To do that, Chicago needs to win the games they should win while getting some help along the way.
Wednesday night against Cleveland was one of those must-win games as the Cavaliers came into the game sporting a 16-27 mark and near the bottom of the Eastern Conference. However, the Bulls looked like a 16-win team, and not a playoff hopeful as Cleveland dominated them in the second half to pick up a 103-94 win.
For some reason, the Bulls have struggled more at home this season than on the road, and there is no explanation for what that is. Even with the lineup shift that has moved Thaddeus Young and Tomas Satoransky to the starting lineup, Chicago still can't string wins together on their floor. The entire first quarter of the game set the tone as Chicago couldn't shake the Cavs.
Even with Young, Zach Lavine, and Lauri Markkanen providing some balanced scoring initially, Cleveland had answers with Darius Garland, Larry Nance Jr, and Cedi Osman matching the Bulls efforts. Nance especially had a strong start to the game helping Cleveland build an eight-point lead, but Chicago used a 13-5 run to close out the quarter sparked by Coby White and Lavine to draw even 25-25 after one.
Hoping their strong finish to the first would carry over to the second, more players continued to get involved, with Jarrett Allen and Wendell Carter Jr going to work in the paint. That freed things up for many of the Bulls shooters as their offense started to play with more pace. Even with that, Cleveland still hung around with guys like Quinn Cook and Lamar Stevens, keeping things tied 39.
Once again, the Cavs held a late second-quarter lead until Satoransky and Daniel Gafford showed up with some crucial buckets down the stretch. Satoransky also hit a layup down the stretch as the Bulls maintained a marginal 55-53 lead at the half.
With the second half about to get underway, Chicago knew they needed to play much better if they wanted to win this game. Satoransky certainly knew that as his recent hot shooting continued with a three. Garland had an outside touch of his own, answering with a three of his own to tie things up once again. Garland was just getting started as he used a huge second half to finish with a team-high 22 points and, paired with Allen, helped give the Cavs a six-point lead once again.
As Patrick Williams finally started to get involved offensively, the Bulls were hoping that he could help get the offensive rhythm going or, at the very worst, help get others involved. That was not the case as Cleveland started the second half out with a bang and held a 78-72 lead through three.
Not only were the Bulls frustrated with their play at this point, but they were searching for answers. An early three from White certainly help minimize the frustration, but Cleveland still held tough, holding onto a seven-point lead. A tip-in bucket from Otto Porter Jr followed by a Ryan Arcidiacono three had the Bulls within two, and it seemed as if they were heating up at the right time.
That was until Nance Jr. hit an open three that sparked a 9-0 Cavs run to suddenly put them in front 91-80 and the biggest lead of the night. That deficit came at the worst time as Cleveland stretched their lead to 13 following threes from Dean Wade and Broderic Thomas. Needing offense in a hurry, the duo of Markkanen and Lavine tried to bring the team back but couldn't get closer than seven as the Bulls drop a brutal one 103-94.
Lavine led the team with 22 points, with Markkanen chipping in with 17. Both White and Satoransky added 11 points each as they were lone players in double figures for Chicago. Cleveland was led by Garland and his 22 while picking up 19 from Allen, and 14 points from Nance Jr. With a 19-24 mark, the Bulls are at their lowest point since early January and hit the road to take on San Antonio on Saturday.
The worst possible time to hit a slump
No one will call the Bulls a consistent team, but no one will call them a bad team either. Sure, the team hasn't been 500 since a 4-4 mark, but they also haven't been lower than six games under 500 at any point. They have had moments when they start peaking only to have games like last night happen at the worst possible time.
The second half hasn't gone as planned for Chicago, and last night's loss couldn't have come at the worst time. These are the games Chicago needs to have, and when you let those slip away, they will come back to bite you later. Fortunately, the Eastern Conference is up for grabs from the fourth seed on down, so there is still hope for Chicago.
What will deadline day bring the Bulls?
As the second half got underway, Billy Donovan wasn't happy with his team's slow starts. That sparked a lineup change that moved Carter and White to the bench in favor of Young and Satoransky. At first, that lineup change was working well as the Bulls teams started to play with much fluidity.
In the five games since the Bulls have not only gone 1-4 but haven't looked good in most of those games. While the defense has improved, which needed to happen, the offense has suddenly gone cold, which Donovan indicated in his presser last night. With today being the NBA trade deadline, there have been many talks surrounding Markkanen and his future, as well as Lonzo Ball possibly landing in Chicago.
It will be interesting to see what Arturas Karnisovas has in mind today, but there is a possibility that this could be the last game with this current group. Chicago is very much alive in the playoff hunt. Now they just need to add some pieces to get the job done.
Time to find out what Chicago is made of
Carter Jr. spoke to the media last night and basically said the Bulls overlooked Cleveland last night. As tough as that is to hear as a fan, it seemed accurate as the Bulls were never in sync last night. It is almost as they expected to win, knowing they had a better record than their opponent. If anyone should know about being overlooked, it should be this team as no one has taken them seriously in years.
With that being said, now is the time to show what this group is made of. With a seven-game stretch coming up where every game is a winnable game, Chicago has a chance to make a second-half surge that could go a long way to making the postseason. The problem is the five-game stretch that comes before that. Not only have the Bulls not beat a team with a winning record since December, but they are having a hard time beating teams with a 500 record.
Their next five games are against teams with winning records, including the two best teams in the west in Phoenix and Utah in that stretch. For a team that overlooked Cleveland, expect them to be overlooked by some of their next opponents. Now is the time for this team to dig in and find out what they are made of down the stretch.

Tags: Bulls Basketball
,
Thaddeus Young
,
Tomas Satoransky
,
Zach Lavine
,
Lauri Markkanen
,
Coby White
,
Wendell Carter
,
Daniel Gafford
,
Patrick Williams
,
Ryan Arcidiacono
,
Billy Donovan