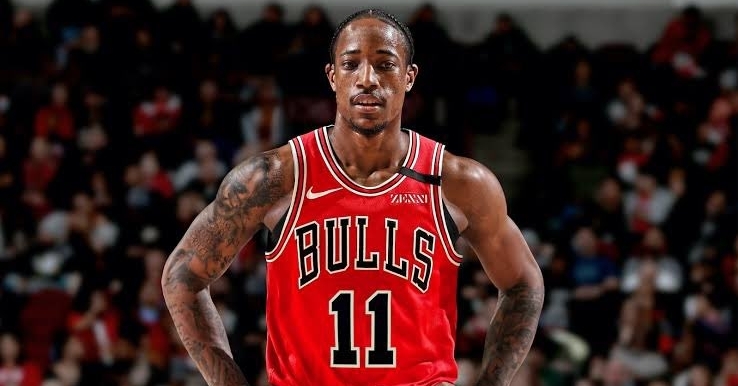 | | |
| --- | --- |
| 2021 Season Projections: Bulls Small Forwards | |
---
| | | |
| --- | --- | --- |
| Monday, September 27, 2021, 1:24 PM | | |
We continue with our positional season projection series for the Chicago Bulls as we shift to the forward position. This is one of the most significant changes on the roster, as several moving parts have taken place over the last few months.
That has led to plenty of new faces coming to town and certain players perhaps playing in different spots this season as the Bulls look to have one of the more exciting rosters this season. Today it is all about the SF position, which was a problem earlier in the offseason, but not now. All it took was one specific move to make things happen, and once it did, the pieces fell into place for what the roster looks like now.
Demar DeRozan
Perhaps the biggest offseason acquisition not named Lonzo Ball was the Bulls acquiring DeMar DeRozan in a sign and trade with San Antonio. It took parting ways with Thaddeus Young to get it done, but DeRozan was a player the
Bulls tried to get years ago and now finally have their crack at him.
When you look at the Bulls roster this season, they will have one of the smaller rosters in the NBA, so look for Billy Donovan to play with primarily a three-guard set. That is where DeRozan falls into play as he may be listed as a guard, but will most likely be the SF when the roster rounds out. A former first-round pick from USC, DeRozan has had a great career spanning both Toronto and San Antonio and now will look to take his talents to Chicago.
A 20 plus point scorer in his own right, DeRozan has drawn some criticism as many people feel he won't coexist with Zach LaVine. That alone is why the NBA ranked this as one of the worst offseason pickups, which I am still trying to wrap my head around. DeRozan knows what it takes to win, and he will do whatever the Bulls need him to do to bring a winner to the Windy City.
Prediction: 70 games, 18.3 PPG, 6.4 RPG, 4.7 APG
For the first time in a long time, the Bulls are going to four or five players capable of scoring 15 or more points each night. Three of those players can drop 20 per game, with DeRozan being one of them. While he may not average 20 plus PPG, by the time the season ends, DeRozan is a great player and someone who will do wonders in Chicago.
He is a bigger guard or a smaller forward depending on where he fits but does a lot for his teams. He can score, handle the ball, run an offense, and do the little things that most teams want to win. He needs to improve his overall shooting and defensive abilities, but I think Donovan will help him with that. This was an excellent pickup for the Bulls this offseason, and he could become the Pippen if LaVine is considered the new Jordan in Chicago.
Troy Brown Jr.
Acquired from the Washington Wizards in the Chandler Hutchison and Daniel Gafford deal, Brown showed spurts of talent with the Bulls last season averaging 7.3 PPG in limited time of the bench. There was a time when Brown Jr was looked at as the starting SF until the DeRozan deal was made. Now subject to a bench role again, the Bulls are hoping he can turn the corner this season and provide a more consistent game.
At 6-7, Brown Jr is the perfect size for a SF and comes with his fair share of athleticism. Not only is he a slasher when he attacks the rim, but he can shoot the ball, too, displaying a tremendous outside touch from behind the arc. For all the pieces the Bulls lost this offseason, Brown Jr could become a crucial piece off the bench as he will take over one of the roles filled by Garrett Temple or Denzel Valentine.
Prediction 58 games: 6.7 PPG, 3.4 RPG, 1.3 APG
Much like many of the Bulls bench players this season, the question becomes how many games they will play and how the minutes will be spread around. When you look at the Bulls starting five and then adding Coby White into the mix, Chicago will have six players that they can trust to score double-digit points, making them tough to defend across the board.
The rest of the production will come from players who will spend most of the season carving out a role, and Brown Jr is one of those players. Chicago loved what he brought to the table last season, and the Bulls feel he is just getting started. The key now is to give him the consistent minutes needed to succeed, and hopefully, he turns into a valuable player.
Tyler Cook and Stanley Johnson are two players who do not have guaranteed contracts at this point, but will be given a chance to make the opening day roster. From a size standpoint, Cook makes a ton of sense as he will give the Bulls some needed interior size.
However, Johnson was a former lottery pick and has shown signs of being a legitimate contributor for teams. If he makes this team and is given a chance, I think he can put up similar numbers to Young, which would be huge for this team.