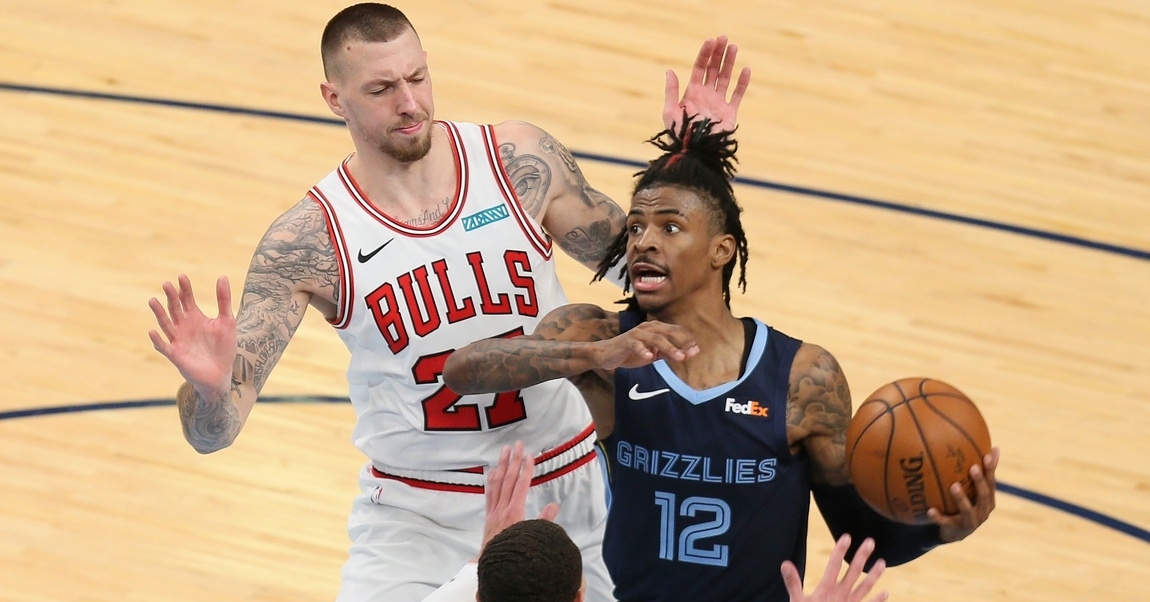 | | |
| --- | --- |
| Takeaways from Bulls loss to Grizzlies | |
---
| | | |
| --- | --- | --- |
| Tuesday, April 13, 2021, 8:32 AM | | |
It is starting to become scripted with this young Bulls team as they let another fourth-quarter lead getaway. Not only that, but it was also another loss against a team with a winning record which are two things that continue to hurt this Chicago team.
No matter how many ways you say it, good teams find a way to win games, and right now, the Bulls are not a good team. They are not a bad team either, considering they would be a playoff team right now but being stuck in the middle is never a good thing this late in the season. Facing off against a Memphis team who is not only in the playoff hunt themselves but entering play with a 26-25 record, Chicago was finally hoping to get a win against not only a playoff team but a winning team to check that off their list.
For three-plus quarters, it looked like the Bulls were finally going to get their wish as they were able to match Ja Morant and the Grizzlies every move. Even with Zach Lavine being held to 21 points and Nikola Vucevic 17, Chicago got 20 points from the savvy veteran Thaddeus Young to make up for the down-scoring night. Chicago also got 18 points from Daniel Thies off the bench as he needed to pick up the slack with Lauri Markkanen coming away empty-handed.
Even with a five-point lead late in the game, the Bulls late-game frustrations continue to mount. A couple of clutch Greyson Allen shots down the stretch coupled with the dominating play of Jonas Valanciunas and his game-high 26 points proved to be the Bulls undoing again, with Memphis pulling away for the 101-90 win.
The loss sends Chicago back down to a season-low nine games under .500 (22-31), and their lead over Toronto for the final playoff spot continues to dwindle.
Daniel Thies playing for starting role in 2021
With Otto Porter Jr. and Wendell Carter Jr in Orlando, Lauri Markkanen on the final year of his deal, and Young entering his 16th season as a pro, Chicago may have an opening at power forward to fill. Depending on this team's direction and where they want to go, Chicago may entertain that idea in free agency or, at the very worst, the NBA draft.
However, with other pressing needs on this team, why not give the PF spot to a player who earns the trust of the coaching staff. Right now, that player could be Thies as he continues to impress in Chicago. Not far removed from his 14-point 10 rebound performance the other night, Thies was back at it again for an even better performance.
His 18 points led the way for bench scorers, and he finished third on the team in scoring on Monday. This also played in 27 minutes which was more than three of the Bulls starting five. As surprising as it was that the Celtics dealt him, Chicago is thrilled to have him as he is averaging just under 10 points per game since coming to Chicago. More importantly, he is averaging over 12 points in his last five as the minutes are increasing.
This has always been an intriguing piece, given his work ethic and attitude on the floor. He is always willing to do the little things to help a team win and has been very valuable in his role. Known as a bench player most of his career, Thies has some starting experience with the Celtics over the years. If his play continues at this level, he could be in line for a starting spot next year.
Time for a lineup shakeup again
Immediately following the all-star break, Billy Donovan made some tweaks to his starting lineup after constantly watching his team start slow. Guys like Coby White and Markkanen went from starters to the bench, whereas Tomas Satoransky and Young moved to the starting five.
While this did ultimately solve the slow starts, the Bulls overall scoring has taken a hit as they are averaging four fewer points per game since the change. The team is also six games under 500, so going with that new lineup, but some of that has to do with the new pieces coming aboard. I understand that Donovan wants quicker starts from his team, but at this point, Chicago is fighting for their playoff lives.
They need to not only finish out games, but they need consistent scoring. Guys Like Markkanen and White can bring you that scoring, but only if they are in the starting lineup. Young is also a guy who I think belongs in the starting five, given his versatility on the floor. That would mean that Patrick Williams would be ticketed to the bench.
As tough as that would be for him given, he has started every game, it may be the best thing for him and the team. Williams has played well all season, but his scoring average has plummeted over the last month, and he has gone through some struggles. Maybe giving him some time off could be a mental breather. Chicago could then go with a lineup of White, Lavine, Young, Markkanen, and Vucevic to not only offer more size but tons more scoring potential.
Look at Morant
We have talked about his for a while now about the Bulls need to acquire some sort of elite PG. If there was ever a question as to why this team needs one, look no further than Morant for the Grizzlies. The athletic freak may not be the best shooter on the floor, but he is a magician with the ball in his hands and runs an offense the way you expect.
Not to mention his athleticism is off the charts, which brings fans to their seats. Chicago will not be able to land him anytime soon, but they should land someone who plays a similar style. Going back to when the Bulls were making the playoffs most recently, what was one thing they had in common? They had a PG who knew how to run the show.
Derrick Rose is the prominent name that comes to mind as he was as close to Morant as anyone in the game today. Rose won the MVP in just his third season, and he had the Bulls offense clicking. Following a series of devastating knee injuries, the Bulls were never able to find someone of his caliber again, and it has haunted the team since.
They did manage to have Rajon Rondo for a season, and despite his lack of scoring, he did what a point guard does, leading Chicago to the postseason and going up 2-0 against No.1 Boston before losing four straight. The importance of a PG is overlooked, and it simply can't be anymore. This team makes too many careless mistakes with the ball in their hands, and a lot of those wouldn't happen with someone used to handling the ball.