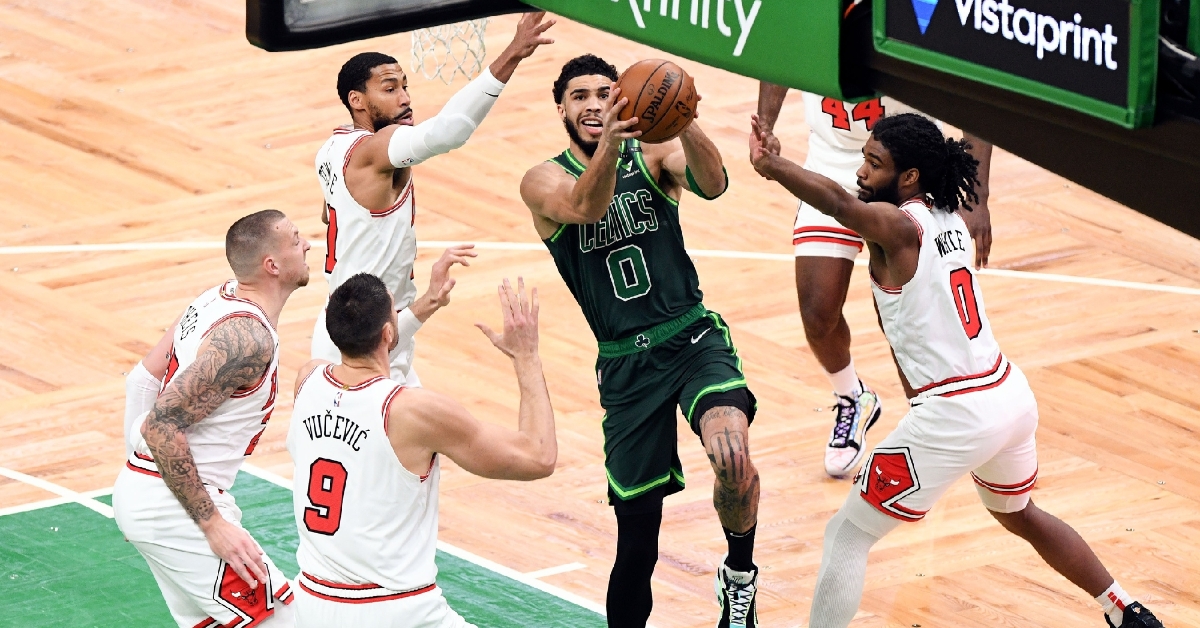 | | |
| --- | --- |
| Takeaways from Bulls win against Celtics | |
---
| | | |
| --- | --- | --- |
| Tuesday, April 20, 2021, 2:29 PM | | |
In what seems like an entire year, the Bulls were finally able to beat a playoff team on the road, topping the Celtics 102-96. In just the third game since Zach Lavine was placed on the COVID list, and the Bulls played perhaps their best defensive game of the season, holding the Celtics to 96 points.
Once again, the offense went through Nikola Vucevic as he continues to produce at the level the Bulls expected him to when they acquired him. Vucevic dropped a game-high 29 points to go with nine rebounds as he continues to be a menace both on the perimeter and in the paint. Chicago also got an excellent contribution from Coby White for a second straight game as he finished the game with 19 points. White is showing Billy Donovan that he not only belongs in the starting lineup but plays better as a starter than coming off the bench.
Both Garrett Temple and Thaddeus Young added double-figure outputs, with each of them dropping 13 points as the Bulls erased a 10-point first-half deficit to secure the win. That win wasn't easy as Jason Tatum picked up his first career triple-double while Jalen Brown led the way for Boston with 23. Those two have been a big reason why Boston had won six consecutive games, but a strong defensive effort by the Bulls ended that winning streak and moved the Bulls back into sole possession of 10th place.
A significant injury to impact the final weeks
While this may not be Bulls related, it related to the Bulls and was worth noting as the game started. Sitting tied for 10th with Toronto, Chicago knows they must win as many games as possible down the stretch and hope for some help. With Indiana three games clear in the nine spot, Chicago needs to play with more consistency down the stretch to even have a shot at them.
However, a Myles Turner injury may be the break the Bulls need as the Eastern Conference race is about to get more interesting. Turner has been a significant part of the Pacers success this season and continues to show why he is a franchise building block. Monday afternoon, it was announced that he has a significant foot injury and will be out indefinitely.
While there has not been a set number of games for Turner to be out, indefinitely is never a good thing, and it couldn't have come at a worse time. Indiana has been playing better lately while teams like the Bulls and Toronto have fallen further down the standings. With Turner's injury, not only are the Pacers going to be down one of their best players, but it opens the door for both Chicago and Toronto to take advantage should they struggle.
60-straight games for Vucevic:
When the Bulls acquired Vucevic 15 games ago, they envisioned him as not only being an elite scorer next to Lavine but another cornerstone to build around. He certainly hasn't disappointed since arriving in the Windy City, and his play continues to prove how valuable of a player he is.
Not only that, Vucevic has scored double-figure points in all 15 games, with Chicago bringing his streak to 60 consecutive games in double figures. That is the most consecutive games in the NBA, and it doesn't appear to be ending any time soon. Vucevic is one of those rare centers that poses great size and touch on the inside to go along with the ability to shoot the three.
He is a matchup nightmare for most teams and can take a game over when given a chance. With Lavine out for another 10 days or so, Vucevic is going to be counted on perhaps more now than ever before to be the go-to guy. That shouldn't be a problem as the offense has run through him more and more lately.
The results haven't been great all the time, but the fluidity in the offense is much smoother over the last two weeks. Credit that to Vucevic and his ability to run and control the offensive tempo through the post position.
Are the Bulls better off without Lavine?
I can't believe I am asking this question but is this team better off without Lavine. Sure, making up for his 27 PPG is not easy, and the offense is not going to score as much as with him in the lineup, but it does appear they play better without him in the lineup.
That is especially noticeable on defense, where the Bulls have been very good the past few games, including last night. It was one of their best defensive showings on the season, and with Lavine out, Temple has stepped in. He is a defensive specialist, which helps this young Bulls roster make more stops than in the past.
While the defense has gotten better, the offense has not, but that was expected without Lavine. However, since landing on the COVID list, the Bulls offense has been more balanced with other guys stepping up. Sure, Vucevic has been the primary scoring option, but other guys have needed to take shots in challenging situations without Lavine.
White has benefitted from his absence as he is not only back in the starting lineup but seems to have gotten his shooting stroke back. Temple is getting more minutes than he has in recent months, and players who were lost in the rotation are finally seeing minutes again.
When it is time for Lavine to come back, the Bulls will welcome him back and insert him into the starting lineup. However, once he returns, there could be many changes, as this team seems to have some rhythm going at this current time.