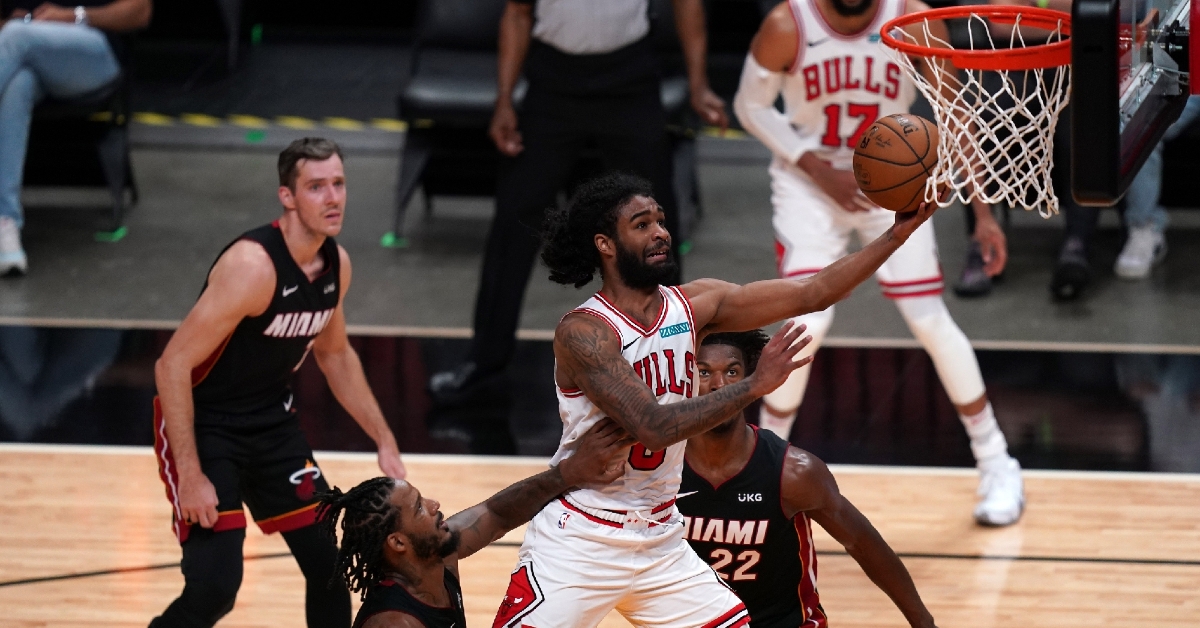 | | |
| --- | --- |
| Takeaways from Bulls' huge win at Miami | |
---
| | | |
| --- | --- | --- |
| Tuesday, April 27, 2021, 10:14 AM | | |
Coming off a loss to Miami on Saturday, the Bulls were back at it again with the Heat Monday hoping to remain in the playoff hunt. Loss or not on Saturday, the Bulls had plenty to be proud of as they erased a 20 plus point deficit to only fall by five in the final minutes.
Hoping to use that to their advantage and build off that momentum, the Bulls played a great game against Miami as they continued to be led by Nikola Vucevic. Ever since arriving in Chicago, Vucevic has been a double-double machine and was at it again on Monday. He not only had a team-high 24 points, but his 11 rebounds gave him another double-double.
Speaking of double-double's Daniel Theis is suddenly becoming a force in the Bulls lineup as he has moved into the starting rotation. His 23 points were a season-high with his new team, while he added 12 rebounds of his own. Chicago also got 17 points from Coby White as his scoring and overall shooting continue to climb since moving back to the starting five.
Despite those great performances, Chicago still trailed by six after three as Jimmy Butler and his game-high 33 points continued to be a problem. Miami also received 23 points from Bam Adebayo as those two continued to give the Bulls fits. Fortunately for Chicago, their defense picked the perfect time to show up as they held the Heat to just 20 points in the fourth quarter giving their offense a chance.
That was a chance they were not going to pass up as Chicago dropped 34 points on the Heat in that final frame to surge past them and pick up the 110-102 win.
The win moves Chicago to 26-35 on the season, and they closed the gap to one game in their quest for the final playoff spot, with Washington losing to San Antonio.
28.3 assists
That is the number of assists Chicago is averaging this season which leads the NBA. That is one thing they have done great with offensively all season as they love to share the basketball. Last night was a prime example of that as Chicago recorded 33 more assists in the win, with three players recording five or more.
Sharing the basketball is one thing, but when you are averaging close to 30 assists per game, that is an entirely different story. The Bulls have no problems making the extra pass, and often players pass up open shots to make the extra pass. However, that doesn't bother this team, as they tend to be rewarded later in the game.
While the shooting has been hit or miss for this team all season, the Bulls have found success in sharing the basketball, something Billy Donovan has preached since arriving in Chicago. Keep in mind these assist numbers are without a true PG on the roster, so you must wonder what it would be like if a PG was running this team.
Chicago will continue to be successful on offense if they stick to what is working. Sharing the ball is working for them, and the more passes they make, the better looks they get.
Did the Bulls get worse while making others better at the deadline?
When the Bulls traded for Vucevic and Theis, among others, at the deadline, there was a lot of talk that they won the trade deadline. Not only did it give them two all-star players this season, but it gave them two building blocks for the future, which is undoubtedly going to help this team.
However, in the process of these moves, something has happened as the Bulls have gone just 8-14 since these moves have been made. I don't necessarily think the Bulls have gotten worse since making the moves, but they have perhaps helped other teams get better.
Starting with Orlando, where Vucevic came from. Not only did the Bulls unload Otto Porter Jr. and his salary in the process, but also Wendell Carter Jr, who was a former top 10 pick. With Orlando sending Aaron Gordon to Denver, Carter Jr. will have a chance to be the center of the future for that team as they are in full rebuild mode.
Along with that, Chicago also sent a first-round pick Orlando's way, which has significant impacts. It is a protected pick meaning the worse the Bulls do this season, the better selection Orlando gets. That could net the Magic a top-five pick in next year's draft, which will be a substantial piece going forward.
Along with Vucevic coming over, Theis came over from Boston, but that is not the trade that helped another team. Yes, Boston has been playing their best ball of the season since that deal, but if you ask me, that is a coincidence. Instead, it's the Washington Wizards who benefitted from the Bulls dealing as they have now passed Chicago in the playoff standings.
Last night, their loss to San Antonio ended an eight-game winning streak, but Daniel Gafford is turning into a star with Washington. After struggling to find a role in Chicago, he has gone to Washington and is becoming a force both offensively and defensively. Chandler Hutchison was also dealt to Washington, but he has yet to make a difference. This is the one time that a trade may have looked better on paper for one team only to help other teams more.
What happens to Theis when Zach LaVine comes back?
After it was revealed that Lavine would miss 10-14 days due to NBA health and safety protocols, Donovan was forced to make some tough lineup decisions. The easiest decision was to move White back to the starting five, and his scoring has taken off since.
Another move made was sending Thaddeus Young back to the bench and using Theis as the starting PF or C. Much like White, Theis has seen his scoring and overall play increase with more minutes, leaving the Bulls with a tough decision in the coming days. When Lavine is healthy, he obviously will go back to the starting lineup as he is their best player.
That means Garrett Temple will most likely be headed back to the bench. Potentially it could give the Bulls a starting lineup of White, Lavine, Patrick Williams, Vucevic, and Theis. Given what fans have seen from White and Theis, it would be foolish to move them back to the bench, especially when their scoring is up.
White needs to remain in the starting lineup as he is averaging close to 18 PPG since rejoining the starting group. Although Theis is averaging 14.4 PPG as a starter with the Bulls, he also averaged 10.9 PPG off the bench, so he had success both ways. Donovan has plenty of tools to use in different situations. Now it is about putting them in the right position to succeed as they continue to fight for the 10th and final playoff spot.