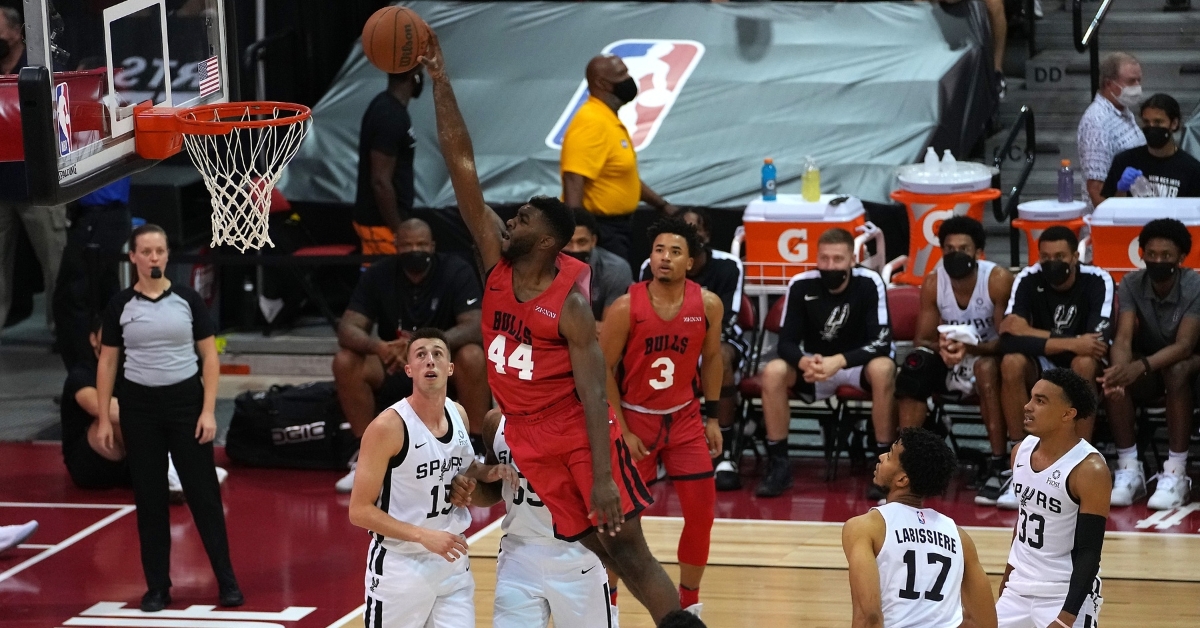 | | |
| --- | --- |
| 2021 Season Projections: Bulls Power Forwards | |
---
| | | |
| --- | --- | --- |
| Thursday, September 30, 2021, 1:33 PM | | |
Perhaps the biggest facelift across the Bulls roster entering this season is that of the power forward position. Not only did they lose Daniel Thies (Houston) and Thaddeus Young (San Antonio), but a disgruntled Lauri Markkanen was finally granted his wish as the Bulls completed a sign and trade for him, sending him to Cleveland.
All three of these men not only averaged double-digit scoring with the Bulls, but all three are 6-9 or taller, which gave the Bulls some much-needed size across the board. Now that they are gone, not only are the Bulls going to need to find a way to replace that scoring, but they need to find a way to add some height as they lack overall size.
They did an excellent job adding some potential bench pieces that bring some size, but this team remains one of the smallest teams in the NBA, which could be an issue. Along with those players entering the next chapters of their NBA career, Patrick Williams will also begin a new chapter as he will go from SF as a rookie to PF this season. In my opinion, he will be the most crucial piece to the Bulls offense, but will have to wait longer to get on the court.
PATRICK WILLIAMS
When the Bulls drafted Williams fourth overall in the 2020 NBA draft, there were many mixed reviews when it came to that pick. Some felt it was a reach taking a player that high who never started a game during his freshman season at Florida St. Others thought it was a great pick as Williams saw his stock rise more than anyone in that class entering the draft.
The Bulls sided with the ones banking on his potential, and this pick proved to be a great decision. Williams is a 6-7, 6-8 SF who can play all over the floor. This season, the 19-year-old will move to PF even though he is a bit undersized to play that position. His athleticism will come in hand, as will his physical nature, which the Bulls need.
Williams showed plenty of great things last season, but struggled with consistency over the final two months of the year. He then decided to go to the summer league in Vegas this summer and started to look like a game-changing player. He will be the X-factor for this team offensively and defensively and will be counted on a ton this season.
Prediction: 50 games, 14.6 PPG, 6.7 RPG, 3.1 APG 1.0 BPG
Williams is one of those players who can do it all and showed the ability to be an elite scorer this summer. Chicago will not ask him to take over games with Zach LaVine and others on the roster, but they would like him to use that exact aggressive nature he displayed this summer during the regular season.
Williams will miss the first month or so of the season with a severely sprained ankle and is expected to miss 4-6 weeks, give or take. Once he returns, expect the Bulls to ease him into the rotation before turning him loose. Williams is a crucial piece for this team and could be on the verge of a breakout campaign.
ALIZE JOHNSON
In desperate need of size and physicality, Alize Johnson was brought in from Brooklyn and immediately signed a two-year deal. Again, a bit undersized for a PF at 6-8, Johnson is very physical and extremely athletic as the Bulls continue to build a team around athletic players.
Johnson will come in and be looked at, providing Chicago with a Thaddeus Young type of player. While he may have the skillset to do some of the things Young did, he won't do them as well, as no player can single handily replace the production Young brought to this team. Johnson is an intriguing piece as he never had a regular role, but started to show promise once given a chance.
Prediction 68 games: 6.5 PPG, 6.1 RPG
Johnson will have a more defined role this season which could result in a starting role until Williams comes back. If that is the case, they will need a lot more out of him, which may not happen. When watching the film on him, I am not sure how he fits with this team as I don't understand what he does well at this point.
I guess you could say he is a physical presence in the paint who knows how to rebound, and rebounding the basketball will be crucial for Chicago when you look at their lack of size. He can score double digits on occasions, but I look for him to be a Daniel Gafford type of player, which isn't always bad.
MARKO SIMONOVIC
Taken in the second round of the 2020 NBA, Simonovic spent last season in the EURO League, where he put together some impressive numbers. At just 20 years old, soon to be 21, the 6-10 Simonovic gives the Bulls the size they need, but his 225-pound frame needs to put on some more weight.
During his final Euro league season, Simonovic consistently scored 14 plus points per game while adding seven rebounds and quite a few assists. Known as someone with an excellent shooting touch, especially from mid-range, he will be the new version on Markkanen for this team, just not as offensively gifted at this stage in his career.
Prediction: 57 games: 10.1 PPG, 7.3 RPG, 1.4 BPG
Simonovic is an extremely raw talent at this stage in his career, but there is a lot to like about him. Look no further than summer league play, where Simonovic was one of three players to score at least 10 in each of their five contests as he continued to produce despite a lack of shooting.
Most of his points came on second-chance looks or layups around the hoop, which is good, but he needs to improve his overall shooting ability. That is why I expect him to open the season in the G-League so he can get some extra work before coming to Chicago. He needs to be on this team and will be a nice piece for the Bulls once he is here. The bottom line is that he is not ready at this point, but once he is, lookout.