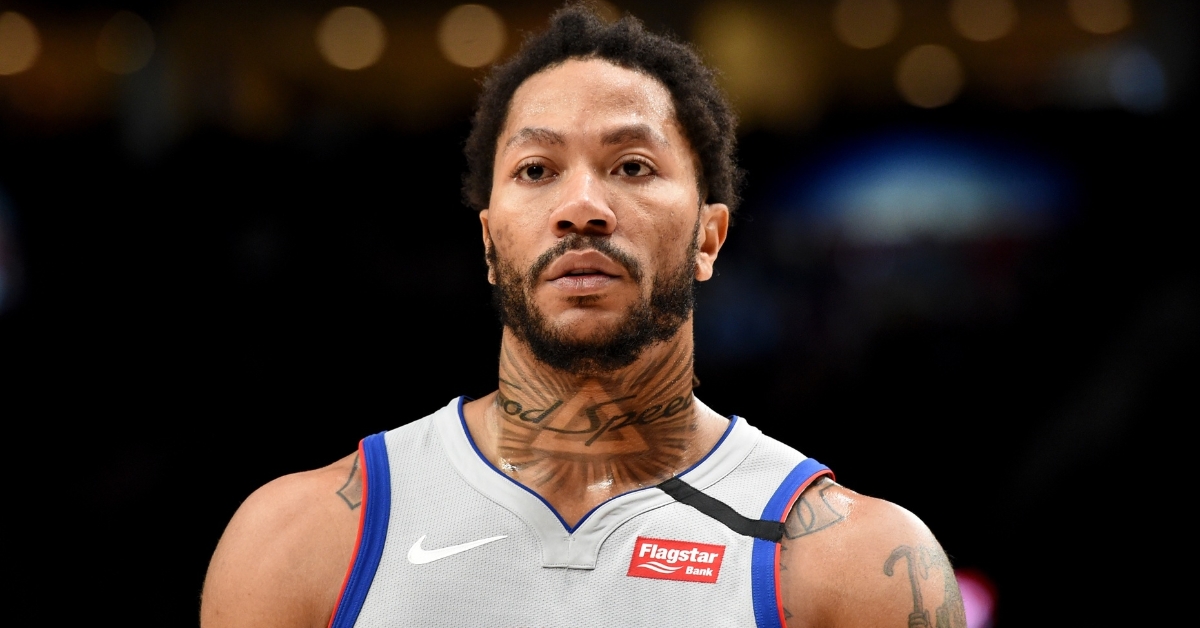 | | |
| --- | --- |
| Derrick Rose to Bulls reunion could be on the radar | |
---
| | | |
| --- | --- | --- |
| Tuesday, July 27, 2021, 9:37 AM | | |
Back in 2011, Derrick Rose was playing at an MVP level and became the youngest MVP in League History. Led by head coach Tom Thibodeau, Chicago had the making of an Eastern Conference dynasty with Rose leading the way on offense. That was until one play in the 2012 playoffs changed his course forever.
With a game against Philadelphia entirely in hand, Thibodeau elected to keep Rose on the floor in hopes of keeping him fresh after missing some regular-season time. From a thought process, the fans understood why, but the result was what everyone feared. In what looked like a normal landing on a lay-up attempt, Rose came up hobbling, and it was later revealed he blew out his ACL. That was the beginning of the end for the Bulls run atop the Central Division and the beginning of the end for Rose in Chicago.
Following that ACL injury, Rose was never able to stay healthy again and tore his ACL a second time less than two years later. Despite how much he meant to the franchise, the Bulls were faced with the tough decision to move on from him as his time in Chicago was officially over. Not knowing what to expect in a different organization or if he would ever play the same again, Rose continued to grind as a player despite bouncing around from franchise to franchise.
He then landed in Minnesota and, after spending time on the bench to open the season, returned as a starter once the Timberwolves dealt with injuries. That appeared to be the biggest break of his career, as that decision changed Rose's future in this league. Following his time with Minnesota, Rose landed in Detroit before winding up with Thibodeau in New York last season. The question now for Rose is will he return to New York to play the role he did last season, or will he pursue other options this summer?
That is where the Bulls come into play. Everyone knows the Bulls need a starting-caliber point guard. There are plenty of options out there, and Rose could be one of those options. While I am sure Arturas Karnisovas has other players in mind over Rose, the 32-year-old shouldn't be counted out and will be a name to watch as free agency unfolds.
Given the salary cap situation, the Bulls are faced with, signing an elite PG will be hard to do unless they move on from Tomas Satoransky and Thaddeus Young. Satoransky appears to be drawing some interest on the trade market, but Young is an essential piece to the Bulls bench, and it would be painful to watch him leave. When you look at the Lauri Markkanen and Daniel Theis as possibly changing teams this summer, can the Bulls afford to move on from Young?
That leaves Satoransky as the most likely casualty on this list, and the Bulls should be able to get something for him. How much is an entirely different question, but whatever they do will alter their offseason plans. While Lonzo Ball seems like their top choice at the moment, I am not sure if the Bulls will be able to clear enough money to make a deal happen.
That is where Rose comes into play, and I am sure Karnisovas is already thinking about this. Now entering his 13th season in the league, Rose is not the player he used to be, and no one should ever expect him to be that player again. His knees were destroyed, and he has had to work very hard to find a role with any team.
After proving he can still play over the last three years, Rose is looking for perhaps one more multi-year contract to end his career. What better place than returning home to where it all began?
Rose will not cost nearly as much as some of the other point guards and would give the Bulls a much better starting option than what they have now. He may not be the 25-point scorer anymore, but given what fans saw last year out of him, you could expect a 15-point seven assist performance on a nightly basis. While that is decent production, his ability to command the offense and be the floor general is what the Bulls will be counting on him for.
When you look back at his days with Chicago, Rose was the young pup on the team that was filled with veterans Joakim Noah, Luol Deng, and Carlos Boozer. More than a decade later, the Bulls have a new cast of young faces looking for veteran leadership to get them over the hump. No one is saying Rose will be the missing piece, but he is a veteran that could help this young team.
Rose is not perfect and has been criticized a lot for some of the choices and decisions he has made as a pro. At 32 and approaching 33 this season, Rose has learned from those mistakes and has matured a lot as a player. He knows how quickly the game can be taken away from you and will not take anything for granted anymore.
A homecoming for Rose is something many Bulls fans are against, but plenty wants to see this happen. He meant so much to this city for years and was arguably the best player to come through the organization since Michael Jordan. Yes, his mission of bringing the Bulls a title never happened, but he came darn close. His career with the Bulls may not have ended the way he wanted it to, but a reunion could be the perfect opportunity for him to give back one more time and then go out on his own terms.