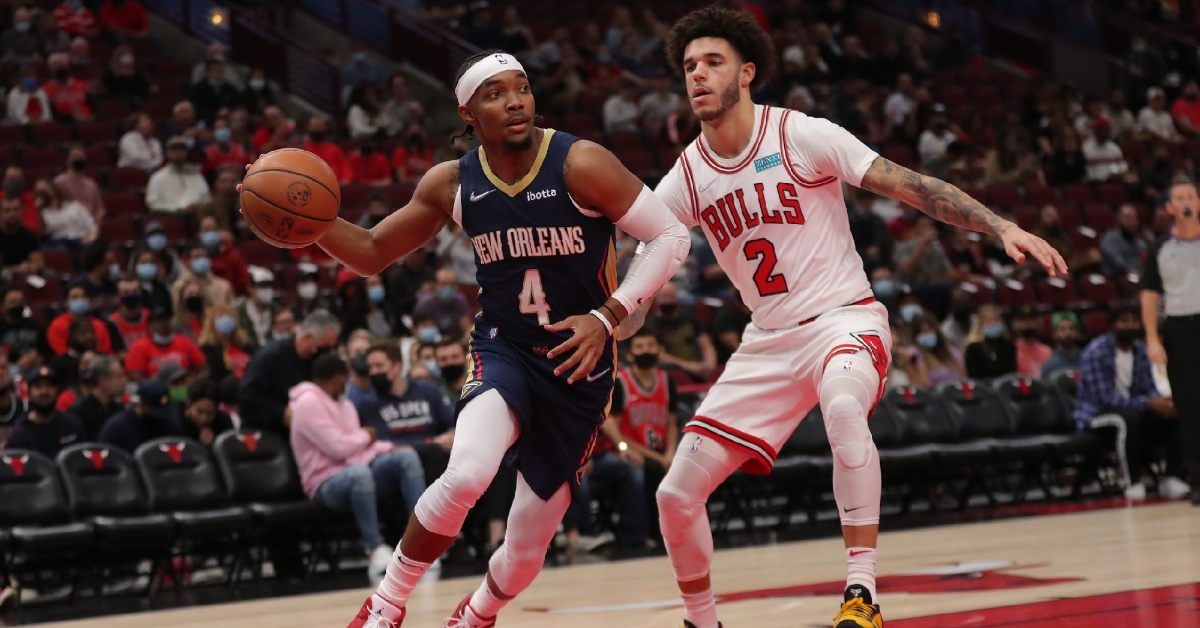 | | |
| --- | --- |
| Bulls roll Pelicans for another impressive win | |
---
| | | |
| --- | --- | --- |
| Saturday, October 9, 2021, 8:41 AM | | |
CHICAGO – I know this is only the preseason, and these games don't matter, but these Chicago Bulls are fun to watch. From incredible ball movement across the board, to balanced scoring and terrific defense, the Chicago Bulls continue to impress through two games of preseason action and look like a team that could make some noise this season.
Taking on a New Orleans Pelicans team that could be on the rise this season, a few more familiar faces returned to Chicago in Tomas Satoransky and Garrett Temple. Neither one of them did much on the floor as the two of them combined for just 13 points on the night. The Pelicans were also down their two best players as Brandon Ingram and Zion Williamson, didn't suit up.
That didn't help their cause, and I am not saying they win with those two men on the floor, but it could have been a much different game. Led by five scorers in double figures, including four of the five starters, the Bulls offense continued to put on a scoring clinic, with Zach LaVine leading the way with 21. He was backed by DeMar DeRozan and his 12 points, Alex Caruso and his 10, 16 from Nikola Vucevic, and most importantly, Lonzo Ball, who dropped 19 on his former team.
That scoring helped Chicago put on another show in front of the home crowd where they scored at least 25 points in every quarter, including three straight quarters of 30 or more to open the game. That made things very easy on defense as the Bulls built a 40-point lead at one point before cruising to another dominating win 121-85.
Defense wins championships
One of the biggest issues the Bulls had last season was on defense, as they had a hard time keeping opponents off the board. That was one of the focuses for Billy Donovan and his group this offseason, and right now, it looks like that focus is being delivered loud and heard.
Despite this being the preseason, you can tell the Bulls defense is much better than last season, and the players are buying into whatever Donovan is preaching. They have allowed less than 100 points in consecutive games, and small lineup or not, this team is tenacious on defense. They are quick, force steals and turnovers, and just get after the ball. If defense wins championships, this could be the part of the Bulls team we talk about more than the offense this season.
Love for Caruso
One of the biggest under-the-radar signings this offseason was the Bulls adding Caruso to this team. The former Los Angeles Laker will not be a star, but he does the little things right and will make any team better. Caruso will most likely be the sixth man this season, but it shouldn't matter as he will produce.
Not only did he connect for double digits off the bench yet again, but he added five rebounds and five assists to his line proving that he is more than just a scorer off the bench. Caruso continues to improve on his outside shot, which will give the Bulls an added dimension they didn't have from their bench last season.
What stands out the most regarding Caruso is his tenacity and take no prisoners type of attitude. He does the dirty work that no one wants to do and has tons of fun doing it. Not to mention he is as good of a passer, if not a better passer than Ball, which could be scary for teams trying to defend Chicago this season.
Insane ball movement
The thing that the Bulls did well with last season was pass the ball and find the open man. However, most passes were straightforward as the Bulls offense was often in isolation mode last year, with LaVine taking the lead. This year will bring something entirely new for the table as the Bulls offense is filled with so many more moving parts, which will create tons more ball movement.
With so many people capable of scoring this season, the pressure will be off LaVine to carry this team which will open things up for other players. Vucevic is a walking double-double who could roll out of bed and drop a double-double; DeRozan scores 20 on a given night, and Ball can put the ball in the hole.
Ball is the biggest key to this offensive engine as he makes things go with his ball distribution. The Bulls offense not only has been sharing the ball, dropping 32 assists last night, but it has been the way they are sharing the ball. Constantly moving, quick passes, and finding the open man on every sequence leads to some easy looks, and the Bulls have taken advantage of that so far.
Make yourself at home, Zo ??

19 points | 7-9 FG | 5-6 3FG pic.twitter.com/kC4VweuRBR

— Chicago Bulls (@chicagobulls) October 9, 2021