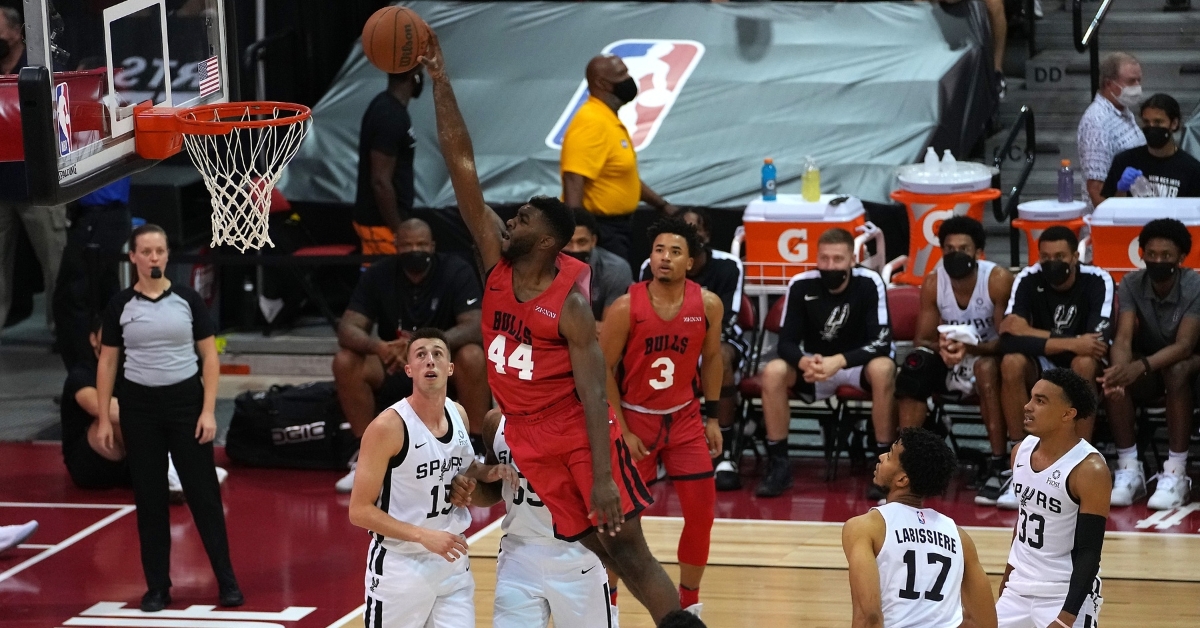 | | |
| --- | --- |
| Takeaways from Bulls' comeback win over Spurs | |
---
| | | |
| --- | --- | --- |
| 2021-08-11 13:00:47.0 | | |
The Bulls continued their Summer League season with game two of five Tuesday night. In a matchup against the San Antonio Spurs, the Bulls found themselves in a game of two halves as they rallied from 15 down at the half to post a 92-89 win. At one point, this team was down by 22, so to see them not pack it in and battle back was impressive in itself.
A big reason for their comeback win was the play of Patrick Williams once again. Not only did he continue to show his aggressive nature, but he was a man on a mission leading all scorers with 30 points and seven rebounds. To make things better, he was calling for the ball down the stretch instead of passing up the opportunity as he did a season ago.
The type of growth he has shown in just one offseason will go a long way for the Bulls this season. This is the version of Patrick Williams they are hoping shows up for the regular season. Along with him, several other players stood out. Marko Simonovic put together a second straight solid game while the rookie Ayo Dosunmu dropped in his first double-digit scoring game this summer.
Those three were critical in the Bulls win as the Spurs had a couple of great performances of their own. Former Duke guard Tre Jones is looking to make a name for himself this season after seeing minimal time a year ago. Jones was very active all game, leading his team with 23 points while sinking several tough shots. Jaylen Morris displayed a great outside touch last night as he kept things close with 20 points off the bench.
Defense, Defense, Defense
They always say defense wins championships, and for the Bulls, that is something they want to be better at. Billy Donovan's teams have prided themselves on defense, but that defense was nowhere to be found last season. Chicago knew coming into this season they would have to work on that.
When you look at this offense, fans are already excited about it, given that this team has the capability to score a ton of points. The problem is will they be able to play good enough defense to win games. While that question won't be answered until the regular season starts, the Bulls are showing positive signs of improvement so far during the summer league.
You can point to the second half last night, where the Bulls allowed just 37 points after allowing 52 in the first half. At one point, this team was down by 22, and if it wasn't for their defense, who knows how things would have gone. Led by the rookie Dosunmu who played tremendous defense all game long, the Bulls started to chip away at the Spurs lead before going on a 14-3 run to take the lead for good.
Ethan Thompson can shoot
One of the best things about Summer League is that it gives fans a chance to see players they may not see during the regular season. One of the players that have caught the eyes of the Bulls organization is undrafted guard Ethan Thompson. The former Mr. Basketball in California and the former Oregon State guard went undrafted this season and linked up with the Bulls.
While the plan with Thompson may be unknown at this time, one thing fans have noticed about him thus far is that he can really shoot. For a team desperate for three-point help, Thompson could be someone to have off the bench. To be fair, the Bulls did significantly improve their three-point shooting last season, but they still need work.
Thompson is one of those guys that could stretch the floor and provide a boost for the Bulls off the bench. There are openings on the Bulls bench up for grabs with guys like Ryan Arcidiacono (FA), Tomas Satoransky, and Garrett Temple in New Orleans, and Denzel Valentine, a FA. Thompson will do his best to earn one of those spots, and if his shooting keeps up, he should have a spot.
Ethan Thompson made 3 of 5 three-point attempts in his summer league debut with the Bulls! @_ethanthompson5 pic.twitter.com/5CXL5QEqbO

— BDA Sports INTL (@BDASportsINTL) August 10, 2021
More Simi Shittu
There is no secret that the Bulls need more height on this team. Bringing back Lauri Markkanen would be a huge get, but at this point, it is safe to say that relationship is damaged beyond repair. Outside of Nikola Vucevic, Simonovic, and Tony Bradley, the Bulls really don't have much height to choose from.
As of today, Williams is slated to play the power forward position, which shows you the position the Bulls are in. One player the Bulls could look at to give them more height is G- League star Simi Shittu. Not only does he possess one of my favorite names in this league, but he is an excellent player and someone worth looking at this preseason.
The former Vanderbilt forward averaged just under 11 PPG while in college before linking on with the Bulls organization. While he has seen some NBA minutes, those minutes have been sparse, and he has made a name for himself in the G League. During his time in the G League, Shittu averaged around 14 points while putting up close to nine rebounds and three blocks per game.
At 6-10 240 pounds, Shittu gives the Bulls some much-needed size off the bench while offering some athletic ability that others don't have on the roster. He is what you call a scrapper and someone always willing to do the dirty work. Look for the Bulls to get him more involved during the preseason instead of the Summer League games.
We see you @LanX_Sims ????#NBASummer pic.twitter.com/DhRGT48AjE

— NBA UK (@NBAUK) August 10, 2021