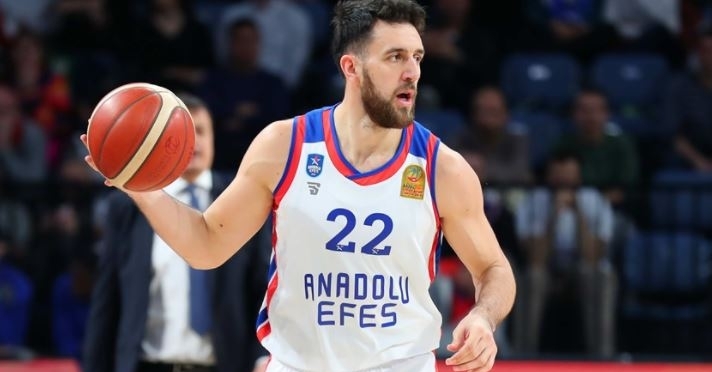 | | |
| --- | --- |
| Report: Bulls looking at adding EuroLeague MVP | |
---
| | | |
| --- | --- | --- |
| Tuesday, June 8, 2021, 9:46 AM | | |
When the Bulls hired Arturas Karnisovas as the team's new president of basketball operations, they knew what they were getting. Not only is he a brilliant basketball mind that helped turn the Denver Nuggets into an annual playoff contender, but his vast knowledge of the European basketball circuit helps find players like Nikola Jokic and other European stars.
With that being said, it appears Karnisovas is already looking abroad to find the next future star Chicago. Already with Marko Simonovic stashed overseas after being taken in the second round of last year's NBA draft, it now seems like the Bulls have a trade-in mind as they look to find their version of the next European start. According to multiple reports, the Bulls may be interested in acquiring Serbian guard and defending EuroLeague MVP Vasilije Micic.
While there is nothing official that the Bulls are for sure in on him, given his position, it does make sense that the Bulls are showing some interest. That would allow them to fill other needs through free agency and the draft while still finding a great PG in Micic. Some NBA fans may not be familiar with Micic, but he is no stranger to the NBA, initially drafted in 2014 by the Philadelphia Sixers.
His draft rights were then sent to the Oklahoma City Thunder in 2020 in a deal that included Al Horford, so the only way the Bulls would be able to acquire him would be to trade for him themselves. At 27 years old, he has yet to log a single NBA minute but has seen plenty of playing time in Serbia. Even without NBA time, Micic has perfected his Euro League skills over the past seven years, putting together his best season this year.
As a member of Anadolu Efes, Micic put together a strong season averaging a career-high 16.7 PPG while logging 4.9 APG, 2.6 RPG, and 1.2 SPG. He did all that while shooting a very efficient 49% from the field, including 39% from long range. What makes him so attractive, especially for the Bulls, is that Micic is a well-rounded player who recently became an MVP and EuroLeague champion.
It took him a little while to come into his own, but now that he is reaching his peak as a player, he may feel the time is right to test the NBA water and see what he can do. Of course, no one expects him to come over and be the next Luka Doncic or Jokic, but that doesn't mean Micic won't be a solid player in the right system.
Karnisovas has a natural-born eye for European talent, so to see the Bulls name connected with him leads me to believe he is a great talent. Of course, the key to getting Micic is in the hands of the Thunder, as they still own the rights to him. Given their situation and that they are in a full-blown rebuild mode, it could be the perfect time for them to bring him here to give him some minutes and see what he has.
However, draft rights or not, Micic may not be interested in bringing his talents here if he would be going to a team years away from playoff contention. Instead, Micic may want to wind up with an organization focused on developing young talent, and the Bulls are one of those teams. With some openings in the backcourt this offseason, Micic would be an excellent addition to the Bulls roster.
While he may not be the most gifted passer like Lonzo Ball or other elite guards, but he is someone who could offer you something similar to Tomas Satoransky, just with more scoring potential. He may not be the passer you would expect, but he is a gifted ball-handler who knows how to get to the rim. Given that Billy Donovan would be his coach, the facilitator skills could improve over time, especially when you have the Bulls' scoring weapons.
Along with his knack to beat people off the dribble and get to the rim, he is a reliable three-point shooter who brings good size in his 6-4 frame with him. He does need to work on his defensive ability, as the lack of overall athleticism will hurt him against the elite guards in the NBA. However, to
compensate for that, Micic has a very high basketball IQ and is smarter than most people realize.
Depending on what the price looks like, or should I say what the Thunder would ask, it may not hurt to give Micic a try at the PG position alongside Coby White or someone else. In addition, it would allow the Bulls to potentially move Satoransky, who is in the final year of his contract to a team that could use him as a starter while the Bulls focus on the present of building a playoff-contending roster.
Micic likely will not be the Bulls long-term solution at the PG position, but he is a cheaper option than most and could be worth a shot to be a great sixth man type of player. Given the emergence of White over the final two months of the season, I expect the Bulls to give him another crack at the PG position, but they have made it clear that they will be targeting this offseason.