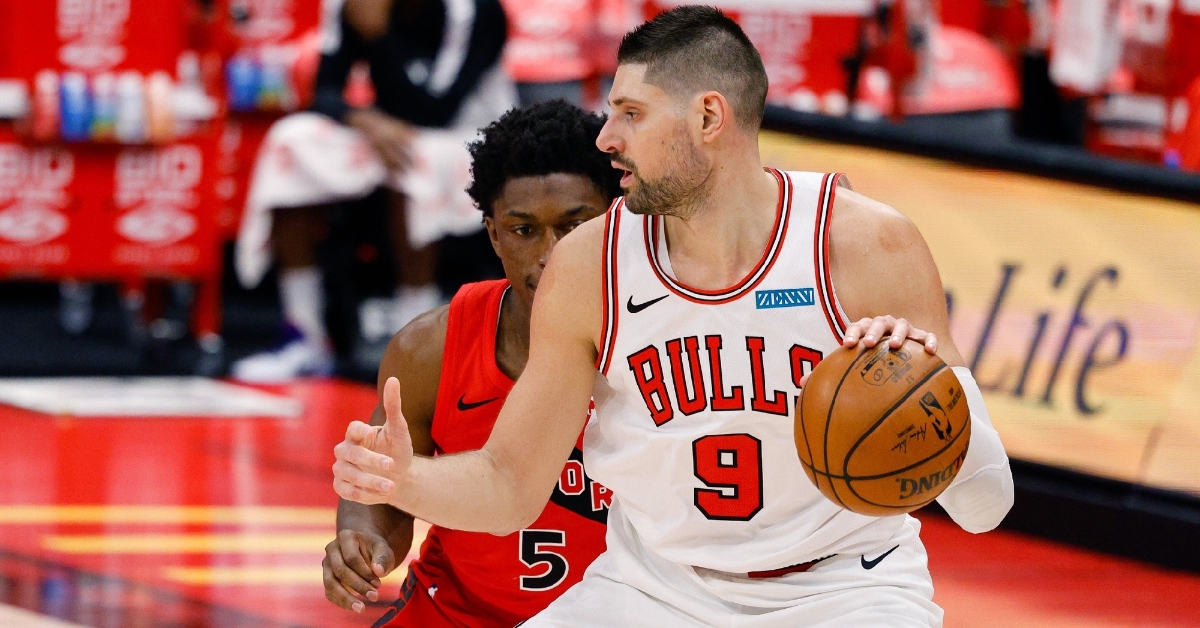 | | |
| --- | --- |
| Takeaways from Bulls win over Raptors | |
---
| | | |
| --- | --- | --- |
| Friday, April 9, 2021, 2:42 PM | | |
At this point in the NBA season, we have a clear view of who is a playoff contender and who isn't. With just about one month to go until the postseason, you have the Chicago Bulls holding on to the final playoff spot as they looked to increase their chances on Thursday.
For them, the message is quite simple. Win the games you are supposed to win and stay in front of the teams behind you.
Of all the teams behind them, the one closest to knocking them off are the Toronto Raptors, who the Bulls saw on Thursday night. With a chance to put themselves in front of them by three games with a win, four if you count the Tiebreaker, it was a golden opportunity for Chicago to continue their winning ways.
Despite a monster game from Chris Boucher and Pascal Siakam, the Raptors were down four players, including Kyle Lowry and Fred VanVleet. That allowed the Bulls to go with a balanced scoring attack that saw seven players in double figures, with Zach Lavine and Nikola Vucevic leading the way with 22 each. That was more than enough for Chicago as they managed to hold off a fourth-quarter rally to win 122-113.
Coming into their own at the right time
When the Bulls made the trade for Vucevic, it was regarded as the best movie of the deadline as the Bulls sent a message. Their message was they were not only dedicated to making the playoffs this season but dedicated to winning long-term as he gives Chicago a nice pairing with Lavine to build around.
The days after the deal were not pleasant for Chicago as they struggled since Vucevic's arrival losing six straight at one point. I think a big reason for that was the team was figuring out how to play with their new star. Following an upset win over Brooklyn last Sunday, the Bulls kept their momentum going by beating both Toronto and Indiana this week. They have now won three straight games for just the second time this season, including the first time since late February.
With a stretch of very winnable games for Chicago, this team is starting to come into their own at the right time. They know what Vucevic brings to the table, and I think Billy Donovan is starting to see what his offense can look like when they go through him more than Lavine. Yes, Lavine's scoring has taken a hit, but he is doing many other things to help this team win. His 13 assists last night proved that he is willing to sacrifice scoring to help this team win. It is working right now.
Yet another solid game from Vooch.

22 points | 9-19 FG | 7 rebs | 4 assists pic.twitter.com/oxcdVpNTtA

— Chicago Bulls (@chicagobulls) April 9, 2021
This team should be scary next season
As if the Vucevic trade wasn't enough to get fans excited, the Bulls were very active on deadline day dealing away Otto Porter JR, Wendell Carter Jr, Daniel Gafford, Chandler Hutchison, and Luke Kornet. Along with Vucevic, Al-Farooq Aminu, Daniel Theis, Troy Brown Jr, and Javonte Green have come to Chicago to fill out this roster.
Not only is this team better now because of these deals, but they are going to be better next year and will be a team to watch. Along with those players coming aboard, it allowed the Bulls to move some starts back to the bench, with Coby White and Lauri Markkanen now providing the firepower off the bench. White will be back next season, but Markkanen's future is up in the air.
Chicago will also have some funds to be aggressive on the free-agent market this offseason, where you can bet their primary focus will be on finding a point guard to take over the reins from Tomas Satoransky. Lonzo Ball is still the name to watch this summer, but guys like Daniel Schroeder and others could be available.
Adding a PG who not only can run an offense but someone who can make significant decisions is essential for this team. I would even argue that a PG is the missing piece to this roster, and if they grab one, the sky is the limit for this team.
Three straight wins. Feels good.@ConstellationEG | #BullsNation pic.twitter.com/Os6NzZawgx

— Chicago Bulls (@chicagobulls) April 9, 2021
Big win, but things are just getting started
This was a massive win for Chicago as they creep closer to the ninth seed. In the process, they now distance themselves from the teams behind them, holding a three-game lead over Toronto, technically four if you count the Tiebreaker. That is the only real threat to the Bulls at this point, but anything can happen in basketball.
Chicago knows that if they play .500 basketball the rest of the season, Toronto basically must play .700 ball for them to overtake Chicago. That won't be easy, and the Bulls know that. Chicago also knows that the current stretch may be the only time they will be favored in virtually every game.
For a team that was struggling for weeks, this couldn't have come at a better time as they are starting to play with confidence. The win last night was huge, and they know that. However, the opportunity in front of them is even bigger, and they are just getting started.
Zach LaVine was scoring and servin!

22 points | 8-16 FG | 13 assists | 3 steals pic.twitter.com/nxo55t6vOI

— Chicago Bulls (@chicagobulls) April 9, 2021