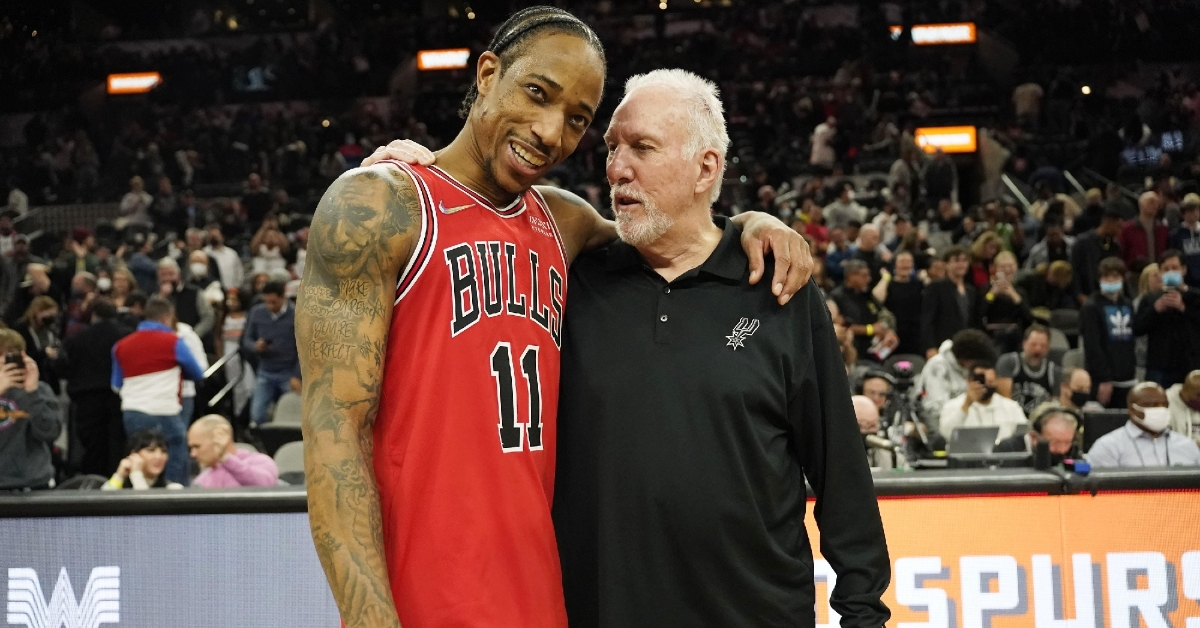 | | |
| --- | --- |
| Spurs take it to Bulls in second half to earn win | |
---
| | | |
| --- | --- | --- |
| Saturday, January 29, 2022, 10:51 AM | | |
SAN ANTONIO – Friday was an emotional night for DeMar DeRozan as he returned to San Antonio for the first time since his trade earlier this season. In honor of his three-year run, the Spurs (19-31) honored DeRozan with an excellent video tribute for all the contributions he made. When that was done, a basketball game needed to be played as the Chicago Bulls (30-18) were looking to make it three-straight.
Although this may not be the Spurs teams of old that typically led the West, Gregg Popovich is still the head coach, and this team can still be a problem if you take them lightly. Chicago found that out the hard way numerous times tonight as the Spurs used a massive third quarter to grab the lead before cruising to a 131-122 win.
As always, Chicago was led by their dynamic guard duo of DeRozan and Zach Lavine as they combined to drop 62 on the Spurs defense. DeRozan led the way again with 32 points, but Lavine added 30 as the Bulls managed to control most of the first half. Add in 18 points by Coby White off the bench, who had a massive first quarter and another 18 points from Nikola Vucevic, and it wasn't a surprise to see the Bulls dropping 63 points on the Spurs after just one half of play.
The surprise was seeing the Bulls only lead by five at the break as San Antonio was more than game for this challenge. Led by a trio of 20 point scorers, including Dejounte Murray and his team-high 29 points, the Spurs outscored Chicago by 12 points in the third, helping to take that deficit and turn it into a seven-point lead.
Keldon Johnson added 23 points to go with eight rebounds, while Jakob Poeltl chipped in with 21 points and 11 rebounds as the Spurs had three guys they could count on for 48 minutes. Outside of that, San Antonio added four more players with double-digit points as they had seven players drop at least 11 points in the game.
Starter Derrick White (14) and Doug McDermott (11) gave the Spurs five starters in double figures, and that alone is a tall task to defend when playing on defense. Add in 11 each from Devin Vassell and Lonnie Walker off the bench, and it shouldn't come as a surprise that the Spurs were able to not only come back in this one, but win going away.
Well deserved, Mr. All-Star starter
Following the Bulls win on Wednesday, DeRozan found out he had been selected for his fifth all-star game. Not only that, but team captain Kevin Durant picked him to be the starter, showing you the kind of work DeRozan has put in this season.
Since coming to the Bulls, DeRozan has changed the culture in Chicago as his veteran presence and winning nature is infectious. You saw that everywhere he has played, including his three-year run with the Spurs. He may not have accomplished everything he wanted to, but the team fell in love with him when he was here hence the video tribute he was given.
This is becoming more common across sports, but unless you make an impact, it doesn't always happen. DeRozan impacted the Spurs in many ways, and this was just a small gesture for them to show their appreciation towards him.
DeMar DeRozan will the NASTY slam against his old team. ??

(??: @chicagobulls) pic.twitter.com/sBZnSBgGXB

— theScore (@theScore) January 29, 2022
Hello old Friends
Not only is McDermott a former Bull, but so is fan-favorite Thaddeus Young, who didn't play on Friday. For those that forgot, Young was part of the Bulls last two seasons bouncing between starter and a sixth man role. During his time with Chicago, the veteran forward averaged around 12 PPG, 6 RPG and just did all the little things right.
Although he is no longer in a Bulls uniform, he became a significant piece this offseason as he was the final piece to get DeRozan in Chicago. Looking back on it now, the Bulls could use Young and his size in these games, but this is a trade they wouldn't redo. Sometimes you give something away to gain something, which is exactly what the Bulls did in this case.
Three-point woes
They may not shoot a ton of triples, but they tend to be effective when they do. Entering the game Friday, the Bulls continued to lead the NBA in three-point percentages, proving that they care more about quality than quantity. They didn't get the memo on Friday as Chicago not only shot 30 threes, but converted on just eight of them, which is good for 26.7% percent.
On the other side, defending the three was an issue, and that has been plaguing the Bulls for the better part of two weeks. There are specific teams that live and die by the three, and the Spurs were one of those teams tonight as they fired off 37 triples, watching 16 of them fall through.
I will not sit here and expect the Bulls to make that many. However, had Chicago made just three more which would have put them at 34% for the game, you would have seen things go into overtime. Even at 34%, it would be under their season average, so this was not a good game overall. The NBA has become a three-point league, and sooner or later, the Bulls will have to make more than just a few to keep up with higher octane teams.