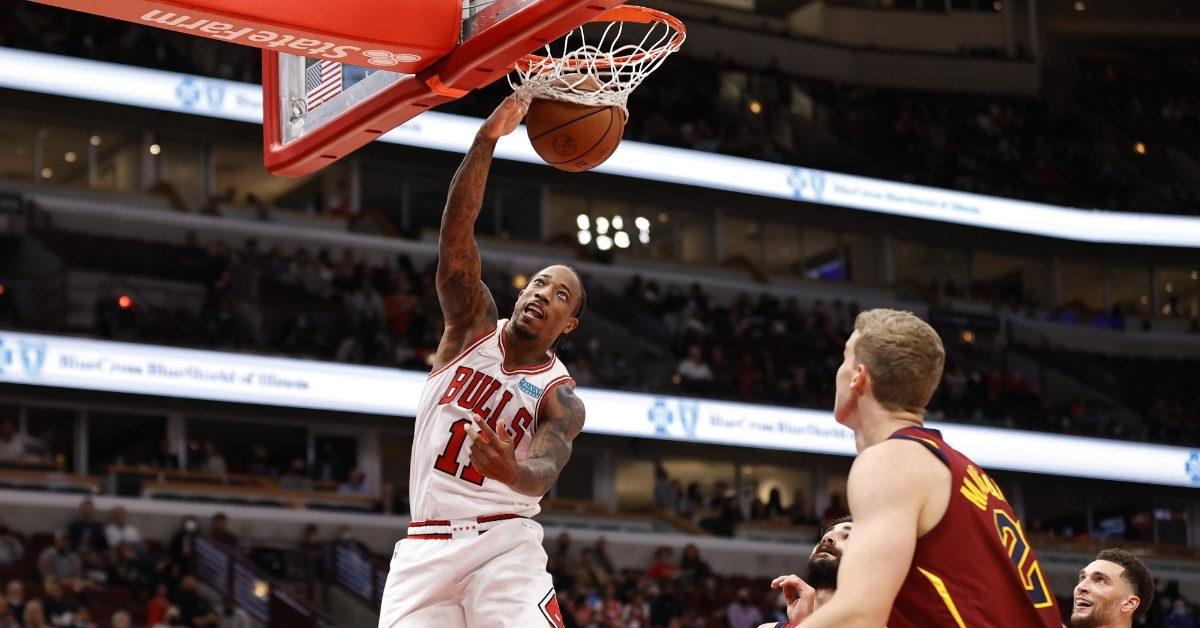 | | |
| --- | --- |
| Bulls dominant in preseason win over Cavs | |
---
| | | |
| --- | --- | --- |
| Wednesday, October 6, 2021, 11:31 AM | | |
CHICAGO – It has been a long time since the Bulls entered a season with expectations this high, but here we are. Coming off a season where the Bulls went 10 games under .500 and missed the postseason, Arturas Karnisovas and Marc Eversley made a point to improve this roster in every which way.
You started to see that during their midseason trade to acquire Nikola Vucevic, but nothing could prepare fans for the offseason ahead. Not only did they go and get the PG they were looking for in Lonzo Ball, but the team turned right around and added Alex Caruso to the group giving them a valuable piece to the mix. They then completed a sing and trade to get rid of Lauri Markkanen, which ultimately paved the way for DeMar DeRozan to come to town.
This is the most talented team the Bulls have had in recent memory, and now they have a competent head coach in Billy Donovan that knows how to coach talented groups. This is why he was brought in as head coach, and last night was the Bulls first chance to see how this new team would gel on the floor together.
Although one game, and one preseason game for that matter, things could be very exciting in Chicago as the Bulls dominated the Cavaliers from start to finish winning 131-95. Not only did the Bulls score 69 points at the half, but they dropped 44 in the third quarter as Cleveland was searching for answers. As expected, Zach LaVine led the way scoring 25 points on a very efficient shooting night, but he wasn't alone as four of the five starters and eight players in total dropped double-digit scoring outputs. Keep that up all season, and this team will be fun to watch.
Passing the first test
Having a boatload of talent is one thing, but playing together with all that talent is an entirely different task. The new-look Chicago Bulls passed that test with flying colors in their first chance to play together as they looked like a well-oiled machine on offense.
From balanced scoring that saw eight players score in double figures to Ball running the show at the PG position and making things look like a Harlem Globetrotter game, this offense is fast, athletic, and will be extremely fun to watch this season. Preseason or not, scoring 131 points is not easy, and this team has the offense that has the potential to do that every game. Should it continue, the United Center will be rocking all season long.
Markkanen returns
After an offseason long saga that finally saw Markkanen traded to the Cavaliers, Donovan gave nothing but praise to his former PF for the professionalism he should while part of the Bulls. Now part of the Cavaliers for what looks to be the next four seasons, Markkanen returned to the Bulls for the first time in 2021, as he will be back two more times during the regular season.
Someone who has always had 20 and 10 potential, Markkanen has never lived up to that billing as injuries, and inconsistent shooting has always got in the way. Looking for a fresh start with the Cavs, Markkanen was not in the starting lineup on Tuesday, but instead coming off the bench where he struggled with last season.
Although he did drop 13 points, Markkanen continues to look uncomfortable coming off the bench as his overall rhythm is just not there. He is no longer the Bulls problem anymore, but anytime you have a former player returning to Chicago after a lengthy run with the team, it is fun to see the reception they get. Markkanen wasn't alone either as Denzel Valentine also returned to Chicago for the first time.
Offseason pickups shine in win
Taking nothing away from LaVine, who was brilliant as always, the Bulls offseason pickups made immediate impacts which bodes well for this team. DeRozan added 13 from the starting lineup, Ball added eight points, five boards, and five assists, but the bench mob stood out the most.
Stanley Johnson, Tyler Cook, and Matt Thomas were brought in late in the offseason and were not given guaranteed contracts. That means for them to make the team, they need to wow during the preseason, and they did that through one game. Stanley Johnson picked up six points to go with six rebounds, Cook added two, but it was Thomas who continued his sharpshooting capabilities connecting for a pair of three's and 11 points.
Fellow offseason pickup Alize Johnson who may find himself with a more prominent role with Patrick Williams out to start the season, played great, picking up eight points to go with 11 rebounds. He brings with him a special kind of physicality that hasn't been seen on this team in years. The way things sit right now, this roster will be loaded, and the Bulls bench will be even deeper than last year, which is hard to believe.
Add in Coby White and Williams returning at some point this season, and the Bulls will have so many players to lean on this season. Donovan will have to figure out how to keep everyone happy as there is only one ball to go around. Regardless, get used to plenty of high-scoring games this season as the Bulls are ready to trample teams this season.