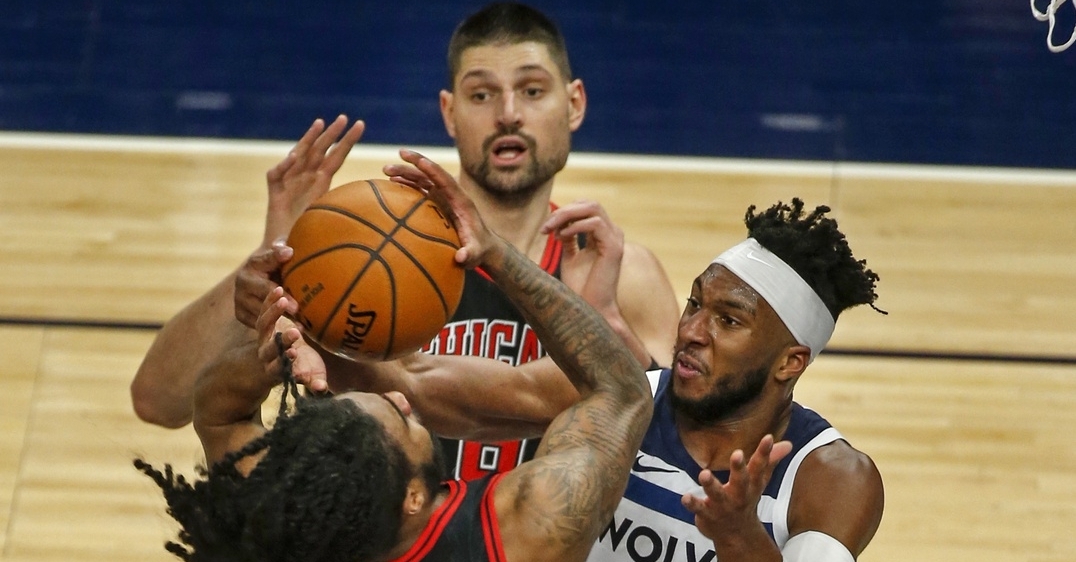 | | |
| --- | --- |
| Takeaways from Bulls loss at Minnesota | |
---
| | | |
| --- | --- | --- |
| Monday, April 12, 2021, 1:52 PM | | |
Leaving winnable games on the table will cost this time at some point, but thankfully it hasn't cost them yet. After wasting a 50-point effort from Zach Lavine on Friday, the Bulls hit the road again Sunday to take on a reeling Minnesota team who has been playing better as of late.
As Chicago continues to control their playoff destiny at this point, winning these types of games will go a long way in making the postseason. What fans saw was a Bulls team that came out extremely flat for nearly three quarters before getting back in the game late. Another 30-point effort from Lavine will do that for you, but once again, the Bulls let a critical game slip away late, falling 121-117 to the Timberwolves.
Another missed opportunity
After going back and looking at their loss to Atlanta, yes, it was a tough pill to swallow, but one Chicago could handle. After all, Atlanta is a playoff team with a winning record who is playing exceptionally well since Nate McMillen took over as interim head coach.
Losing a game to Minnesota, on the other hand, is unforgivable, especially when they down by double figures much of the first half and into the second half. We have talked about it for weeks now that Chicago's current stretch of games would go a long way in determining their playoff fate. Thankfully, Toronto and the rest of the teams behind Chicago keep losing, but the Bulls are not doing themselves any favors right now.
The last two losses are two games Chicago should have had, and had they finished the job; they would be just one game out of the nine seed, not three. They would also have a five or six-game lead over Toronto, not two but holding the tiebreaker on them does help. Unlike seasons past, the expanded postseason helps the Bulls as they would be out if the regular format were applied. Chicago is not taking their opportunities lightly, and Billy Donovan knows that the more games they give away now, the more challenging it will become May to get in.
Troy Brown Jr. will be a fun player
When the Bulls traded Daniel Gafford and Chandler Hutchison to Washington for Troy Brown Jr and Mo Wagner, it felt like a win-win for both sides. At that time, Wagner was the one that I felt was the better piece given his similarities to Lauri Markkanen in what he does on the floor.
Wagner was then traded to Boston later in the day and never saw the floor for Chicago. However, Brown Jr has, and from what I have seen out of him so far, he will be a fun player to watch. The 6-6 SF is an athletic player who has shown the potential to be an excellent scoring option off the bench.
Even though he is averaging just 4.7 PPG off the bench this season, Brown Jr was averaging 10.4 PPG across a 12-game stretch last season as he flashed his true potential. While he is still figuring out his role with his new team, Brown showed up in a big way last night, dropping 15 points in 27 minutes off the bench.
It was his first double-digit output with his new team and the first one he has posted since late February. Since coming to Chicago, his playing time has increased as his scoring output. Brown Jr. will not be a starter for this team, but he is undoubtedly an excellent bench option to build with next year.
How can Chicago fix late-game issues?
I must admit, this Bulls team is better than what I expected them to be this season, and give credit to Donovan and the new front office for that. However, it is also frustrating to realize that this team has let a handful of opportunities get away late, and they could be a potential .500 team or better.
Put that into perspective to where the rest of the Eastern Conference is, and that would land them somewhere in the top six seeds and avoiding the play-in round of the playoffs. It also raises the question of whether the Bulls would have pulled the trigger on Lonzo Ball or another experienced PG at the deadline, hoping to put all the right pieces on the floor.
All of that is water under the bridge at this point, but one thing Chicago must figure out is how to close out games. Both their recent losses against Atlanta and Minnesota are just a reminder of how difficult it has been for Chicago all season to put away teams. You can even go back a few weeks earlier when they hosted San Antonio, Utah, and Denver when they allowed five second-half double-digit leads getaway.
That is five games in the last month that they have let slip through their fingers and roughly 15 on the season. That is mentally draining for a young team and leaves coaches scratching their heads regarding how things can be fixed. At this point, Donovan has tried practically everything when it comes to late-game options.
He has benched starters and has used just about every lineup combination possible to close out games. Eventually, it will be on the players to get the job done, and given that this is a young team still learning how to win, it could take a while. Hopefully, the Bulls figure out the right mix down the stretch soon so they not only can take that into next season but apply it the rest of the way this year to start closing out more wins.