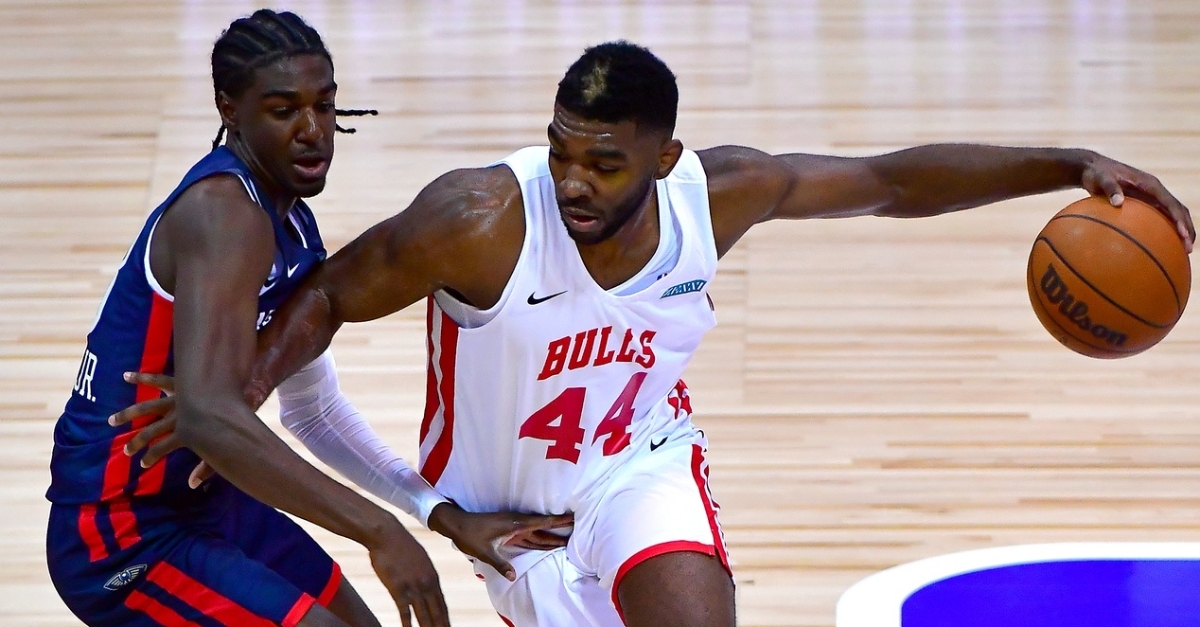 | | |
| --- | --- |
| Takeaways from Bulls loss to Pelicans | |
---
Outside of the NBA Draft and Free Agency, Monday marked the unofficial start to the Bulls 2021-22 campaign. Monday marked the beginning of the Bulls summer League season as they headed to Las Vegas to begin a five-game summer league slate.
For those unfamiliar with the summer league or how it works, the best way to describe it is an exhibition series leading up to training camp. It gives rookies, undrafted rookies, or other young players a chance to develop their games in a competitive environment with coaches and teammates. Given the amount of turnover the Bulls have gone through this offseason, the Summer League could be vital.
In their first of five games, the Bulls faced off with the New Orleans Pelicans looking to kick things off on the right foot. It looked as if the Bulls would get off to a great start holding a 47-44 halftime lead throughout much of the first half. A big reason for that was the performance of Patrick Williams, who we will discuss later. He set the tone on both ends of the floor, allowing other players to get involved.
The second half was a much different story as the Bulls struggled to find a consistent rhythm and couldn't get anything going. A big reason for that was their carelessness with the basketball, which allowed the Pelicans to get out and run the floor. That led to open looks by first-rounder Trey Murphy III, who finished with a game-high 26 points, including six triples.
Coupled with the pace that Kiara Lewis Jr brought to the table mixed with a stretch of 10 consecutive missed shots, the Pelicans outscored Chicago 50-30 in the second half to win 94-77. That means the Bulls have to win their next three games even to have a shot at the summer league crown.
Second half issues continue
The Bulls made a ton of improvements as a team last season and still finished 10 games under .500. However, they were in the playoff hunt until the final two weeks before missing out on the play in tournament by two games. Looking back at last season, a big reason for their struggles, especially after the trade deadline, was the team's inability to close games.
Had they been able to do that, not only are you looking at a playoff berth, but you are looking at a team that finishes at worst .500 and possibly contends for a top-four playoff spot. Having a young team is always tricky as they need to learn how to win games together. You could see that youth in the fourth quarter all season as they let countless leads slip away late.
Hoping to improve on that this season, their second-half struggles from a year ago showed up again Monday, and the Pelicans capitalized on that. Not only did the Bulls go into a prolonged drought where they missed shots, but they began to make careless turnovers killing any amount of momentum they had. This is something the team hopes to avoid this season, and now would be a good time to figure that out.
This is the Patrick Williams the Bulls have been waiting for
When the Bulls decided to draft Williams at No. 4 overall, they knew he would be a work in progress. As athletically gifted as anyone in the class, Williams was also the youngest player in the draft and spent his freshman season at Florida St. coming off the bench. When the Bulls took him, not only did he start in 69 of his 70 games played, but he led the team in games played while showing tons of promise in the process.
What makes Williams such a valuable piece is the different positions he can play on the floor. That allows Billy Donovan to move him around and use different lineups to mix things up. Williams showed a lot as a rookie, especially on defense, but his offensive game needed some work.
While his shot-making ability did show up, he was very inconsistent and needed to be more aggressive. Not only did he do that, but he did that in a big way finishing with 15 points to go with 12 rebounds. Being one of the older players in the Summer League, Williams is looked at as the Zach LaVine of this group and needs to take on that aggressive nature.
Unless the Bulls acquire more height or retain Lauri Markkanen, Williams will most likely play the PF position this season, giving the Bulls a small lineup. Fans know he can hold his own on the defensive end, but if this is what they get from him offensively this season, that will be a massive boost for this team.
When the Bulls signed Dotson as an undrafted free agent last season, there was a lot of intrigue surrounding him. After being one of the better players for Kansas University, Dotson saw himself go undrafted before linking up with Chicago. Many experts felt that was a steal, and had the Windy City Bulls elected to play a G League season, fans would have seen him play and develop sooner.
Given that Windy City canceled their season, Dotson spent most of the season off the active roster until late in the year. Once added, he did play in a few games but only played minor minutes showing the Bulls a little bit of what he could do in his time on the floor. With the Summer League being his first real opportunity to make an impression, Dotson passed his first test and might give the Bulls something to think about.
Signed to a two-way contract, Dotson can go to the Windy City to log more games while also playing for the Bulls. It is a win-win as it will allow him to develop more while also getting NBA experience. However, if he continues to perform the way he did Monday, the G-League may be out of the question, and he may make the Bulls opening day roster.
Not only did Dotson lead the Bulls with 16 points, but he added seven rebounds to go with four assists on decent shooting. He did get himself in foul trouble, which he will have to work on, but the potential is there, which he put on full display. Given that Ryan Arcidiacono is no longer with the team, Dotson could take over his role off the bench, especially if his play continues all Summer and preseason long.
Dot's first Summer League game:

16 pts | 5-11 FG | 7 reb | 4 ast pic.twitter.com/y7FQc95jPH

— Chicago Bulls (@chicagobulls) August 10, 2021