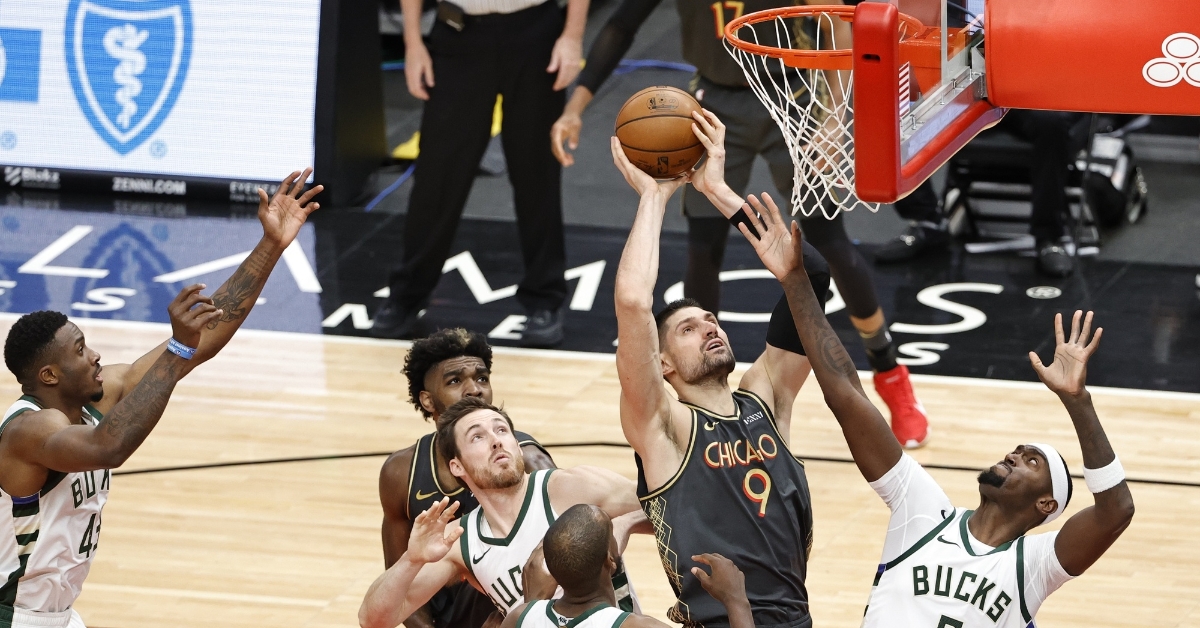 | | |
| --- | --- |
| Takeaways from Bulls loss to Bucks | |
---
| | | |
| --- | --- | --- |
| Saturday, May 1, 2021, 9:22 AM | | |
There was once a time, not even a decade ago where the Bucks and Bulls rivalry was once one-sided in favor of Chicago. Those were the days when Derrick Rose was running the point guard with a cast of terrific players surrounding him on the floor.
That was also the last time the Bulls were relevant in terms of a playoff, as the Bucks have now taken over this rivalry flipping it in their favor. Even without league MVP Giannis Antentokombo, Milwaukee still has plenty of weapons on the floor, making them tough to defend across the board.
Falling behind by 12 points in the first quarter is never easy but facing an Eastern Conference powerhouse like Milwaukee without your leading scorer is an entirely different situation. Led by Coby White and his team-high 21 points, the Bulls also received double-double efforts from Nikola Vucevic and Daniel Theis as they tried to withstand the firepower of the Bucks.
Despite outscoring them in two of the four quarters, including by seven points in the fourth, Milwaukee still had six starters finish in double figures, including all five starters.
Both Kris Middleton and Brook Lopez led the way with 22 points each as the Bucks took care of Chicago 108-98.
There's always next year
It was fun while it lasted, but at this point, I think the Bulls postseason hopes have gone out the window. The consistently losing mixed with the Wizards sudden hot streak has made this a tall mountain for them to climb as they are now three games back of that final seed.
Even though a playoff appearance may not be in the cards, this Chicago team is still young and has shown a ton of potential at times. They were once 18-21 at one point this season and occupied the sixth seed in the East. Then the schedule got tougher, and they were unable to recover.
This is also a team with both Lavine and Vucevic to build around to go with tons of improving talent, so the future is bright for this organization. While the wins may not be there, this Bulls team has shown a ton of heart all season. The reality is this is a young team that is still learning how to win, and hopefully, the lessons learned from this year carry over to next year.
We go again tomorrow in Atlanta. pic.twitter.com/DqNYaAGysQ

— Chicago Bulls (@chicagobulls) May 1, 2021
It was good to see Devon Dotson on the court
Following the conclusion of the 2020 NBA draft, teams are allowed to sign undrafted players that they feel will make their team better. The Bulls signed one of my favorite players in the draft by getting Kansas guard Devon Dotson.
Although his NBA minutes have been limited this season, he did see a little bit of time last night, scoring two points. Looking back on his G-League season, you had a player who averaged 13 PPG to go along with 5.5 APG while playing a significant PG role. With Chicago continuing to search for an elite PG, maybe they have one in waiting in Dotson.
Ideally, the Bulls would love to find their PG of the future in free agency as Lonzo Ball has continued to be linked to Chicago. While that does make a ton of sense, perhaps the money won't be there, which would leave Chicago to find help elsewhere. Dotson could be that help even if he is a year away from contributing consistently.
Dotson was one of the best PGs in his draft class but somehow went undrafted this past season. Once Chicago scooped him up, he arrived in the G-League bubble and showed the Bulls organization precisely what he could bring to the table. Keep an eye on his development over this offseason and see if it leads to more of an everyday role.
It is no secret that ever since Markkanen moved to the bench, his production has gone downhill. That isn't to say he hasn't done a decent job but is nowhere near the production level compared to his starting role on this team. Over the last week, Markkanen has been scoring more consistently off the bench as his shooting touch has started to come back.
Chicago could have used him on the floor last night as he didn't suit up for the first time this season. Even if he doesn't score 18-20 points like he was as a starter, Markkanen still can drop 12-15 points off the bench, which makes a difference in a 10-point game. His size makes him a presence on the inside, but his shooting touch from deep gets the defense more spread out, creating things for the offense.
We may not have a reason why Markkanen didn't suit up last night, but it is a concern, especially when his future with the team is undecided. I think it is clear at this point that Markkanen's time with the Bulls is over following this year, but while you still have him, you should utilize his strengths down the stretch to at least finish the season on a positive note.
Bulls players received their second dose of the Pfizer vaccine for COVID-19 on Thursday, according to team sources.

The vaccination could explain the late scratches tonight for Bulls forward Lauri Markkanen and center Cristiano Felicio due to illness.

— Darnell Mayberry (@DarnellMayberry) May 1, 2021