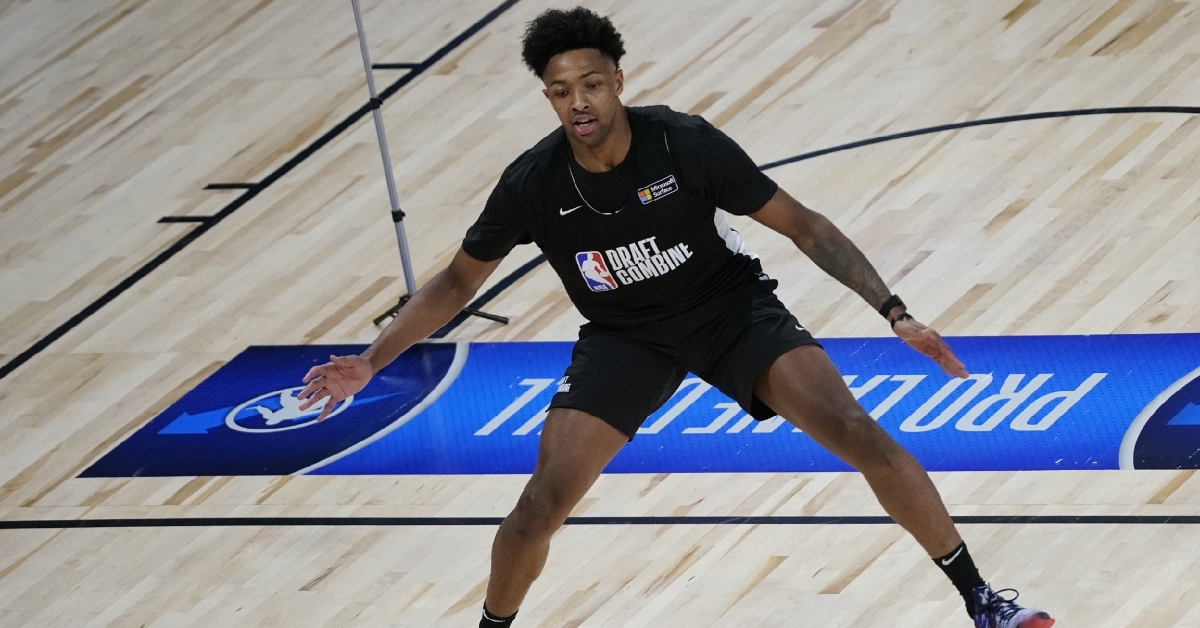 | | |
| --- | --- |
| Bulls could look at former UL guard at pick No. 38 overall | |
---
| | | |
| --- | --- | --- |
| Saturday, July 24, 2021, 12:04 PM | | |
With the Bulls sitting at pick No. 38 for next week's NBA draft, it will be a quiet night unless they make a trade to get back into the first round. That isn't to say there won't be any talent left at No. 38, as this year's draft has more depth than some of those drafts in the past.
One position especially deep happens to be a position of need for the Bulls, which is the point guard position. I still think Arturas Karnisovas tries his luck with free agency at some point, but should he focus on PG help during the draft, look for the Bulls to look that direction with pick No. 38. One of the names that come to mind at this spot is Louisville sophomore guard David Johnson.
The 6-5 combo guard will undoubtedly be drafted next week, but the only question is where he will be drafted. Johnson has two years of college experience, but has seen his stock range anywhere from 35 all the way to 57. The big reason for such a wide range is not many scouts know who he is, or should I say the type of player he is at this point.
After spending a lot of time playing on the ball during his freshman season, Johnson took on a much different role last season, where he became more of an off-the-ball threat as opposed to being on the ball. That allowed him to focus on perimeter defense and spot-up shooting, which improved a ton on to shoot nearly 39% from deep.
When you look at the two roles he played at Louisville, people are trying to figure out whether he fits better as a backup point guard or one of those defensive-minded guards like Avery Bradley or Keith Bogans. That could be a good thing for the Bulls, especially when it comes to a second-round pick, as they could play around with him a lot to see where he fits and plays the best.
Johnson reminds me a lot of Garrett Temple on the defensive end but is an excellent passer as he ranked in the top five in Assists during the ACC regular season this year. Not only that, but Johnson is relatively tall for a point guard should that be where he sticks and brings with him some excellent athletic ability on the floor.
Although he had a better year off the ball, he seemed more natural on the ball given his ability to find the open man or look to create a shot. He did many good things as a playmaker, but that sometimes took away his shooting ability as he put that on display this season.
In terms of weaknesses, Johnson is still a project, and one that many scouts feel could take a few years to develop. While Johnson has tons of skills, he doesn't have one stand-out skill that would translate into being a great scorer at the next level. He doesn't have the quickness to beat defenders off the dribble, and he still needs to show that confidence as a shooter, although he is much improved.
Whatever team decides to take him, they would be banking on his defensive ability, which will be his calling card in this league. He has excellent length and uses it to his advantage, while his instincts as a defender often seem to have him one step ahead of the action. The Bulls could do way worse than adding Johnson in the second round, but I feel they want more of a polished player over a project.